7 Tips for Improving your Community Engagement Campaign with Social Media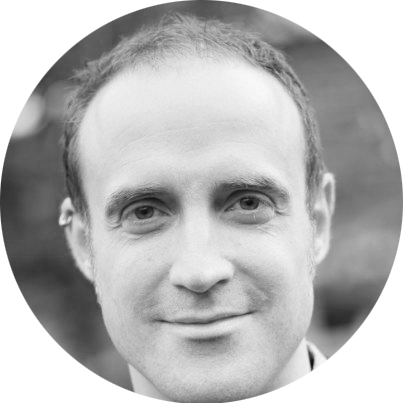 By Mike Saunders | Tue, Jan 17, 2017
4 min read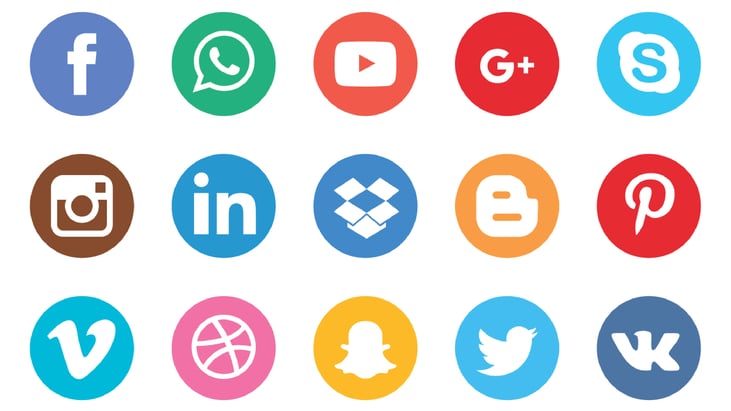 ---
Starting a new Commonplace project is an exciting moment. Finally you have a platform that can help reach everyone in the community and deliver valuable insight. All you need to do now is tell people about the opportunity that your project offers them. Spreading the word may seem a challenge, but fortunately social media can help enormously, and quickly gain the traction you need to for a successful project. Here are 7 tips on how to improve community engagement using social media.
Firstly, it's important to engage people in their online communities rather than assume they will find yours. That means developing a strong online presence on Twitter, Facebook and other popular social media channels. To do this, you will need to identify active communities in your area and begin engaging them online.
1. Conduct a social media audit of your community. Doing this will help you identify who the community influencers are, and identify what their interests are. Start by researching the most popular local channels such as Twitter, Facebook and Instagram. Using a spreadsheet, or our social media audit template, work through each channel identifying the accounts that are most active in the area.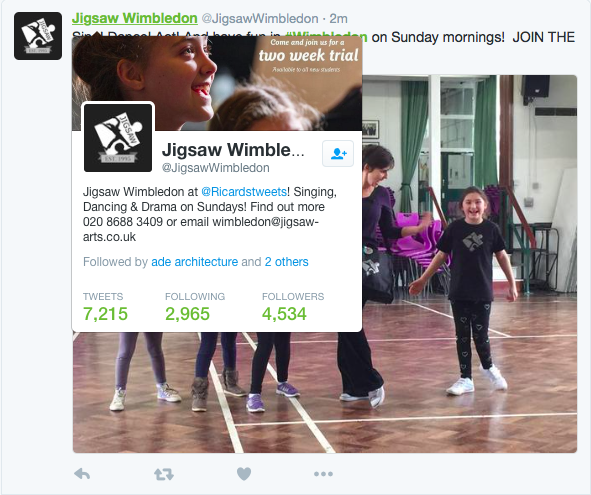 In the example above, we ran a search on Twitter using the hashtag #Wimbledon and selected the latest posts. The first result we see is for Jigsaw Performing Arts Wimbledon, with a following of 4,534 people – for the YMCA in Wimbledon, who are running a Commonplace to get design feedback and suggestions on improving YMCA facilities, this may be a community they wish to engage.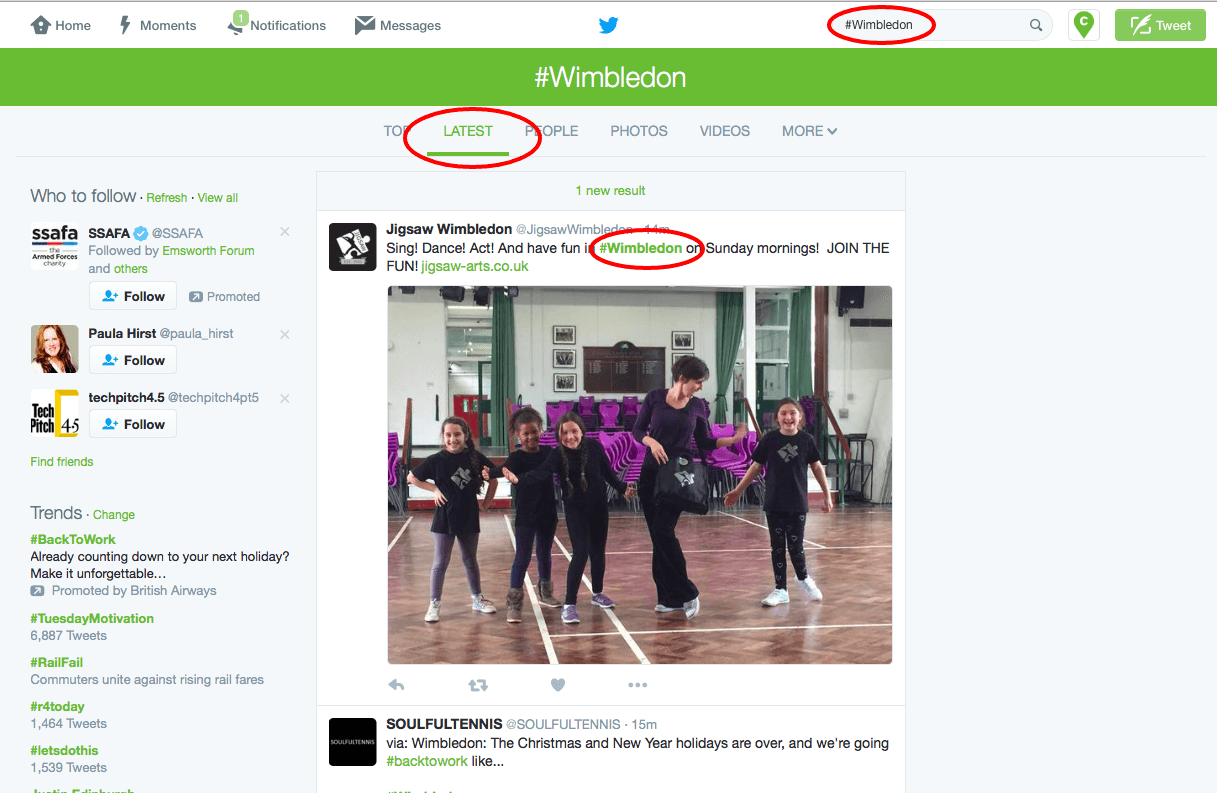 Tip: Use a tool like tweepi to quickly follow new users based on which Twitter users they're interested in.
A similar approach can be followed using Facebook. Run a search using the search function on the menu bar. In this case we searched for Wimbledon.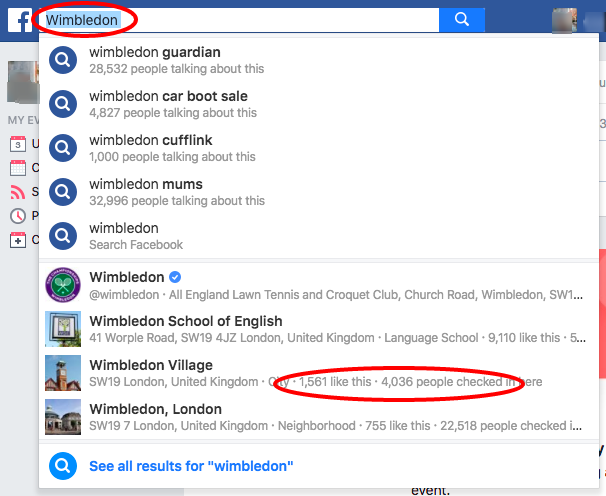 The search brings back possible results as we type in the search bar and we choose to select: 'See all results for "Wimbledon"' at the bottom.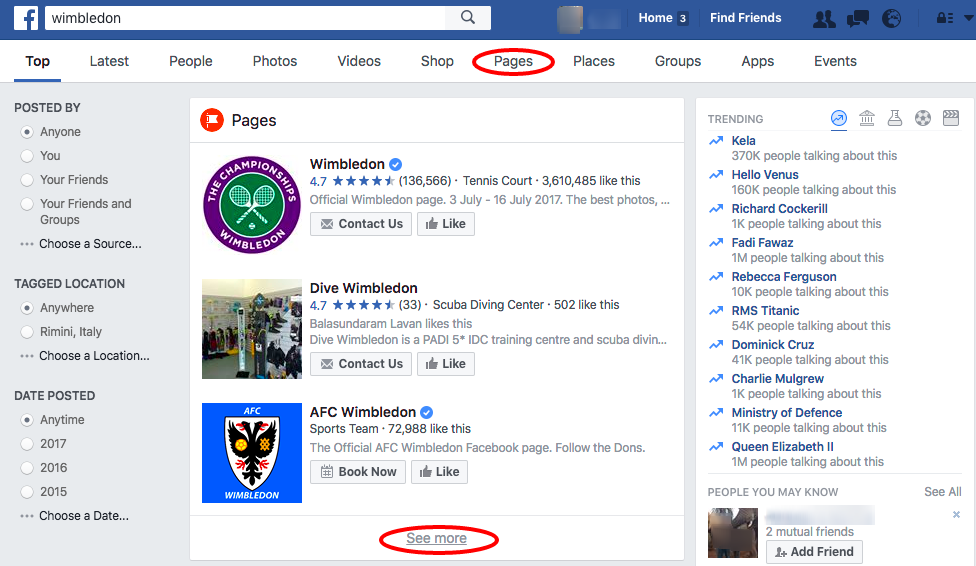 To refine our search more, we add the word 'mums'. In the example below we have navigated to a Facebook Page for 'Wimbledon Mums'. As their children may use the YMCA facilities we decide to add them to our list of influencers.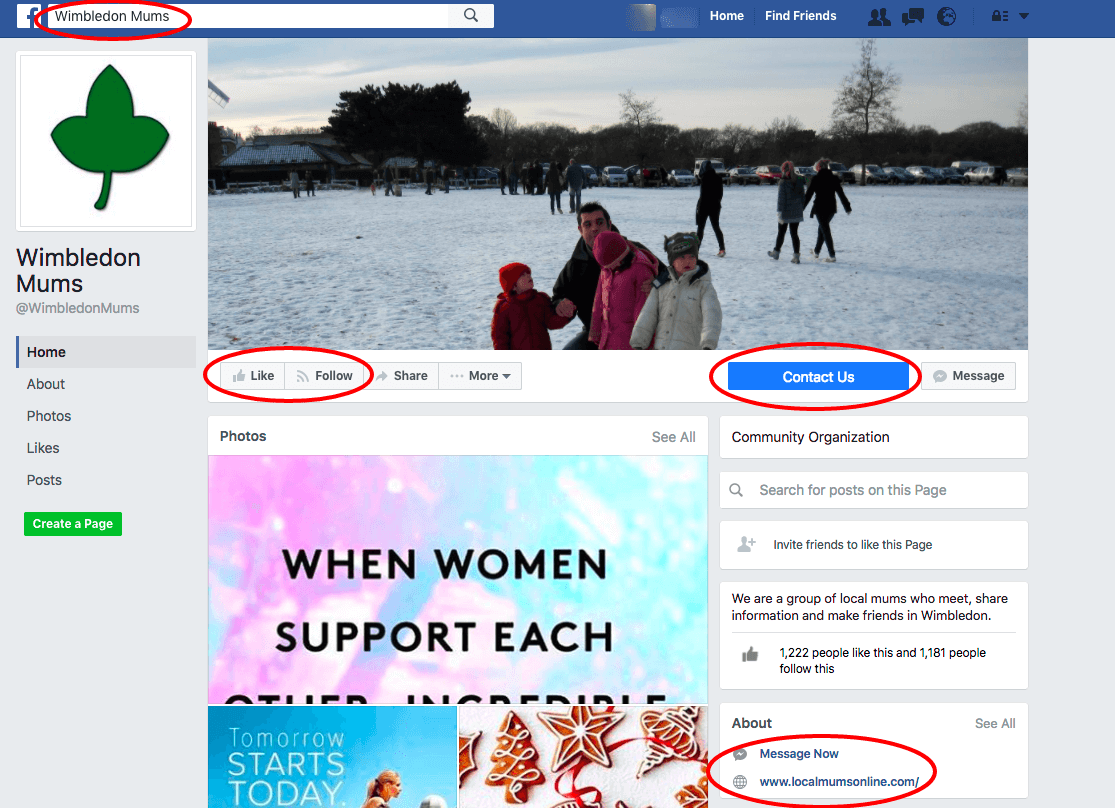 We recommend identifying 10-20 key local influencers per channel. Make sure you look at their reach, the number of followers they have and the level of engagement on their community.
2. Connect with local people, groups and communities you have identified as potential influencers for your Commonplace project. Different networks allow you to do different things. On Facebook you may not be able use your organisational Facebook account to post directly to local community pages, but by adding a location, #tags and audience tags, your post will reach more people. We provide our customers with templates they can use for these posts.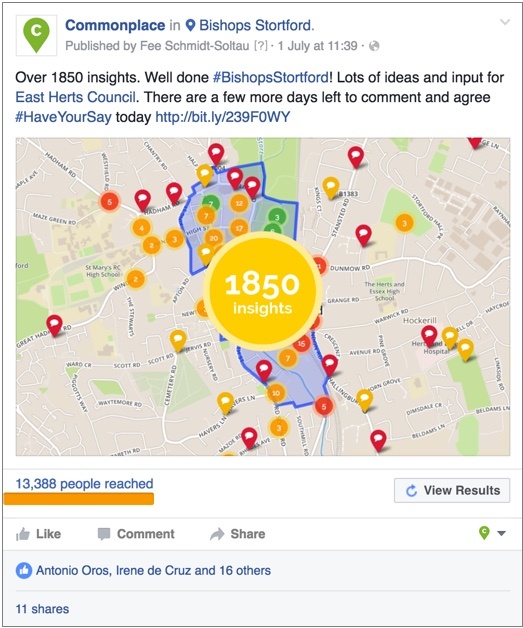 You can also contact local Facebook pages and ask them to share your posts, or ask members of the community to do likewise. On Twitter you can post to local accounts by simply referencing the @handle. Whichever social network you use, start by introducing yourself and the purpose of your project and Commonplace. Ask if they would mind helping you by mentioning your Commonplace to their followers, explaining why it will be interesting for local people.
Tip: You can find useful resources on digital and social media at The Digital Engagement Guide.
3. Have a clear 'call-to-action' that links your social media post and your Commonplace landing page. When you create a new post, ask influencers who you have established a relationship with to share your post with their followers – amplifying your reach. Make sure your posts resonate with that influencer's community, and that when a person clicks on a post, they understand what to do next (sometimes this is called a 'call-to-action'). A good rule is that your call-to-action should complete the phrase 'I want to ...', for example: I want to...have my say!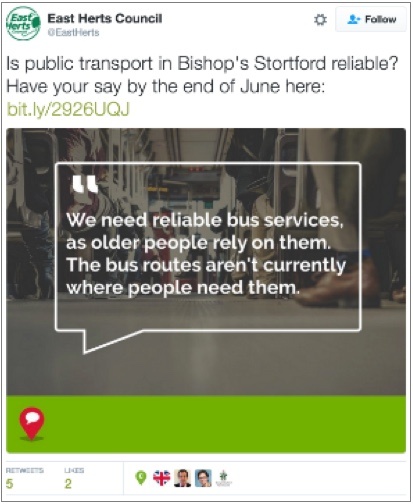 You should make the experience as consistent as possible to ensure your visitor isn't confused when they arrive at your Commonplace.
4. Keep engaging with your community even if the initial response is discouraging. Many local authorities stop engaging after announcing a new initiative or project. Bear in mind it takes time to develop an audience on social media channels and that consistent communication throughout a project is essential. To help you maintain regular social media communication, we suggest a social media checklist for your next campaign.
Tip: Talk to us about our social media acceleration programme for new Commonplace projects.
5. Facilitate engagement amongst community members. Monitor your social media streams for project mentions. Commonplace allows people to share comments on social media channels, which is a great way to spread the word quickly.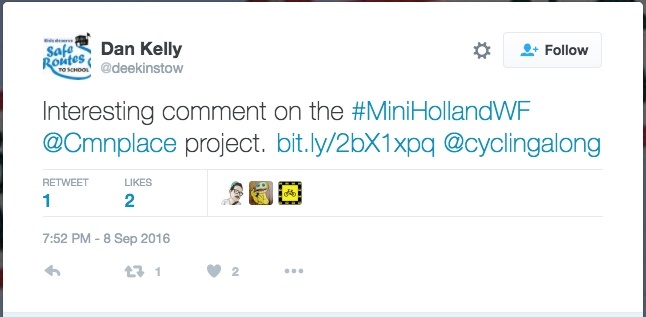 Use comments posted on social media as an opportunity to encourage engagement. By responding to comments, you can direct people to the Commonplace site, and invite them to participate and have their views heard.
6. Integrate – EVERYWHERE! We allow people to log into a Commonplace site using their social media account, which is just one way of integrating. Make sure you include icons and links to your social platforms on your websites, emails and digital communications – we already have this covered for you on your Commonplace portal. Social media platforms provide tools that allow you to share your account and feeds onto your own website, which can provide further visibility.
7. Measure the results of your efforts and adjust your strategy accordingly. Twitter and Facebook offer tools for analysing your posts. On Twitter, select "Analytics" from the drop down menu.
Select "Tweets" from the top menu and "Top Tweets" to see which tweets that are resulting in the best engagement. You may want to repost some of these tweets or use a similar format for tweets that aren't performing as well.
On Facebook, navigate to your "Page" and select "View Insights" from the drop down menu.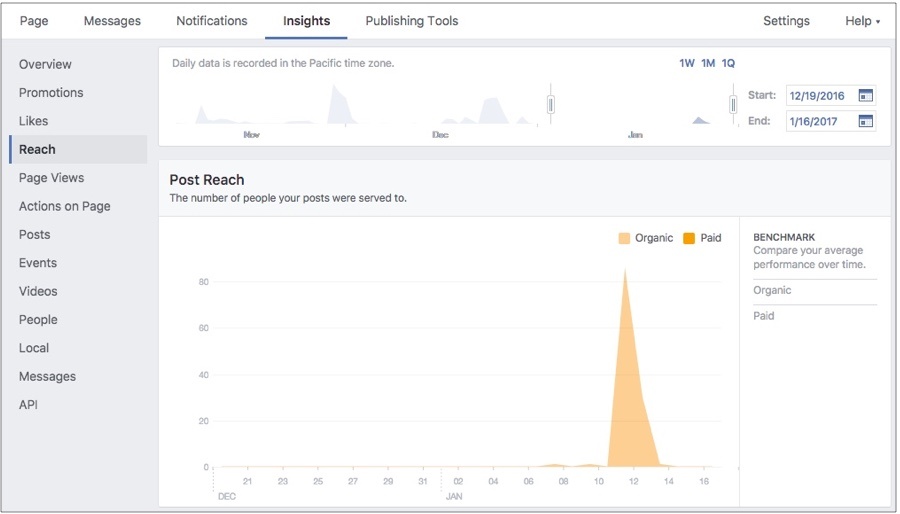 Facebook offers a variety of analytics information that will help you improve the return on your social media investment.
Commonplace offers local authorities one of the deepest, most comprehensive ways to engage local communities. It can help you transform the public consultation process by dramatically improving participation and data gathering processes, but to get the best possible response, you need to utilise the channels at your disposal to make sure citizens find your Commonplace.
To learn more about Commonplace or how to run a successful community engagement campaign, contact us for a chat or request a free demo. We will be delighted to show you around and discuss ways in which Commonplace could assist with your projects.