Get the basics right with Engagement 101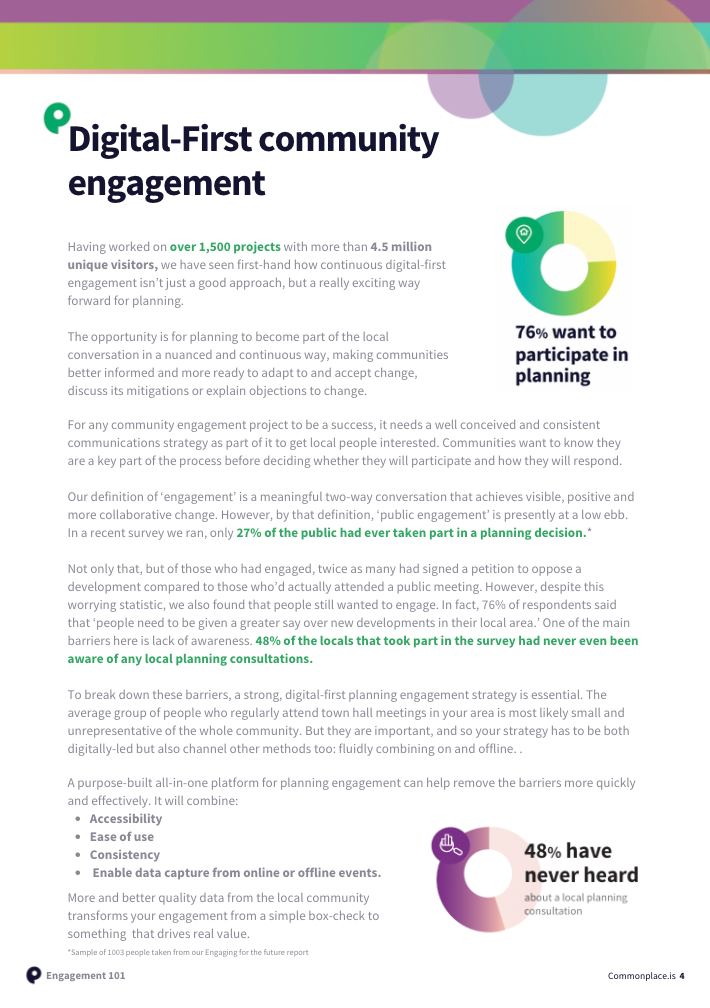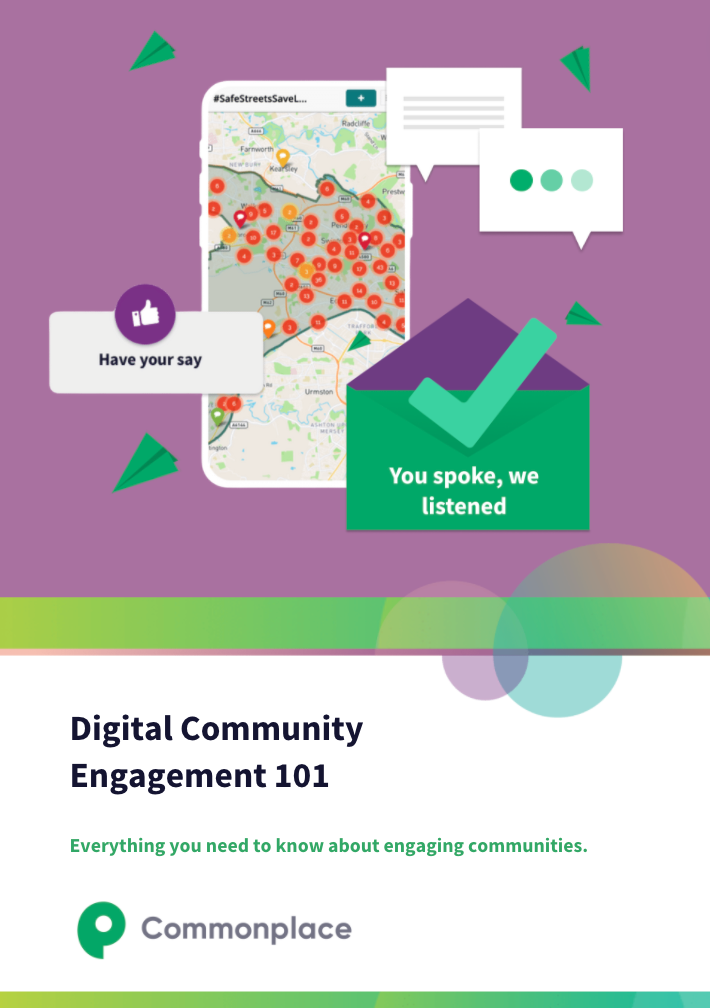 Comprehensive community engagements are at the centre of successful planning and placemaking. Therefore it's crucial we get them right. Success in community engagement relies on many components, including when you start engaging communities, how you engage them, and how often you keep them in the loop.
All our data shows a digital-first approach to engaging local communities and delivering the greatest reach and responses. But digital first does not mean digital only - and our aim is to encourage strategies that encompass online and face-to-face interactions.
In this free 15-page eBook, you'll find everything you need to know about how digital tools can help get communities on board with your plan for their neighbourhoods whilst getting you the data you need to create better solutions for your communities.
Download the eBook now, or read below for more info.
In this guide you'll find:
Provide a practical framework for engaging communities online

5 gems to get your engagements off to a flying start

Tips for implementation

Key barriers preventing people from engaging
Case study examples
Introduction
All of our data points towards a digital-first approach to engaging local communities and delivering the greatest reach and responses. But digital first does not mean digital only - and our aim is to encourage strategies that create user experiences encompassing online and face-to-face interactions.
A well-designed online strategy is an essential way to empower the local community and get the data you need to create positive change. Historically, local planning engagements have low engagement rates; a digital-first strategy can help reverse this by reaching many more people.
At Commonplace we always recognise that local people have the greatest knowledge about their area. By running an online community engagement correctly, you will be sending a clear message that you care about local views and are committed to taking them on board when considering future plans. Ensuring that you choose the right tools; start early; leave enough time, and host an open conversation that generates trust will all pay dividends in support and constructive collaboration.
This Engagement 101 guide covers the most important aspects of a digital consultation as well as how to create new value from the data you collect. In over 1,500 Commonplace projects we've seen that continual and meaningful engagement really matters for all stakeholders because:
It removes the conflict that can alienate local people from being a part of planning decisions
lt results in better decisions made more swiftly and with fewer obstacles since many of the problems can be resolved earlier in the process
It fosters long-term trusted relationships between residents, planning authorities and developers.
All in all, you can think of Commonplace as the essential underpinning you need to minimise planning risks.
Digital-First Community Engagement
Having worked on over 1,500 projects with more than 4.5 million unique visitors, we have seen first-hand how continuous digital-first engagement isn't just a good approach, but a really exciting way forward for planning.The opportunity is for planning to become part of the local conversation in a nuanced and continuous way, making communities better informed and more ready to adapt to and accept change, discuss its mitigations or explain objections to change.
For any community engagement project to be a success, it needs a well conceived and consistent communications strategy as part of it to get local people interested. Communities want to know they are a key part of the process before deciding whether they will participate and how they will respond.
Our definition of 'engagement' is a meaningful two-way conversation that achieves visible, positive and more collaborative change. However, by that definition, 'public engagement' is presently at a low ebb. In a recent survey we ran, only 27% of the public had ever taken part in a planning decision.* Not only that, but of those who had engaged, twice as many had signed a petition to oppose a development compared to those who'd actually attended a public meeting. However, despite this worrying statistic, we also found that people still wanted to engage. In fact, 76% of respondents said that 'people need to be given a greater say over new developments in their local area.' One of the main barriers here is lack of awareness. 48% of the locals that took part in the survey had never even been aware of any local planning consultations.
To break down these barriers, a strong, digital-first planning engagement strategy is essential. The average group of people who regularly attend town hall meetings in your area is most likely small and unrepresentative of the whole community. But they are important, and so your strategy has to be both digitally-led but also channel other methods too: fluidly combining on and offline.
Want to learn more? Download the full report at the top of the page.