Selecting the best question types, to get the best information from respondents
What are question types
When setting up a Commonplace, it is important to consider the effect the design of your survey will have on the data you collect.
If your survey is too complicated, people may 'switch off' without completing it. Using a variety of question types, at the right point, makes your survey more interesting and engaging, and it also helps to understand the bigger picture.
Our recent Webinar goes in to more detail:
Commonplace has a number of different question types, each suited to a different type of question - they are as follows:
Standard question types
Smiley face scale
The smiley face question is perfect for getting a simple view of how people are feeling. You can add labels to the faces, and also choose whether they display with the positive face on the left and the negative face on the right, or vice versa.
A smiley face question forms the overall sentiment of the project in your dashboard.
Rating scale
The rating scale question works similarly to the smiley faces, but instead of faces it simply displays numbers.
This is good to measure questions on a numerical scale.
If you use this question as a sentiment indicator, the option is currently set to 5:
If you use the question without sentiment, you can set any number of options e.g. Likert scale

Label and Text poll - "Tags"
These question types give your respondents a pre-set list of options to choose from. In other words, they operate like a dropdown with multiple choices to choose from.
A 'label' question allows multiple options to be selected, whereas a 'text poll' question only allows a single option to be selected. We always recommend to keep the option to 'add something else' so that respondents can write their own options in. This is especially helpful to avoid respondents to perceive your question as biased. One of the major benefits of these types of questions is that they avoid the labour-intensive data analysis involved with free text comments.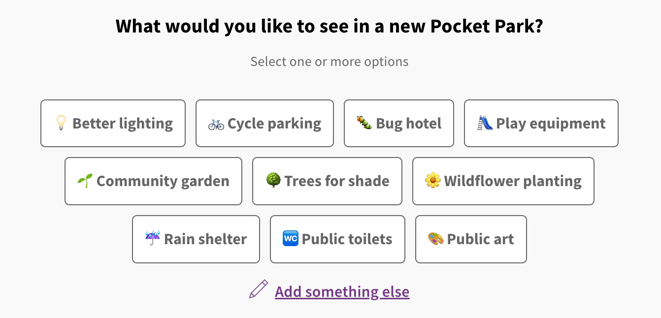 Free text
Sometimes you'll want to give respondents the opportunity to write whatever they want - you can choose from the short (single line) and long (multi-line) questions. These boxes do not have a character limit, but give an indication of the amount of text you expect a respondent to write. It is always good to have one of these open-ended questions in a survey.
Priority
Priority questions allow respondents to rank options in order of preference. We suggest using up to six tags as a larger number often means people only move their top issues around, leaving the remainder in a random default order.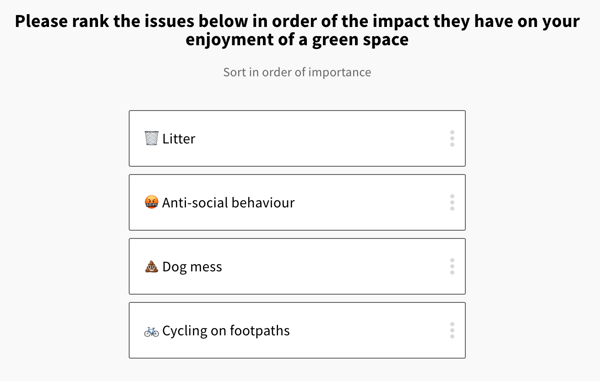 Image poll
An image poll functions the same way as a label/text poll question, but instead of the boxes being purely text, they include an image, too - this makes your survey much more visually interesting.
Photo and PDF upload
This question type allows respondents to upload images and PDFs in response to a question.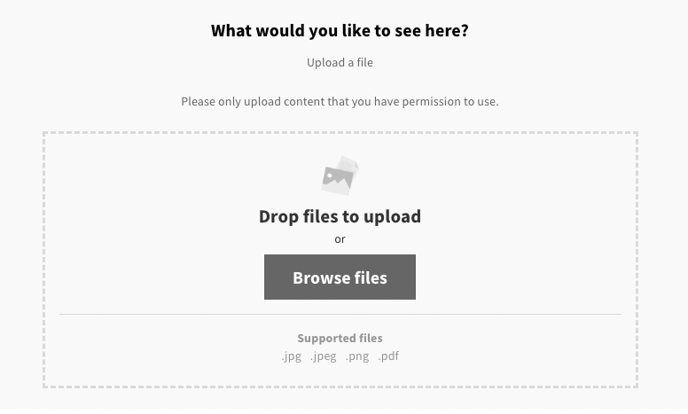 Custom question types
These are question types that we can add in to your surveys for you. Please contact Support or your Customer Success manager to discuss your requirements to use these questions types.
Voice notes
For free text questions, there is also the option to switch on voice notes which lets respondents record their voice and transcribe their words into text. Respondents can choose if they like their voice recording to be public.



This add-on is still in beta, please talk to your Customer Success Manager about the option to enable it for your project.
Map as a question
Got a spacial related question but a full map does not quite work?
You can now add a map related question - to ask for a location - to your regular survey questions.
This question type is new and not fully released yet. Please talk to your Customer Success Manager to enable this question type for your project.


Matrix/ Grid
You can choose between single or multiple select. This question type has been tried on a few projects already but has not been added to edit mode yet. Please talk to your CSM to add a matrix/grid question to your project.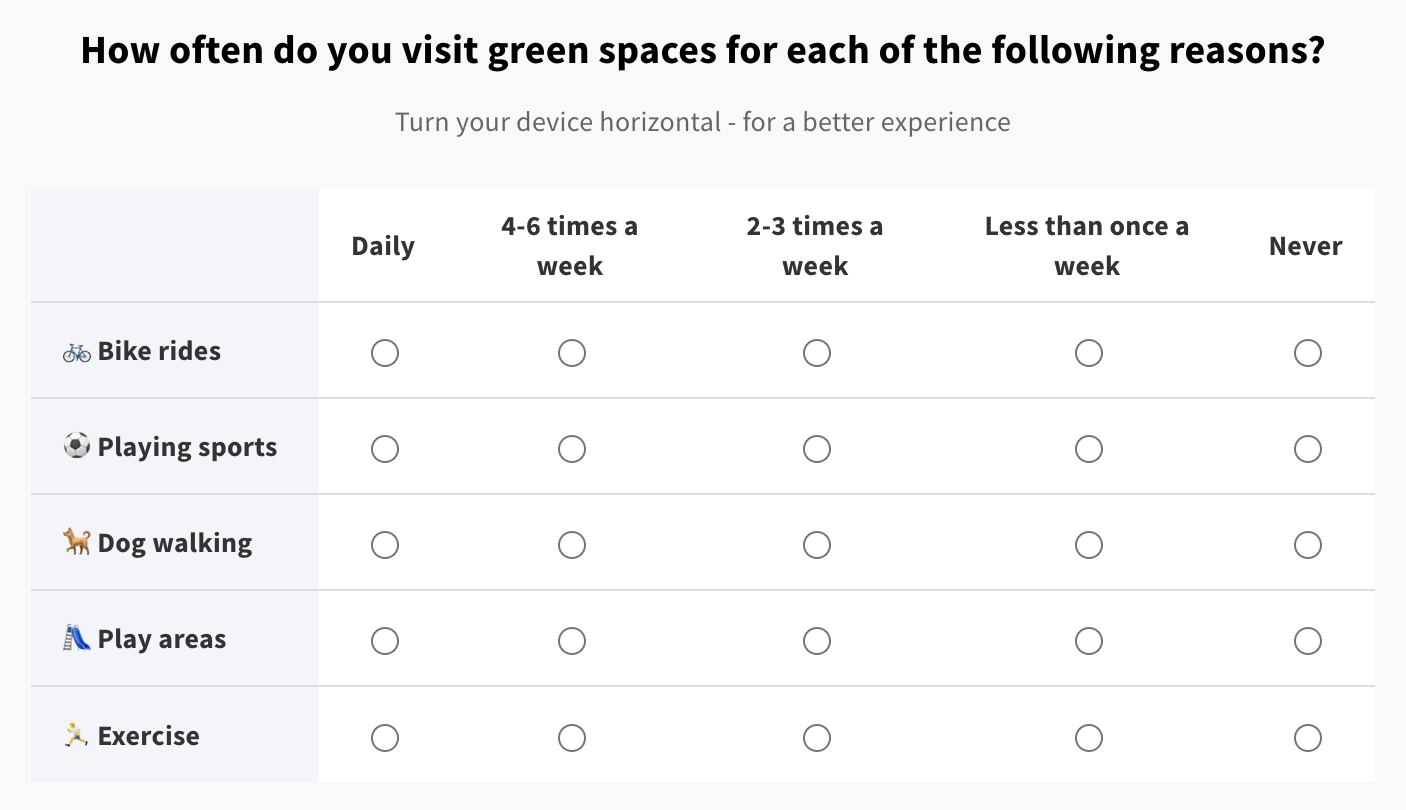 Budgeting/ Allocation
Like to ask respondents to allocate a finite resource across multiple categories? This question type can be used for budgeting and allocation of resources e.g. how many units shall we build across different sites.
Please get in touch with your Customer Success Manager to discuss your specific project needs and enabling this question type for your Commonplace.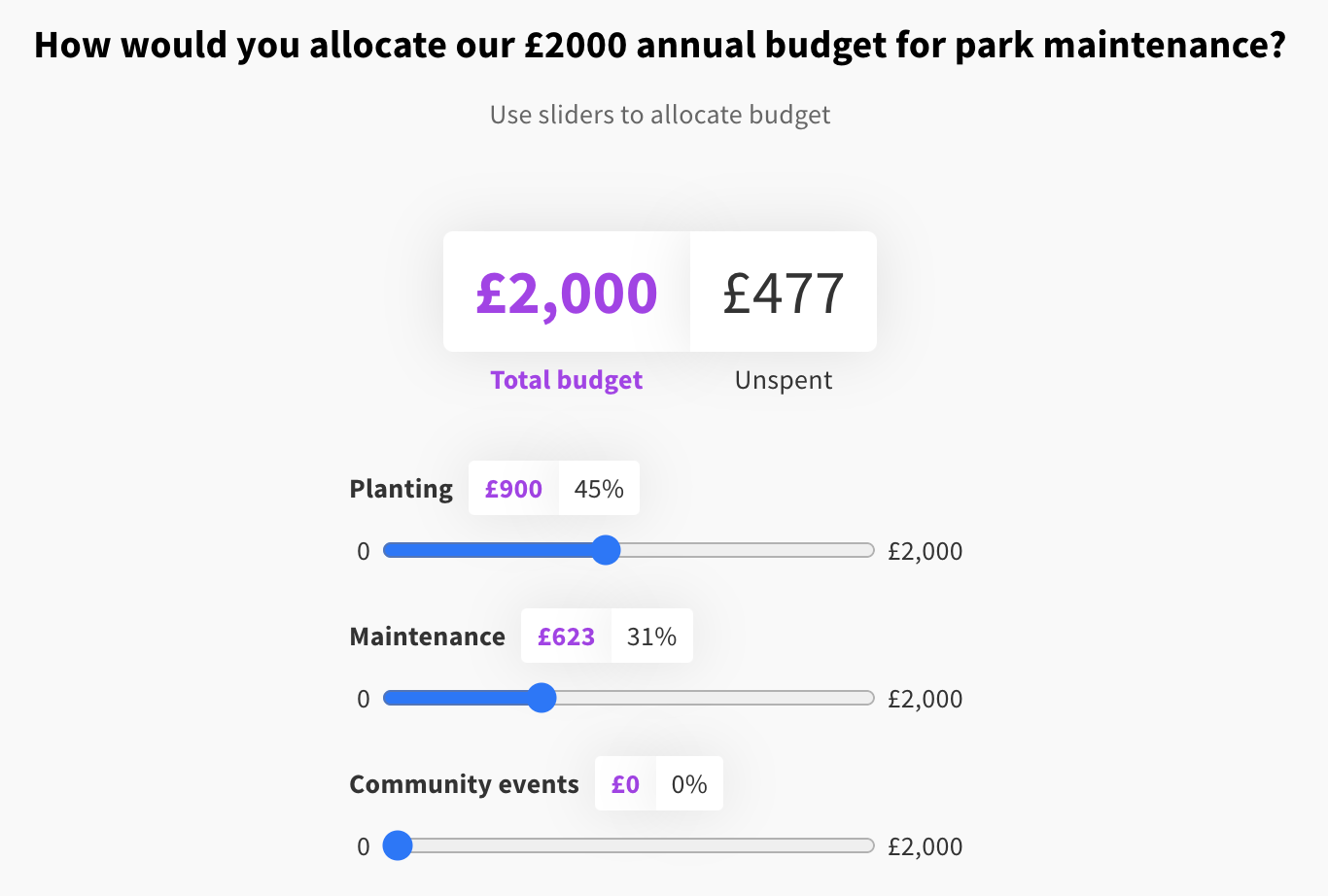 How to use the Budgeting question
Comment on image
Gain feedback and suggestions on proposed plans. Respondents mark a location and answer questions that are defined for each image.

Please get in touch with your Customer Success Manager to enable this question type for your Commonplace.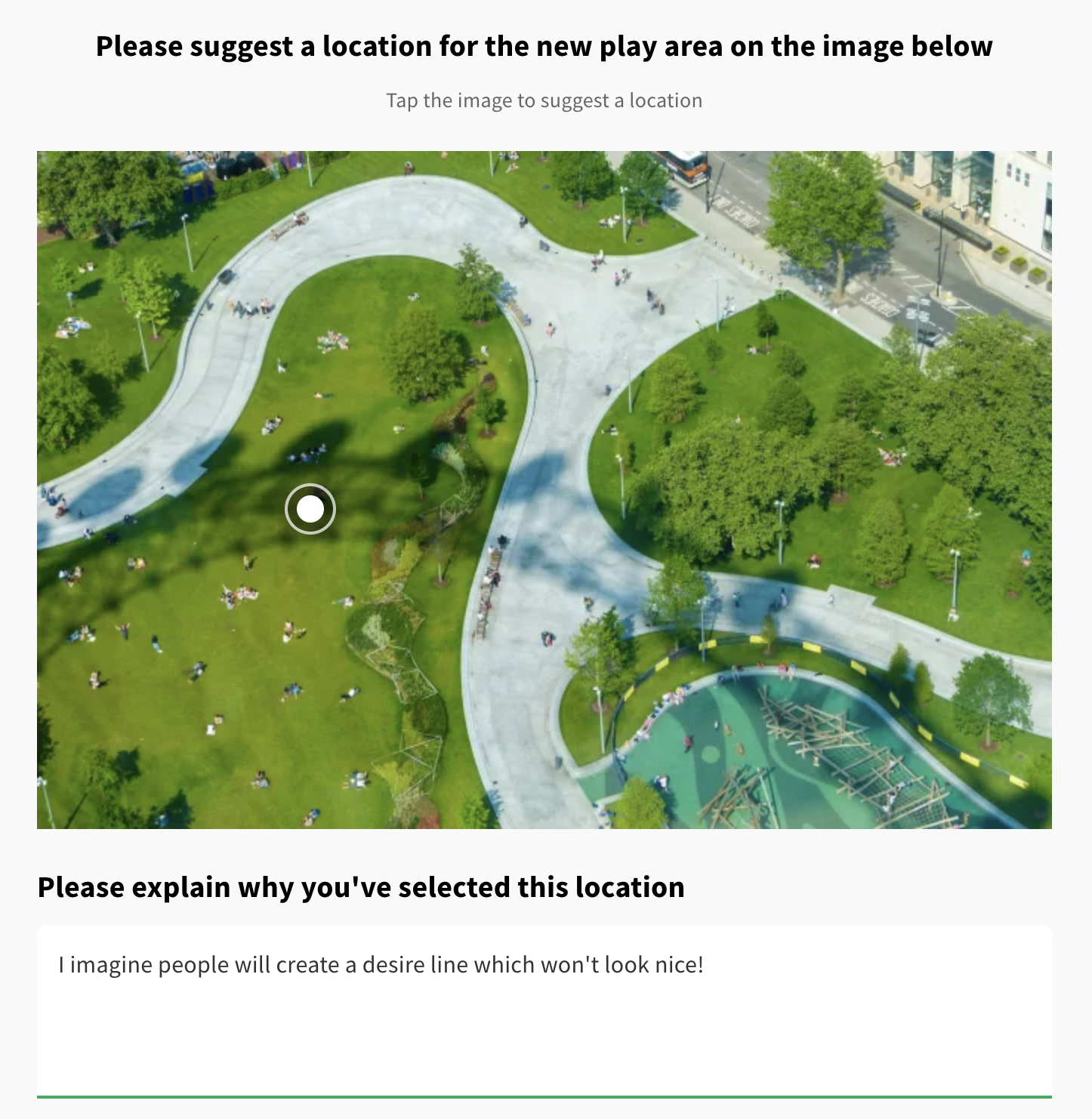 How to use 'Comment on an image'
General tips on question types
Instead of approaching the survey design by asking "what sort of questions do I want in my survey?", instead, consider "what kind of data do I want to collect from my target demographic?". This sort of reasoning can help you find the most efficient method of collecting responses, and eliminates any unnecessary questions that may lengthen the survey and reduce conversion.
Free-text questions need to be carefully considered as they are difficult to analyse post-consultation. If Natural Language Processing (NLP) methodologies cannot be used, then data extraction can involve tedious combing of answers to extract useful information. An appropriate mix of multiple choice and free-text questions should be considered.
If you plan to have multiple tiles containing similar or replicated questions, ensure that the question type and phrasing is identical to ensure that the responses can be successfully merged after the consultation.
Contact Support
If you find you still have some questions or you're unsure about something, please don't hesitate to get in touch with our dedicated technical Customer Support Team