Using Digital Technology to Create Safer Spaces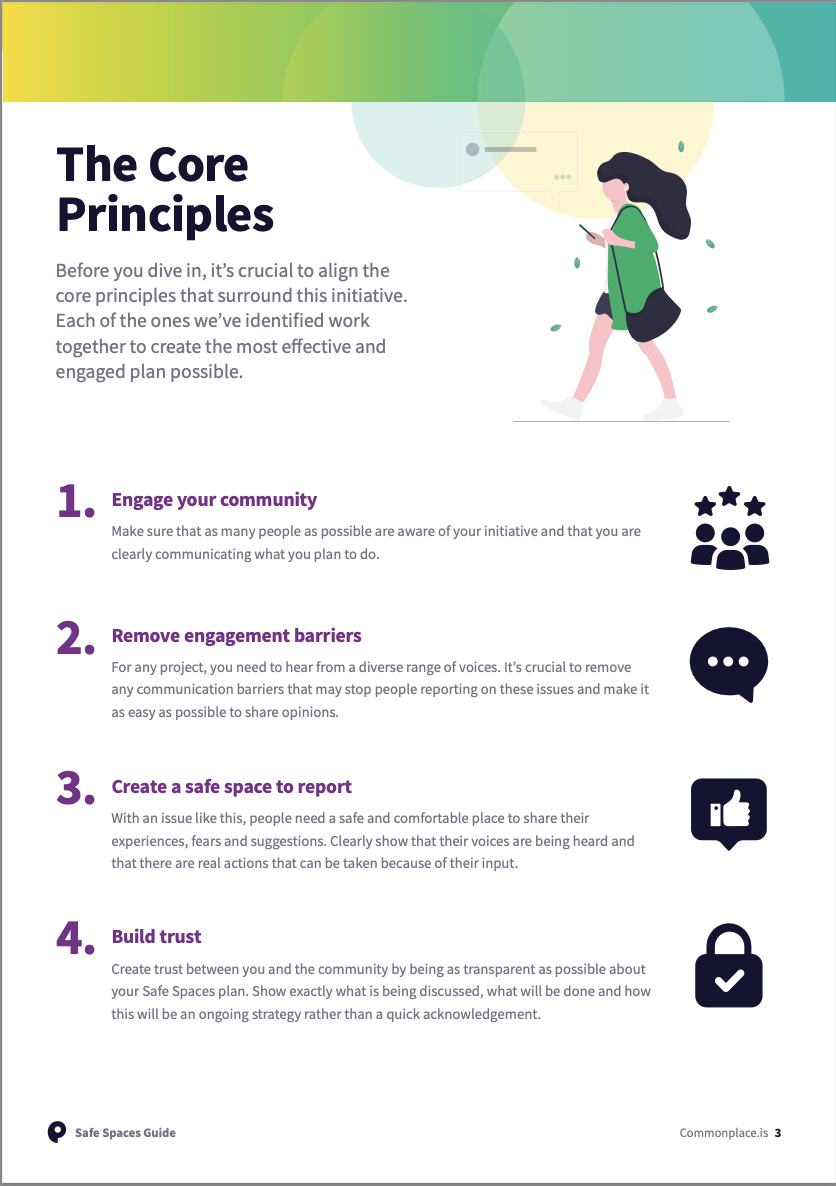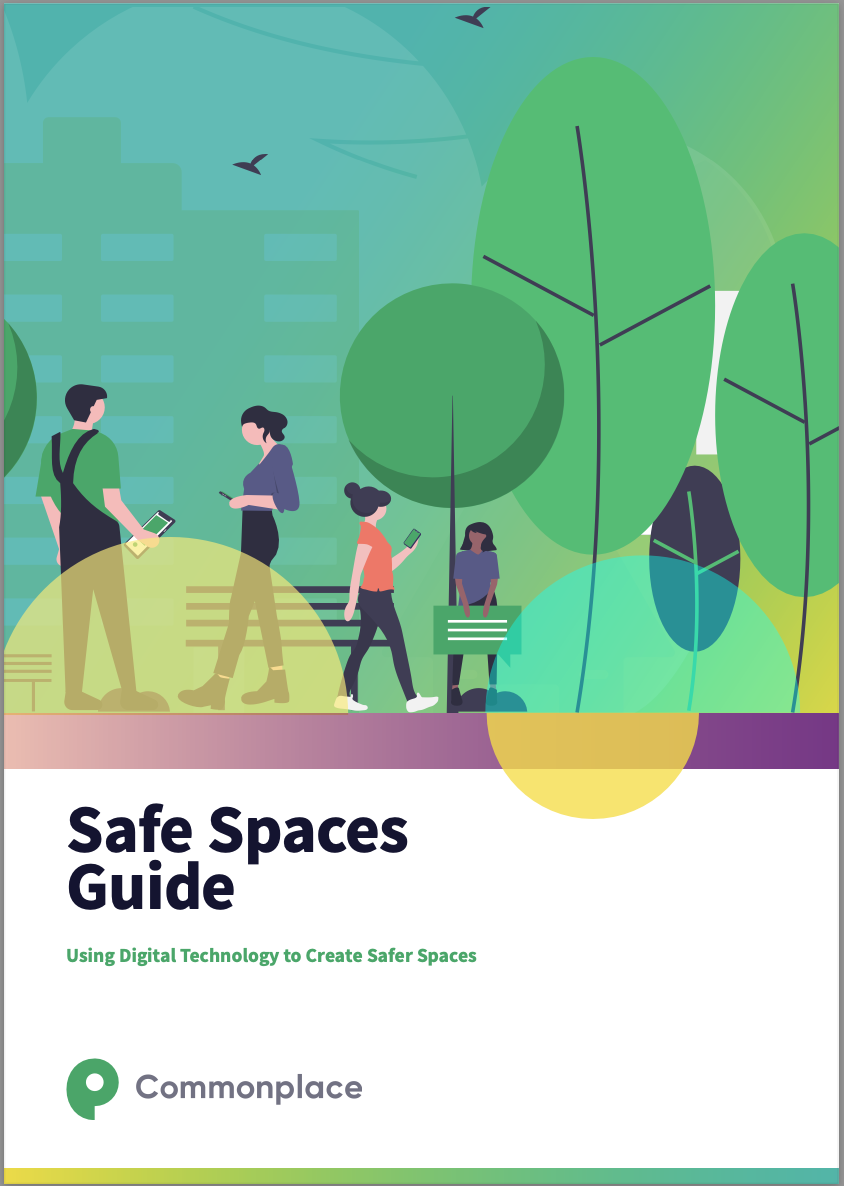 Violence against women and girls needs to be tackled now. As an issue that's important to so many people, this conversation cannot be ignored and should be something that the whole community comes together to fight.
Commonplace have created a Safer Spaces platform with the aim of understanding and getting constructive feedback on key safety concerns for women and girls. In this free eBook, you'll find everything you need to know about our digital tools and using the data from them to implement your own safety initiative.
Download the eBook now, or read below for more info.
In this guide you'll find:
Overview of our work with key campaign groups
Benefits of building a community -led safety strategy
Ways to encourage engagement across the community
Key barriers preventing people from engaging
Case study examples
Introduction
'No woman should ever feel unsafe walking in any neighbourhood, let alone their own.'
With this as our mantra, this guide aims to support local authorities in creating and monitoring a safe spaces initiative to improve their areas and enable access to funding from the government. Having worked with over 200 councils of all sizes, we've crafted practical tips on how to publicise your project, increase engagement and gather as much feedback as possible.
Our Safer Spaces platform is built in partnership with UN Women UK and is free for 3 months to local and police authorities. Our partnership was based on the idea of creating safer streets and using digital inclusion to understand the key problems for women and girls. UN Women UK conducted a survey with over 1,000 respondents and revealed that almost 9 in 10 women in some cities around the world feel unsafe. The engagement within the survey highlighted the lack of systems in place to reduce harassment as well as the fact that many felt their voices on the issue just aren't heard.
By using technology, women and girls from across the country are being encouraged to drop a pin on a map to detail issues with safety specific to that area. More importantly, they can make suggestions about how to tackle these problems directly, leading to a more balanced and transparent approach to change.
Executive Summary
Before you dive in, it's crucial to align the core principles that surround this initiative. Each of the ones we've identified work together to create the most effective and engaged plan possible.
Engaging your community: Make sure that as many people as possible are aware of your initiative and that you are clearly communicating what you plan to do.
Removing engagement barriers: For any project, you need to hear from a diverse range of voices. It's crucial to remove any communication barriers that may stop people reporting on these issues and make it as easy as possible to share opinions.
Developing a safe space to report: With an issue like this, people need a safe and comfortable place to share their experiences, fears and suggestions. Clearly show that their voices are being heard and that there are real actions that can be taken because of their input.
Creating trust: Create trust between you and the community by being as transparent as possible about your Safe Spaces plan. Show exactly what is being discussed, what will be done and how this will be an ongoing strategy rather than a quick acknowledgement.
Engaging the community
The goal of these initiatives is to create a strong actionable plan for safer spaces, and that cannot be achieved without the input from as many members of the community as possible. Collecting this data will give you the most accurate and personal details about what needs to be fixed, as well as several solutions that you can add to your plan.
Having worked on over 1300 different projects and consultations, we've found there are several best practices when it comes to engaging the community on difficult topics. It's all about generating awareness now and showing as many people as possible that you're ready to have an open conversation about this issue. These are a few ways it can be done:
Social media: A well crafted social media plan can spread awareness of your initiative, not only far, but to the right people as well. Regular organic posting can keep existing followers in the loop and a paid campaign can spread awareness to those you haven't reached yet. These paid campaigns can also be targeted by geographic location, interest as well as demographic and are perfect if you find yourself missing key voices in the community.

We have the ability to set these up

for you and can keep on top of the traffic being sent your way.
Email: Do you have a list of opt- in subscribers? If so, you can talk to them directly with

an email campaign

. With regular messages in their inbox, you can keep people up to date with each stage of your plan and encourage them to get involved with the conversation. Residents can also subscribe and receive info about all safe spaces maps being created, not just your own.
Consult local groups: Your community is a wealth of resources, so don't ignore similar plans that may have already been set up by local interest groups. With an

online survey mode

,

you can collect their thoughts online or in person and then add it to the rest of your data.
Previous consultations: These can provide data and insight into audiences you have previously engaged with and contain useful information for plans like these too. For example, have you conducted a safety consultation as part of a community safety strategy? Maybe you could use those same groups to support pushing this to a broader audience?
Post clear and regular updates: No matter how big or small the progress, regularly updating your community with news can bring people back to the website and keep them engaging with your consultation. Creating a safer area involves changes that happen over time as well. Keeping people in the loop about what is getting done shows that their input is being acknowledged and that real changes can be made.



Want to learn more? Download the full report at the top of the page.