Introduction
This page explains who we are, what we do, and how we do it. We'll explain in more detail how Commonplace works, demonstrating just how easy it is for you to share your thoughts and ideas with the decision makers, who create the places where you live, work, and play.
Decision makers is a broad but appropriate term for the people we work with. When we refer to decision makers we're referring to, local councils and metropolitan boroughs, neighbourhood groups, property developers, charities, government bodies, the NHS, renewable energy providers, infrastructure services, rail networks, public transport providers, and many more.
Who are we?
What do we do?
How does it work?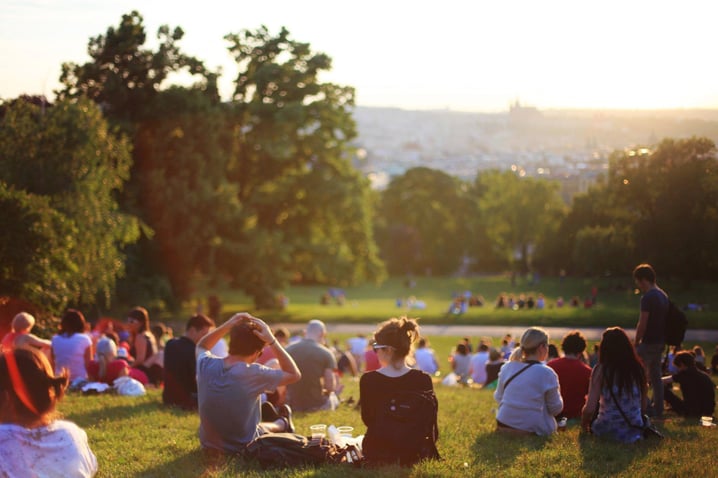 Who are we?
Commonplace is an online engagement platform. We connect you to the people who create the places where you live, work and play.
Commonplace was grown out of a fusion of public need and expanding digital possibilities. Our founder and CEO, Mike Saunders explains how we came to be.
My passion has always been in using digital channels to get large number of people participating in projects. Whilst doing a big citizen project with the Welcome Trust, I was involved in a local planning project which had huge public engagement problems; crowd sourcing and planning collided in my mind and an idea started to develop. Soon after, David joined as an expert in planning, and Commonplace was born.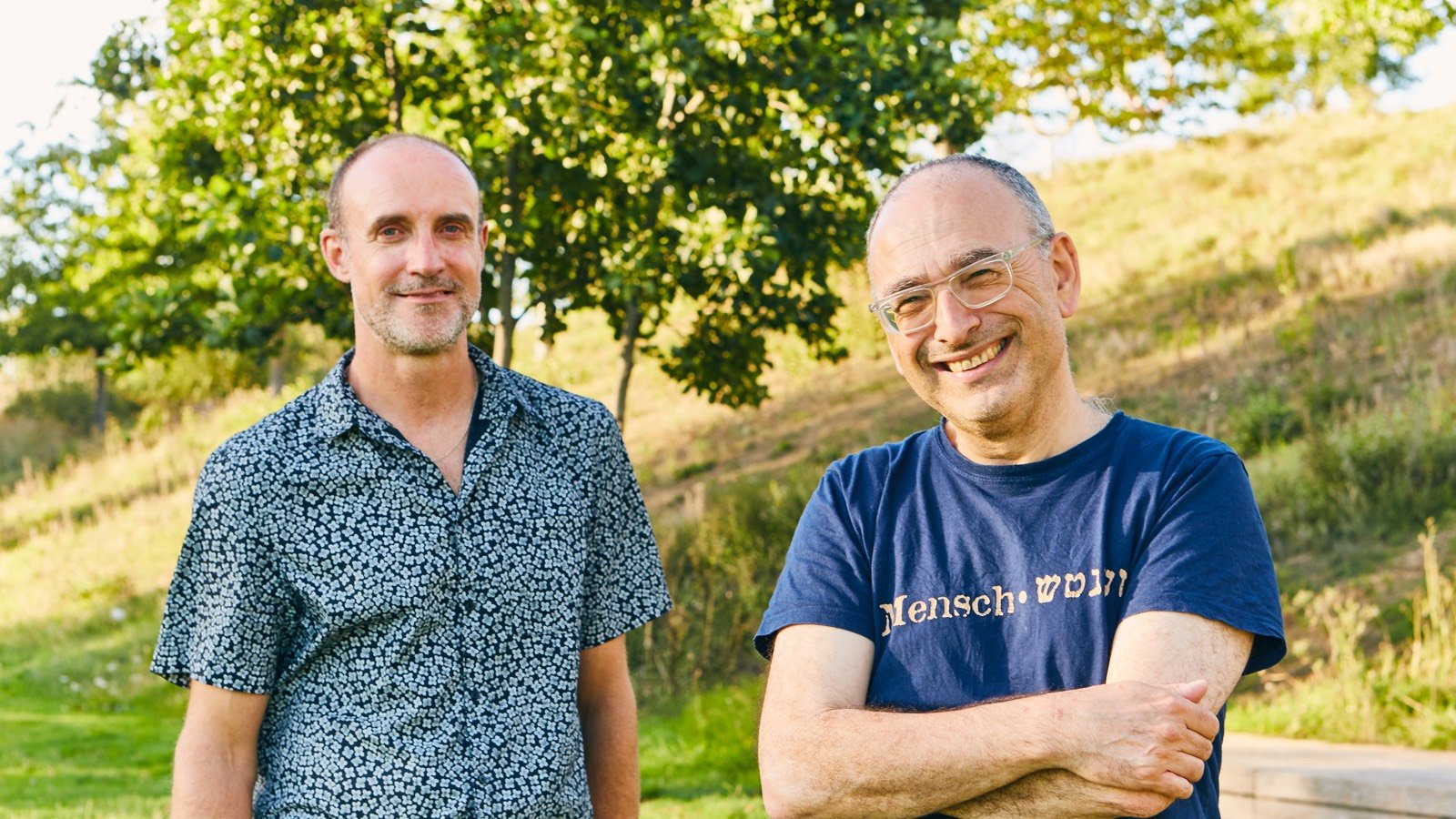 Image: Mike Saunders CEO (left), with Co-Founder David Janner-Klausner(right)
---
Want to find out about Commonplaces near you?
---
What do we do?
It's our goal to help connect communities and local decision makers to accelerate positive change.
Commonplace helps local people and decision makers to co-create places. We give the community a space to speak and be heard. Why is this important? Because when places are designed by the people that use them, it results in better, fairer, and more inclusive places.
Commonplace powers the consultation and design phases between communities and decision makers. We are always improving our product and adding new features, including 3D city scapes and Virtual Town Hall meetings.
We've developed three key ways to capture and share your views, demonstrated as follows.
Share your thoughts and feelings about your area
Our Community Heatmap allows anyone to drop a pin anywhere on a map and leave a comment on a Commonplace project. You can make suggestions, view and agree with other comments, or answer questions customised by decision makers on anything from cycle routes to parking changes.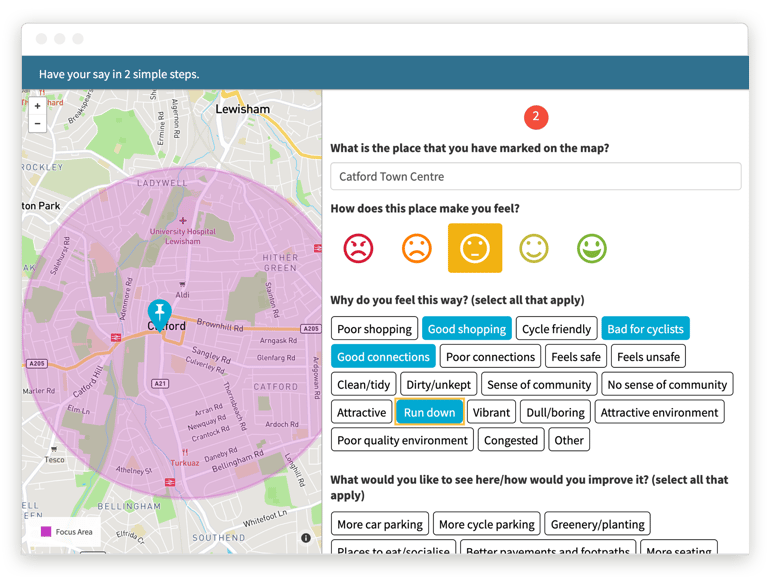 Give your opinion on initial concepts
Each project has a Design Feedback section which is used to communicate details about initial design concepts. You are given the opportunity to comment on various stages ranging from strategic timelines to conceptual designs.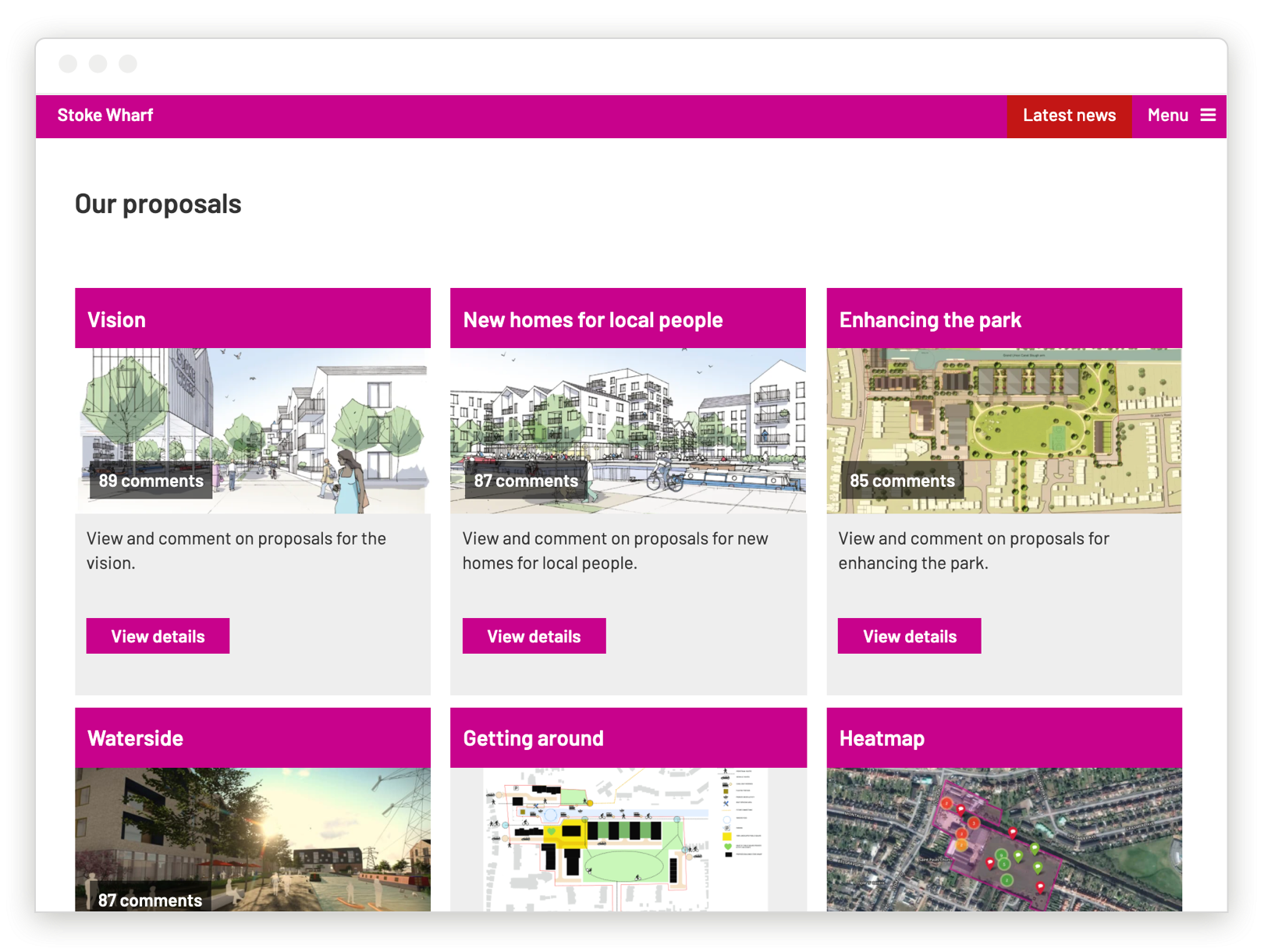 Get direct feedback on specific designs
The Project Newsfeed is where decision makers keep you up to date with project events and progress. Most importantly, this is the main place that decision makers can give feedback to the community on how your comments and ideas are being considered.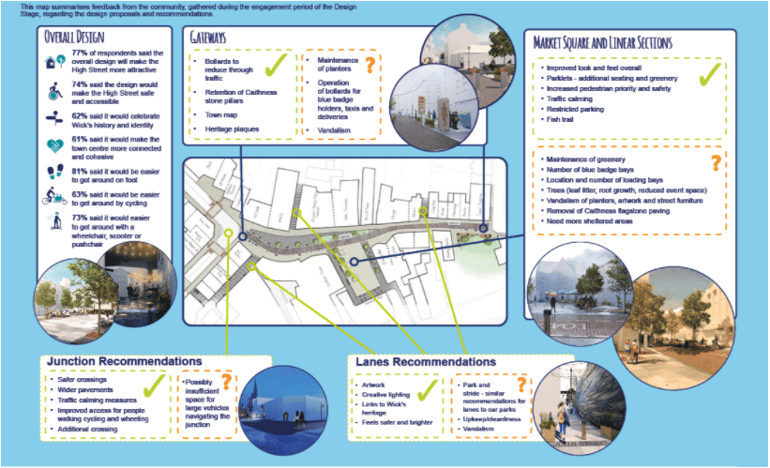 How to participate and share your opinions on Commonplace:
At Commonplace, we value your voice and offer two ways for you to have your say and express your opinions.
1. Answering a survey
You can participate by answering a few questions in a standard survey or by placing a pin on a map to provide your input. By doing so, you contribute to shaping your local community. To ensure that our efforts reach a diverse group of people and that everyone's voice is heard, we may ask for some demographic information. Rest assured, this is solely to improve inclusivity and no personal information will ever be published. To make sure that all contributions come from real community members, we kindly request your email address so you can confirm your contributions.
2. Reacting to your other people's comments
At Commonplace, we believe in fostering community engagement. As a member of the public, you will have the opportunity to react to your neighbours' contributions on public consultations. Currently, we offer the option to "like" someone's comment. However, we are working on expanding our range of reactions to provide you with a wider selection.
What we stand for
Our commitment to our customers and communities

Achieving inclusivity
We believe that inclusive conversations create better solutions.

Making participation easy
Open digital conversations make participation accessible; representing the whole community.

Building lasting relationships
With our feedback tools we aim to build continuous relationships between local people and decision makers.
We're proud of
What communities say about Commonplace
User-friendly, excellent information and an opportunity to give my views.

An easy way to link a comment about an issue with a specific place.

It's a brilliant idea to help small communities make big things happen!
How it works
Learn

Learn about Commonplaces near you through social media and signing up for updates

Shape

Help your area shape it's future, give your opinion and support others

Co-create

A transparent process with evidence based decisions

Feedback

Be involved in the whole process, keep up-to-date with progress and updates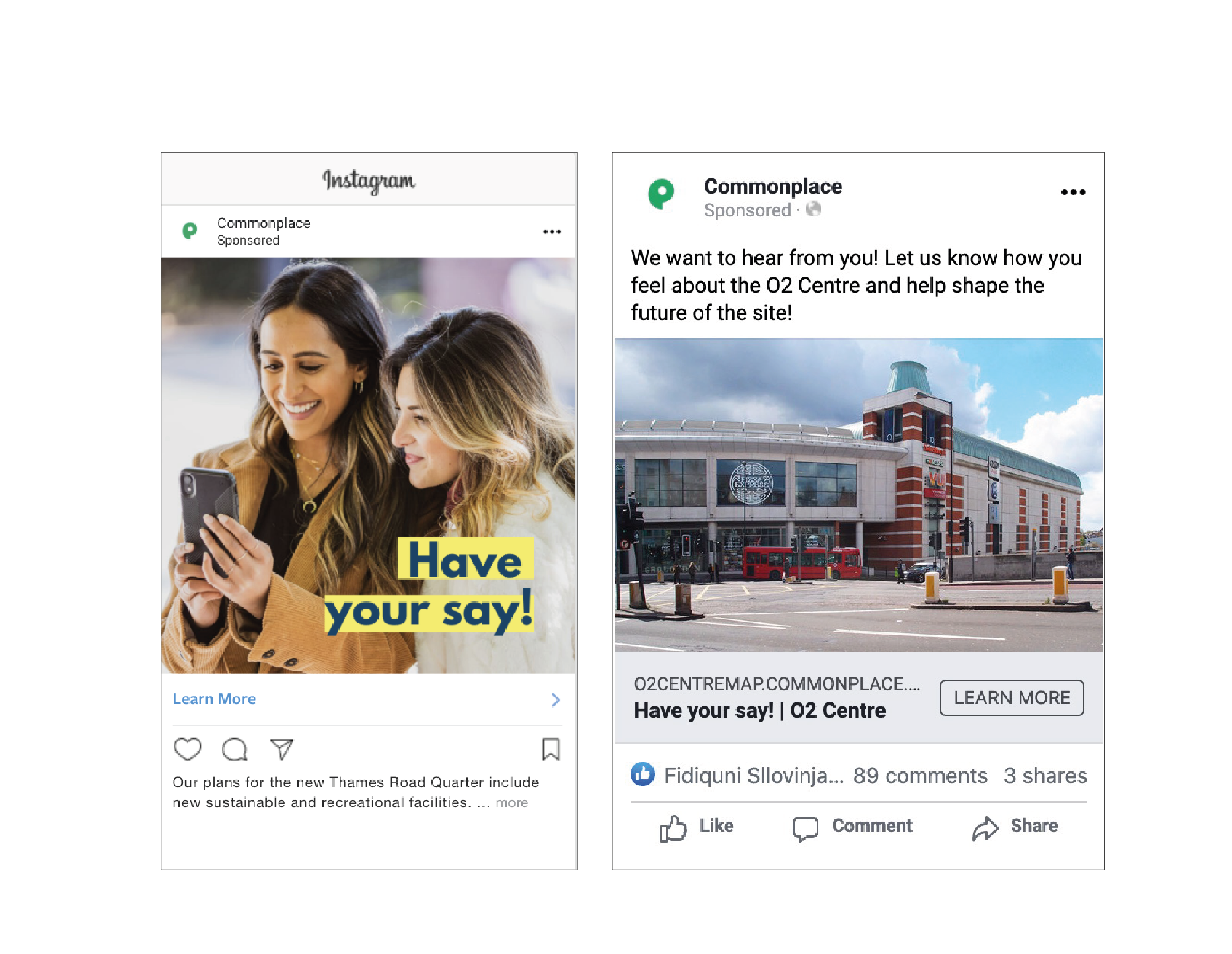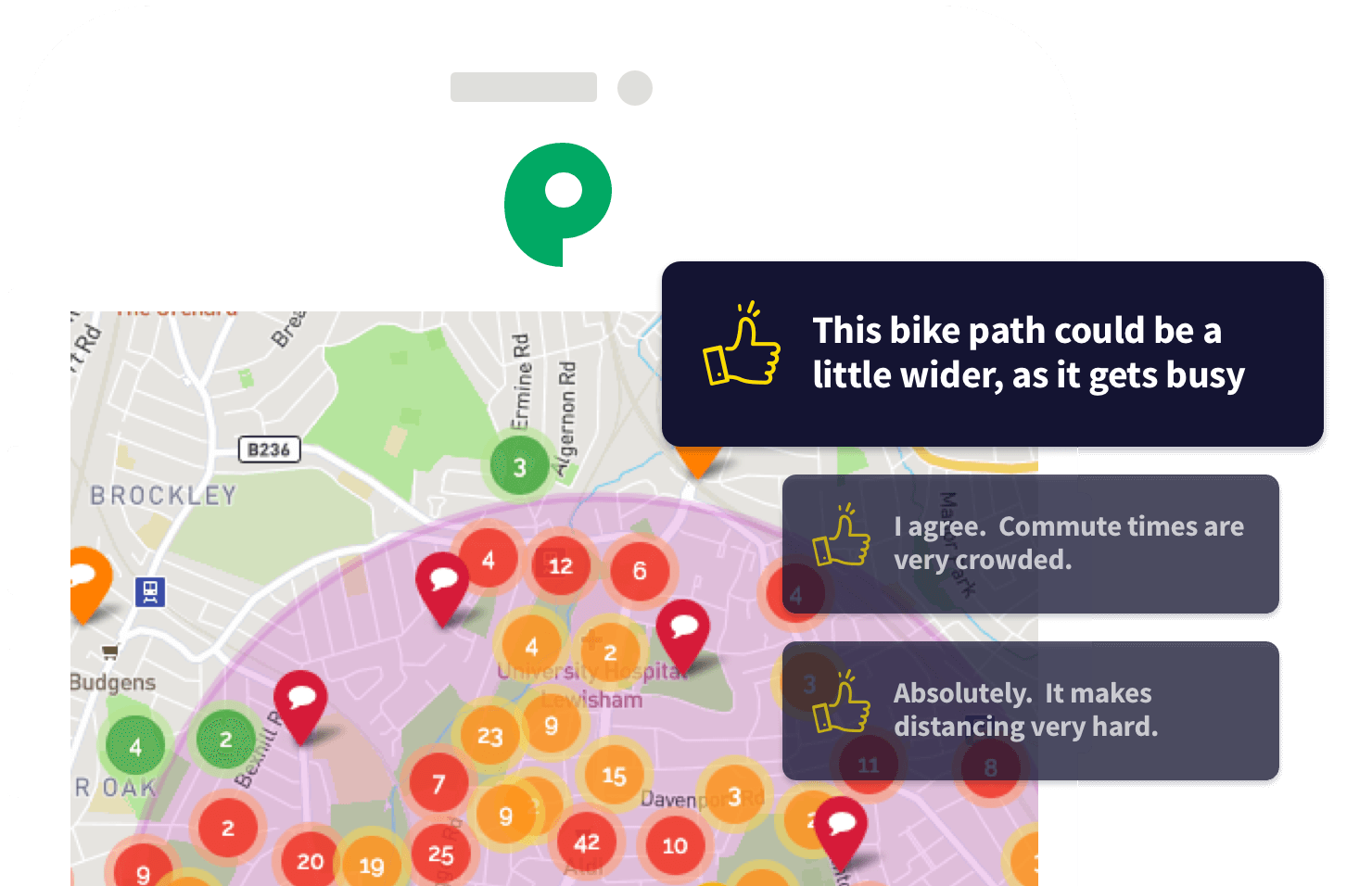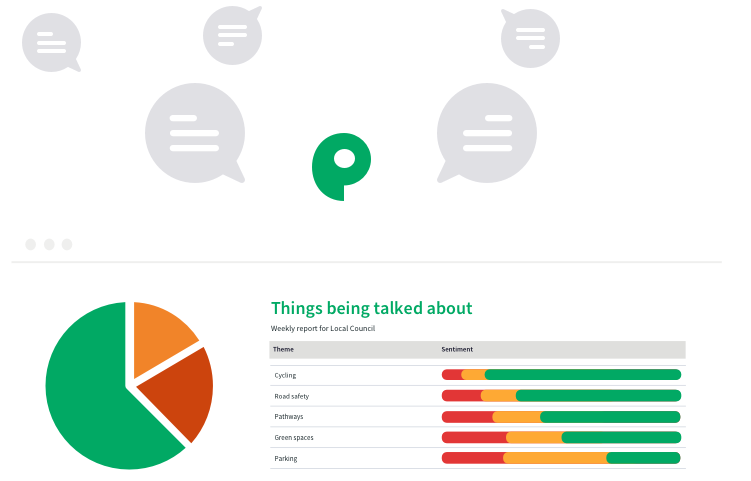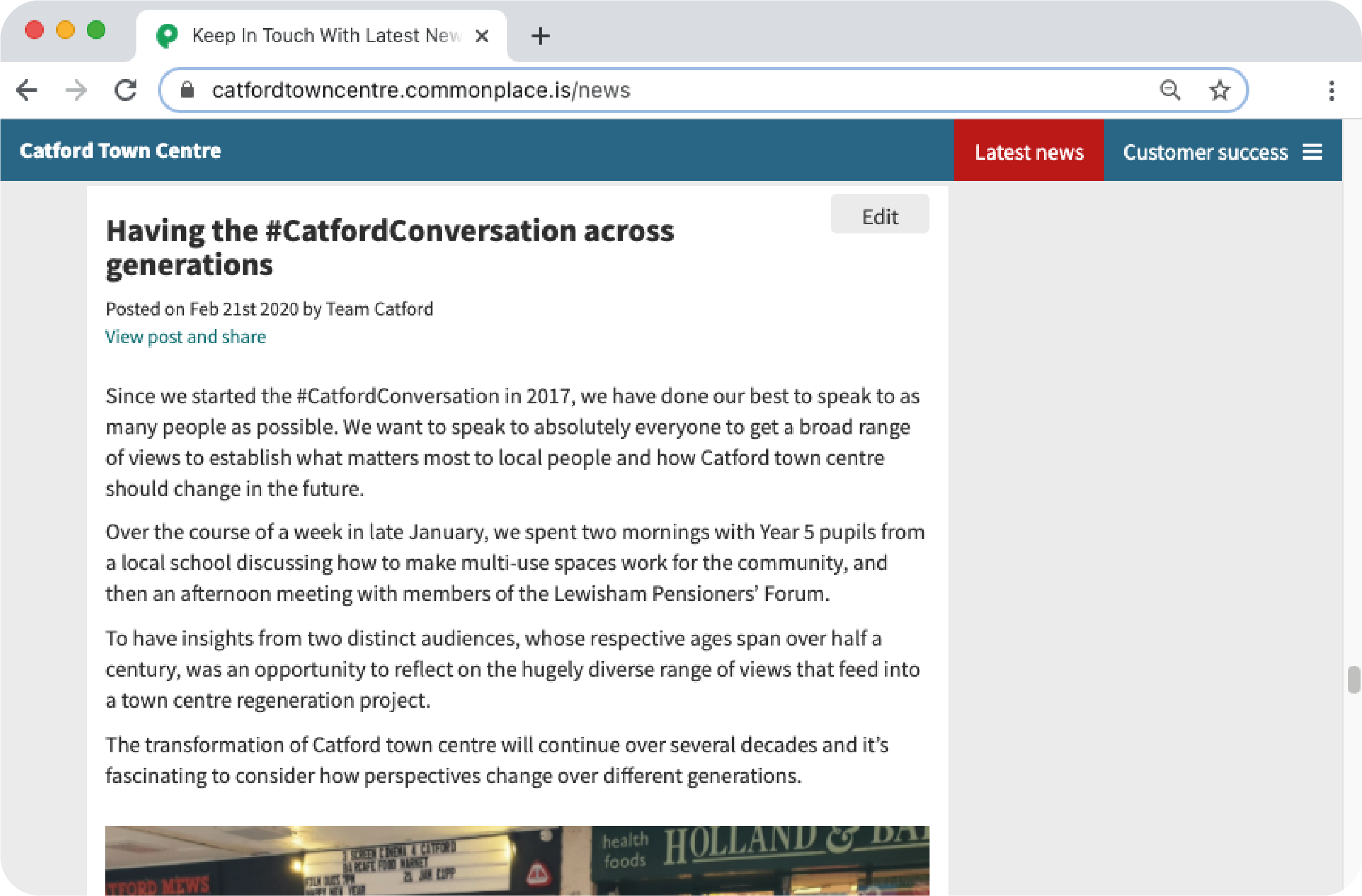 How it works
Learn
Learn about Commonplaces near you through social media and signing up for updates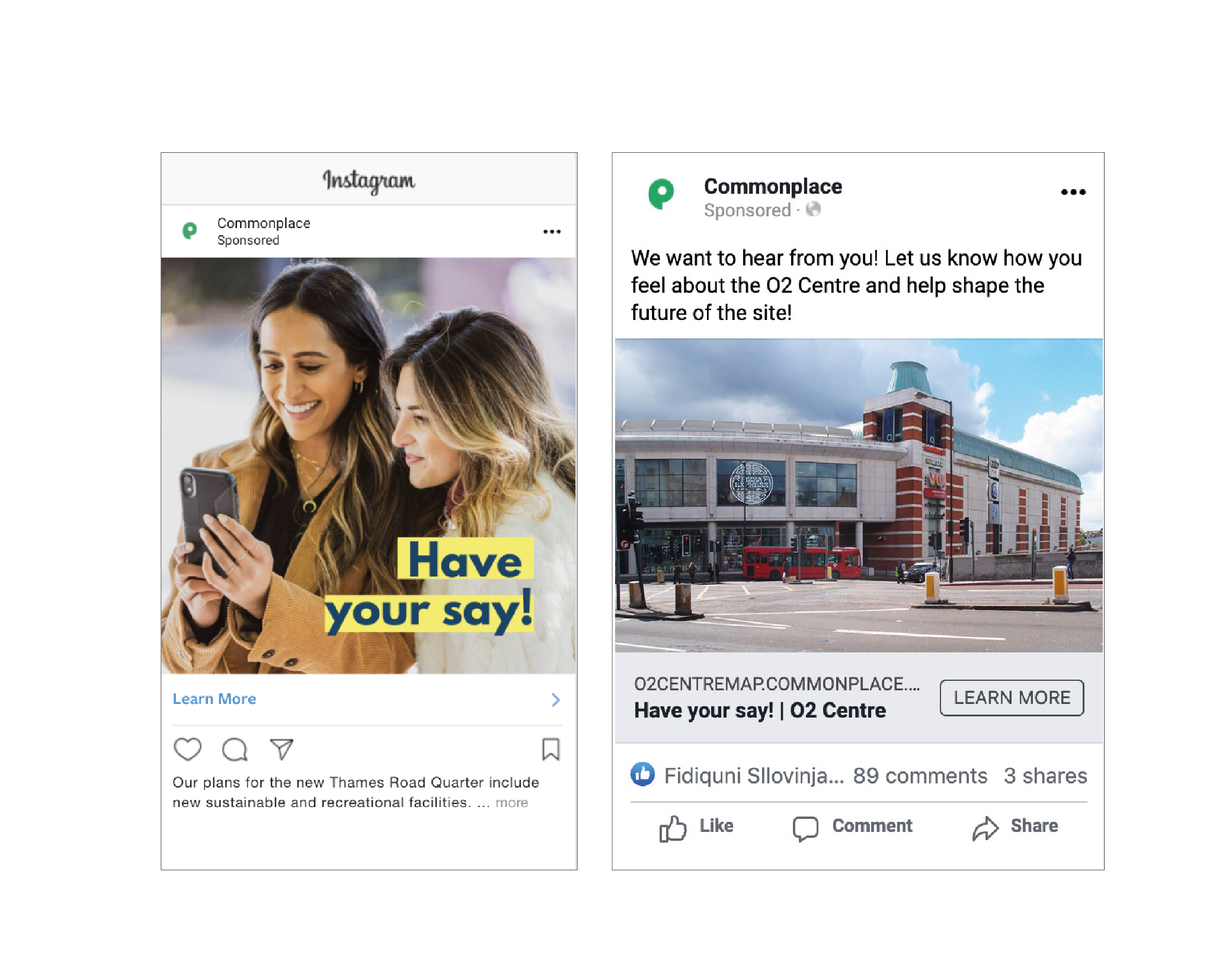 Shape
Help your area shape it's future, give your opinion and support others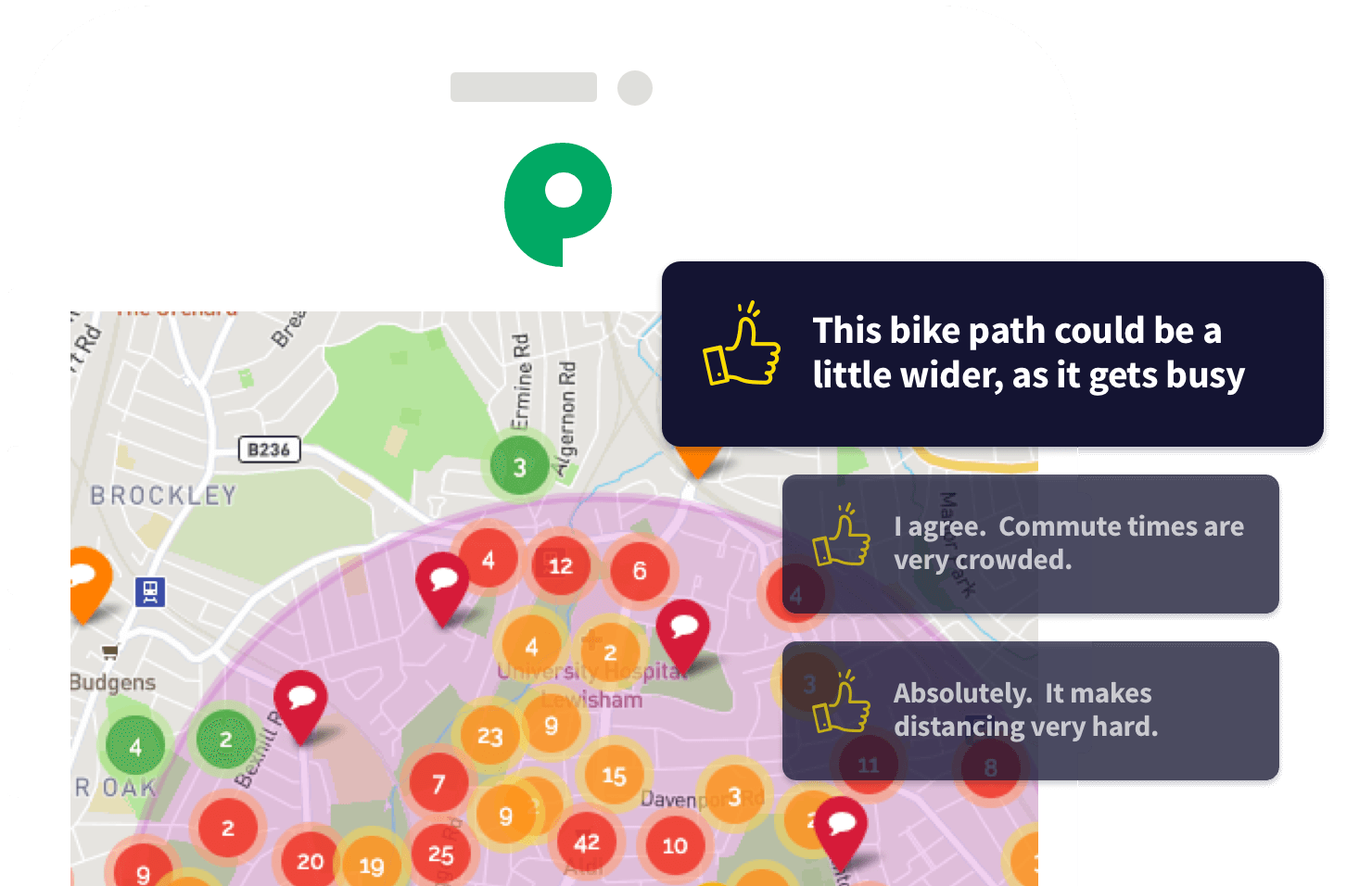 Co-create
A transparent process with evidence based decisions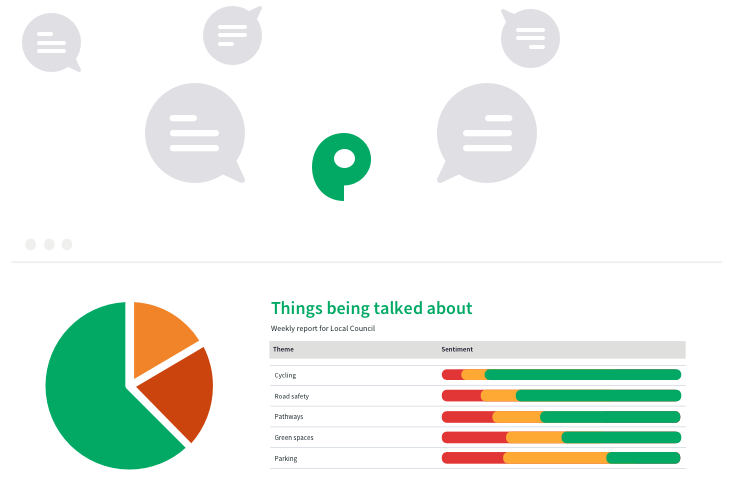 Feedback
Be involved in the whole process, keep up-to-date with progress and updates