Commonplace's community engagement in Scotland
By David Janner-Klausner | 29/11/22 10:02
2 min read
Commonplace is proud to serve Scotland's communities, from villages and cities to areas of exceptional natural beauty. In this blog, we introduce the rich mix of Commonplace websites and some of the features that help engage and inform audiences from Wick to Dumfries and Galloway.
Our colleague Emma Megaughin is based in Edinburgh and is your first point of contact, supported by a dedicated Customer Success team for Scotland.
Cairngorms engagements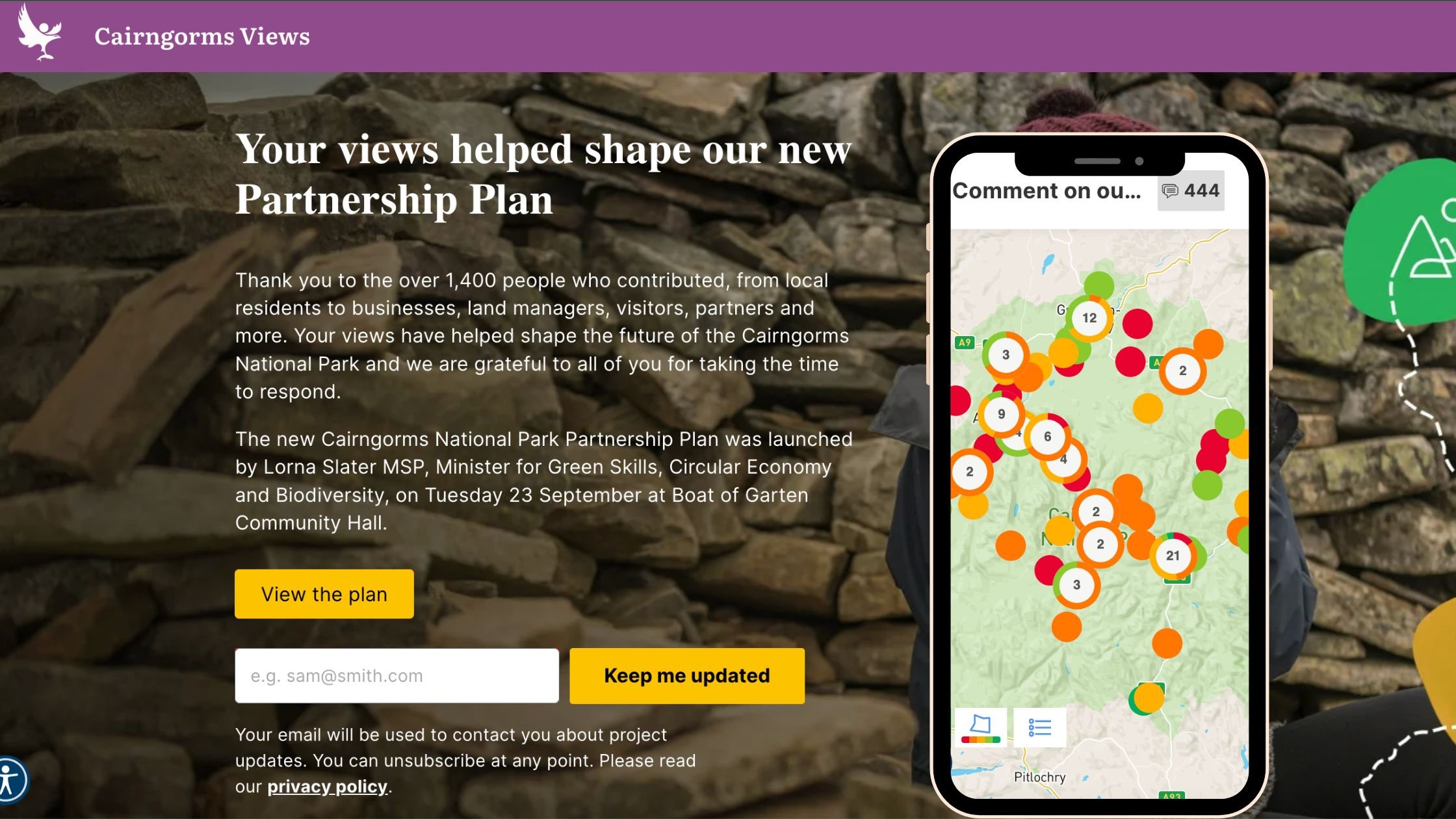 A recent example of successful community engagement is how the Cairngorms National Park is involving the public in developing its long-term strategy for the future. They have been seeking out the views of those who live, visit and work in the National Park for a number of years as local insight is crucial for the development and protection of the area. Two engagement websites have been used: one to inform the development of the new Cairngorms National Park Partnership Plan, and the second to shape their new £12.5m National Lottery Heritage Fund project Heritage Horizons: Cairngorms 2030. Each website was designed to gather as many views from local people as possible and to clearly present how their voices can shape plans for the National Park going forward. The Cairngorms National Park received a record level of feedback to its draft plan consultation using Commonplace, with more than 4,000 responses received.
The Flow Country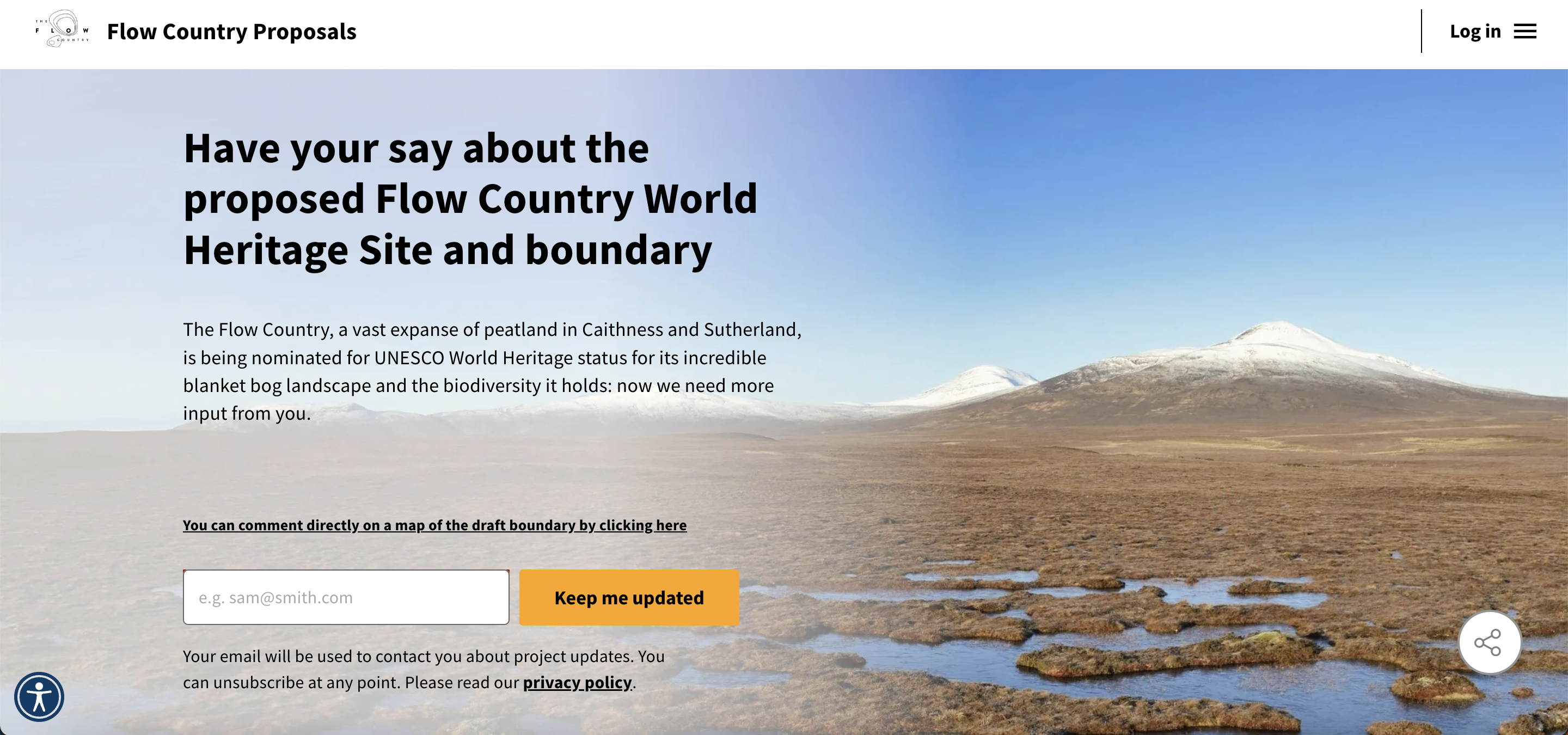 Still in the beautiful countryside, The Highland Council and its partners used Commonplace for their consultation ahead of submitting an application for Flow Country to be granted UNESCO World Heritage Status. Flow Country is an area of peat bog in Caithness and Sutherland.
Both these rural examples illustrate how Commonplace can reach people across distances, enabling them to express their views in a manner that takes in the big long-term picture as well as specific implications and options.
East Lothian Council
An engagement created for vital everyday transport, East Lothian Council is using Commonplace for a set of consultations to create a new parking strategy. Six websites will address different parts of the Council's area, enabling residents, businesses and visitors to contribute to shaping a new local parking strategy. Commonplace is being used alongside matching paper forms as a part of their digital-first approach to engaging as many people as possible. All data, regardless of how it is collected, will be in a consistent and easy-to-interrogate database.
South Ayrshire
Transport is a key theme for Commonplace's work in Scotland and really took off during the height of the Covid-19 pandemic. Working with Sustrans Scotland, Commonplace helped engage residents as part of the Scottish Government's "Spaces for People" programme. The programme involved the rapid redesign of public spaces and roads to allow for greater social distancing and support active travel. During the pandemic, opportunities for face-to-face engagement were obviously very limited, but it was important to engage residents and gain their perspective - and to do so quickly. Commonplace was rolled out in 13 locations. 91,000 people visited these websites and 14,000 of them made contributions.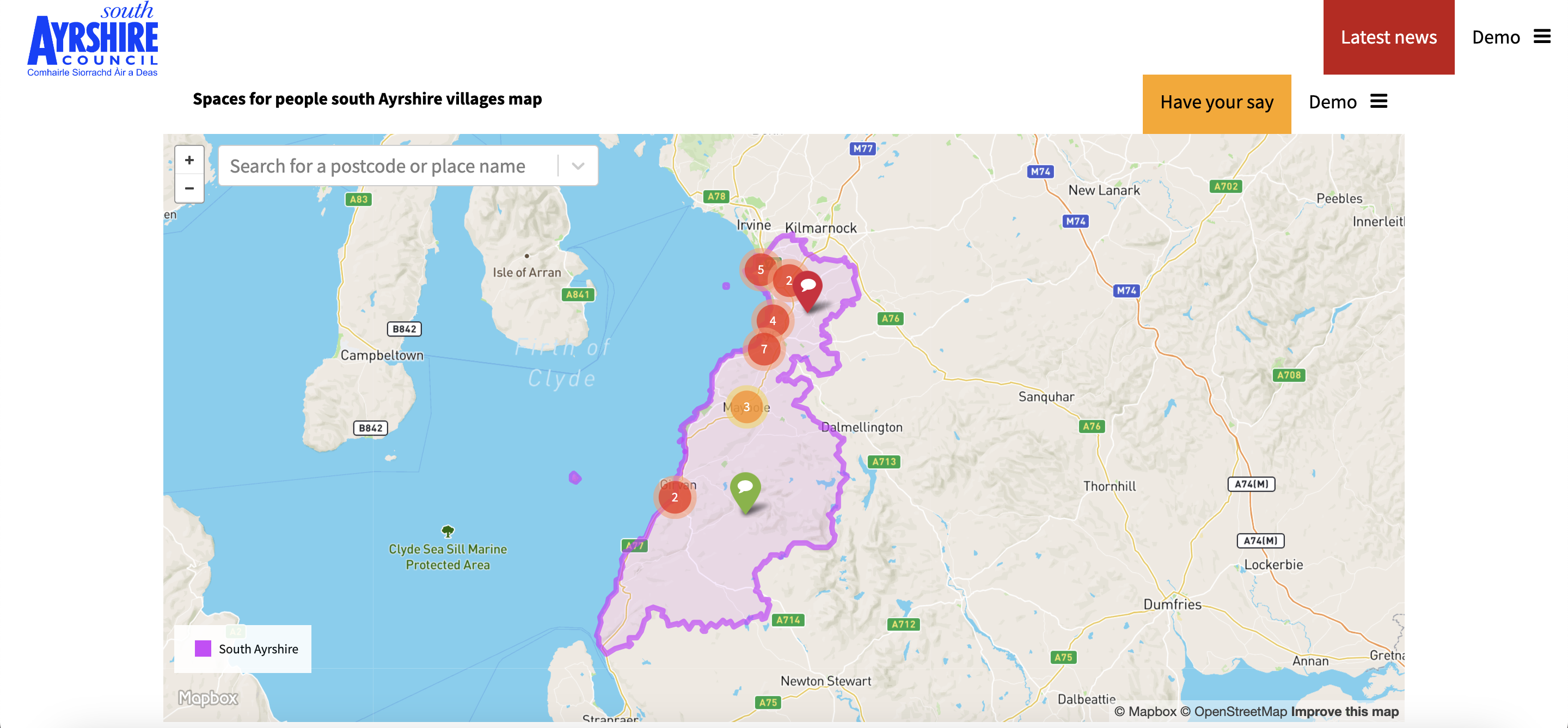 Image: South Ayrshire Spaces for People Commonplace
Buchanan Galleries
Alongside the work with local government and other public organisations Commonplace is used by private developers as well. In Glasgow, Landsec are using Commonplace to involve the public in the redevelopment plans for Buchanan Galleries and the area immediately surrounding this famous landmark shopping destination. So far, over 5,000 have engaged with the content of the engagement website. This follows from the use of Commonplace to support the planning of regenerating Glasgow's City Centre, led by local designers Austin-Smith: Lord.
CAELUS
Working across a wide range of sectors and consultations, Commonplace has most recently expanded into the aerospace industry. We work with AGS Airports on a range of consultations across their three airports in Glasgow, Aberdeen and Southampton and have recently launched a new engagement platform as part of the Innovate UK CAELUS project, allowing people to have their say on using aerial drones for medical delivery in Scotland.
---
Wherever you are, whatever your engagement needs, Commonplace will help you reach and engage people more effectively at a time convenient to them.