Digitising Local Planning: Watford and the Commonplace Planning Portal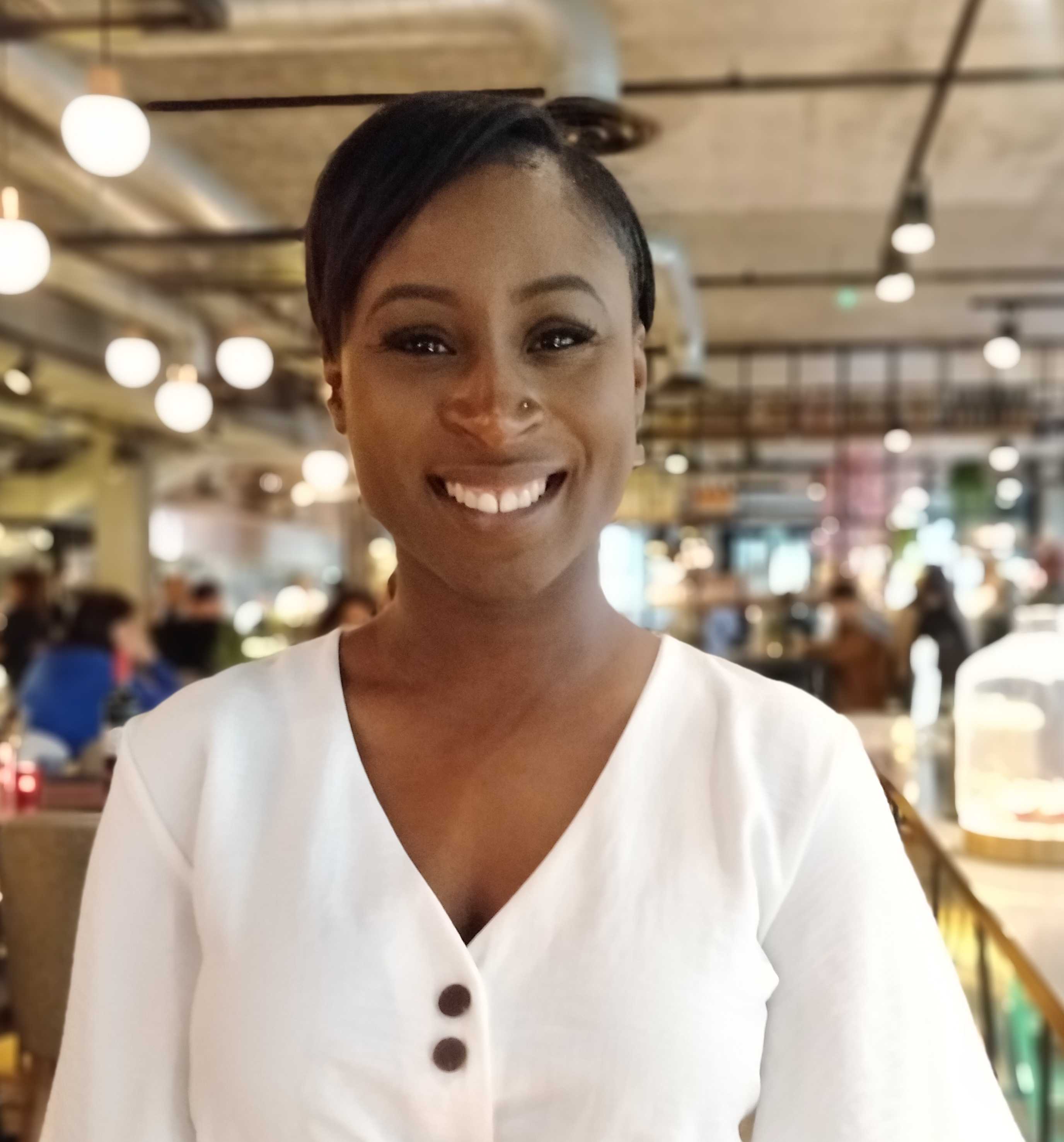 By Nouvella Kusi | Fri, May 27, 2022
5 min read
In 2017, Watford Borough Council began a process of digital transformation, which set the scene for collaboration with Commonplace to create PlanApps: a new digital tool to transform public access to planning applications. In less than five weeks, Commonplace produced a new custom platform and revamped the lamppost planning notice to enable the people of Watford to better understand and engage with major planning applications. Within 24 hours of launching, Watford's major planning applications engagement page received 200 visitors.

Read more to learn how this PropTech Engagement funded collaboration brought about such results.
Local planning and local people
Last year, we conducted research about the planning system together with Innovate UK. We surveyed local people and found that most people had limited familiarity with the planning system and many were unaware that they could participate and make their voices heard.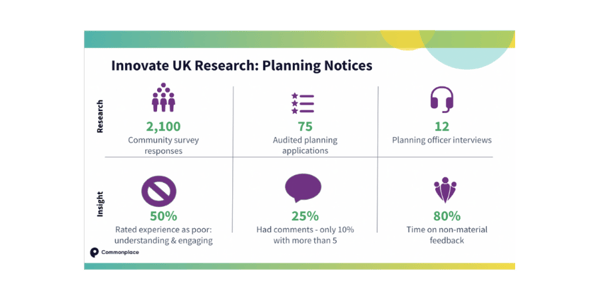 Only 27% of our survey sample had taken part in a planning decision, and more than half of these involved signing a petition of opposition. When it came to planning notices, our research also found that local people:
Don't understand why they appear and disappear
Don't understand the words or the technical sketches
Feel self-conscious stopping in the street to read lamppost notices
Think contributing is only for people who oppose the project
Don't believe their opinion would actually change anything
Our research identified some obvious and avoidable obstacles to public engagement. How does a member of the public know how to find the right application by reading a text-heavy lamppost notice on the street? And by the time they get to the planning application online, will they want to participate? Will it be clear how to?
Using PlanApps by Commonplace, Watford has been able to overcome all of the above, receiving the following public feedback:
[Planning notices are] easier to visualise and understand, [they are] brighter, more eye-catching and more informative. It's immediately clear where [the development] is and what the intended building would look like, and it's easier to find it online with the QR code.
Local Planning and local authorities
In 2021, there were over 720,000 planning applications submitted in England. Who processed these? Planning officers in local authorities. As part of our research, we interviewed planning officers to understand the everyday challenges with current processes.
We found limited time and resources to be the most significant factor:
Heavy caseload of applications limited the capability to process community feedback
The set-up, implementation and onboarding of programmes to improve innovation around planning applications couldn't be prioritised for lack of time and money
However, some local authorities, like Watford Council, prioritised a digital approach to try and address this but realised more needed to be done beyond an internal administrative digital transformation that they had begun.


Watford Council's Planning process and collaboration with Commonplace
When the Government's Planning for the Future White Paper announced planning would take a more digital turn in 2020, Watford Borough Council was ready to lead the charge. They had recognised their internal efforts toward digital transformation had improved back-office processes but had done little to make the system clearer for local people. Instead, regular telephone calls and emails asking for clarity, pictures and better explanations around the changes proposed by major planning applications were the norms, putting stress on their already stretched technical support teams.
DLUHC PropTech Engagement Funding
When the Department for Levelling Up, Housing and Communities (then Ministry of Housing, Communities & Local Government) announced funding for local authorities hoping to make planning more accessible in August 2021, Watford Council grasped the opportunity with both hands. Watford Council became one of 13 local authorities to be awarded funding to adopt a digital engagement tool that would bridge the gap between local planning decisions and productive public participation in the planning process and improve the development management process internally.
The fund allowed Watford not only to adopt an existing tool but also to develop a new one. Due to continued interaction with the local community about obstacles to planning engagement, Watford already knew what needed to be brought to life to meet the needs of their locality. They wanted something open, truly visual and engaging that was easy to navigate and could easily be used alongside traditional analogue methods.
Enter: Commonplace.
"There was huge competition for this funding, so I'm delighted that we've secured a significant sum of money to work with Commonplace on this important project. We want to enable more residents to engage with planning applications so that all sections of our community are helping to shape our town. The innovative and more accessible platform provided by Commonplace allows us to do this, by providing a new visual platform and map tools where members of the public can view."

- Elected Mayor of Watford, Peter Taylor
PlanApps: the solution to the planning process engagement
Commonplace's research aligned with the planning need within Watford. This, alongside our experience engaging over 5 million people across 1,600 projects, positioned us very well to bring to life a new portal to power positive participation in local planning decisions.
50% of people feel more engaged because they've engaged via commonplace - Commonplace feedback survey.
Working closely with Watford Council, Commonplace's team of urbanists, engagement experts and web developers came together to revamp the traditional planning notice and create a new and exclusive, mobile-optimised platform within five short weeks.
The Lamppost Notice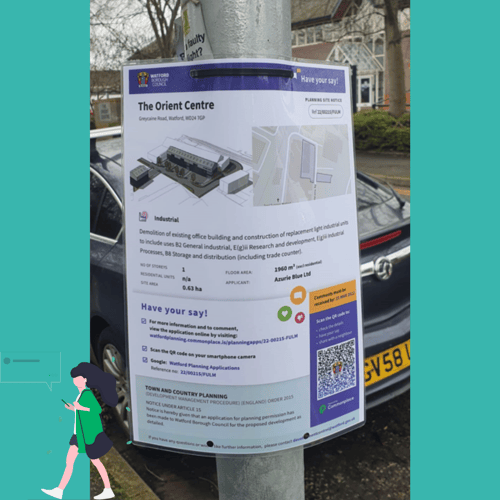 As 50% of people thought they were unegaging and challenging to understand, the priority was to create a very visual and eye-catching design, highlighting a clear and straightforward call-to-action to share feedback and a QR code for immediate access to the relevant application. The PlanApps lamppost sign is generated automatically from the PlanApps portal and provides a seamless paper-digital experience.
The Engagement Portal

Public feedback from the people of Watford emphasised the need for a visual, jargon-free platform. We, therefore, created a homepage with clear and familiar Watford Council branding and a map pinpointing the location of each major planning application to be consulted.
To ensure maximum accessibility, we included clearly labelled tiles, each one providing essential information about a specific planning application. Each tile shows:
The application reference number
Address of the proposed development
Development type (e.g mixed used, residential etc)
Status of application
How many comments have been made on each application
The goal was to make the platform as informative as possible. Therefore other vital features included labels on documents indicating how long they'd take to read. Community members also had the option to see proposed developments in 3D and satellite view, providing an additional layer of context to the development's impact on the area.
---
For more information about the full range of features available with PlanApps, speak to a member of the team
---
The results
Within 24 hours of Watford Council launching the engagement platform, they received roughly 200 visitors to the engagement site and 2,802 visitors to date.
56% of their visitors explored more than two pages, with most people viewing more than four pages of the engagement portal.
Local people refer their neighbours to the website - this has been the most significant source of traffic to Watford's PlannApps website, highlighting an appetite to get fellow community members involved. This community networking would be difficult to measure with traditional and more analogue engagement methods.
Email campaigns were also influential in encouraging local people to visit the website; this is partly because we have a community of 120,000 members signed up to hear about new engagement projects in their area. Therefore when Watford launched their planning application engagement website, we sent an email to more than 500 recipients, with more than 17% of those opening the email clicking through to the website; well above the industry average of 7.8%.
The team at Watford, both planning officers and cabinet members loved it [PlanApps] and really embraced it. The visual aspect has been welcomed, and it is easy to understand what's happening, thanks to the tiles and status updates.

- Semeta Bloomfield, Technical Support Manager, Watford Borough Council
What's next?
PlanApps is the future of local planning engagement. As a digital portal, it helps to facilitate a broader reach for planning applications and enables a greater understanding of future changes to the local area. It also creates a seamless connection between the physical local notice - the redesigns lamppost announcement - and the web-based planning portal. The PlanApp portal is designed to be mobile-friendly, bringing clear information to residents at the moment they spot a notice that interests them.
Our Watford Council colleagues have been so impressed PlanApps that they have chosen to collaborate with Commonplace again, having secured another round of PropTech Engagement funding.
Many local planning authorities are actively pursuing a more digitised approach following the planning white paper. PlanApps is now available to help improve public communications for all planning applications, large and small.
Explore how PlanApps could transform your planning processes - get in touch with us here, and we'll book a meeting to get the ball rolling.
---
If you'd like to use PlanApps to involve your communities in local planning decisions, contact the team here!
---