Introducing Virtual Town Hall Meetings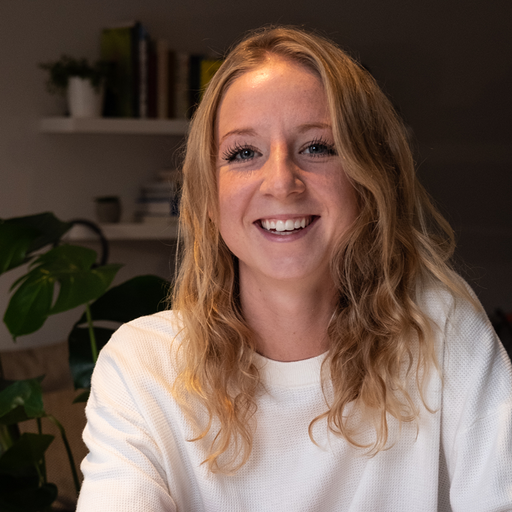 By Amy Outterside | Jan 29, 2021 7:30:11 AM
4 min read
Town Hall meetings have long been an important part of democracy at a local level. However, in more recent times, they have simply not been possible due to the pandemic. We want to make sure that the in-depth conversations and interactions that usually happen at physical events, don't stop. That's why we now can facilitate online town hall meetings via your Commonplace site.
During 2020, we've all become much more accustomed to virtual meetings and conversations. For Commonplace, this has provided a great opportunity to include even more people in the process through virtual town hall meetings. In the past when travel may have been an issue or even a deterrent, we hope that digital meetings will bring more people into the process and better decisions for all.
How it works?
On your Commonplace project, you have the opportunity to set up a virtual town hall. Essentially, this is a Zoom webinar that community members can sign up for via the Commonplace project site. Community members sign up through the link on the project page which takes them to a sign up page as set out in the examples below.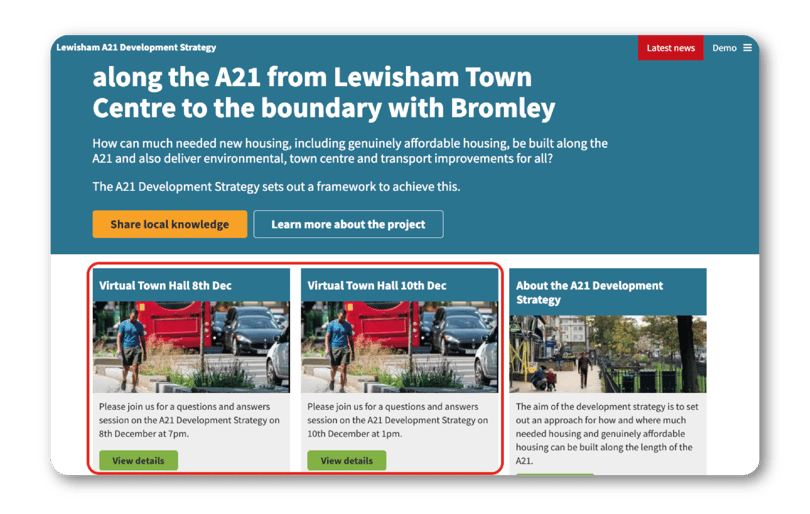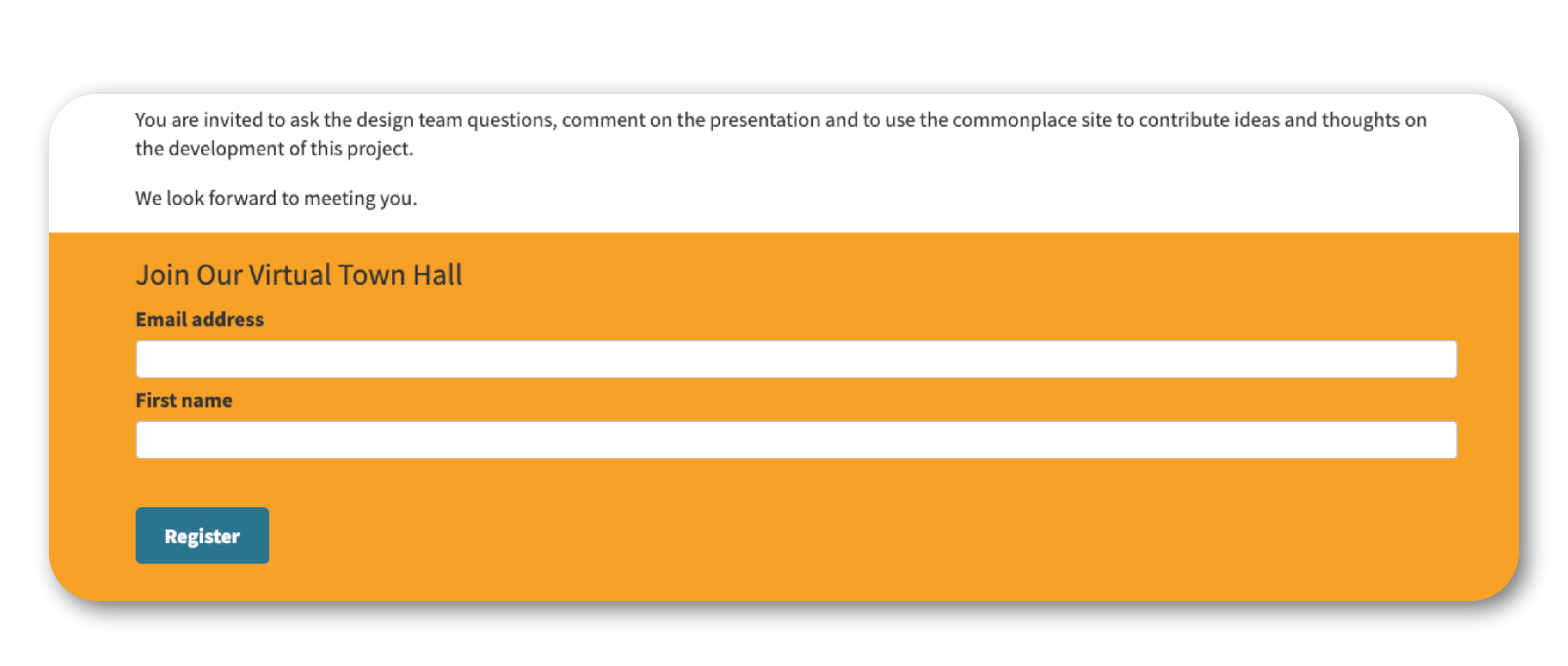 Meeting or Webinar?
The virtual town hall can either be set up as a 'meeting' or a 'webinar', both have different functionalities.
Meetings are designed to be collaborative. As shown in the image below, all participants can screen share and turn on their video and audio. Think of a Zoom meeting like you would an office meeting, with participants sitting around a table, able to speak and engage if they want to.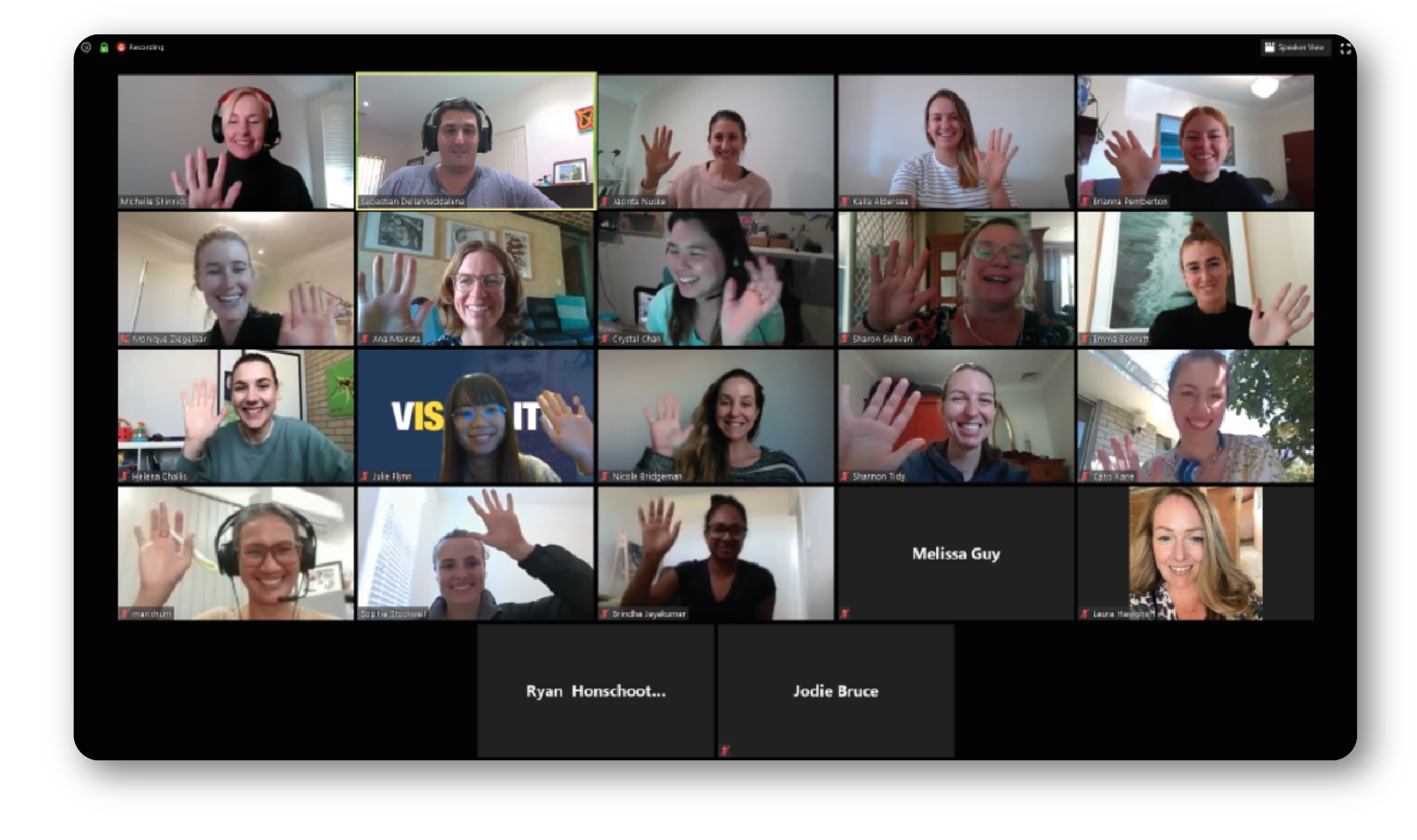 Webinars are designed to be informative. Only the host and any designated panelists can share their video, audio and screen as shown in the image below. Webinar attendees are 'view only'. They can interact via Q&A, chat, and answering polling questions. Think of a webinar like a conference, there is one main speaker and perhaps several others on stage who interact with one another, and the audience is the observer.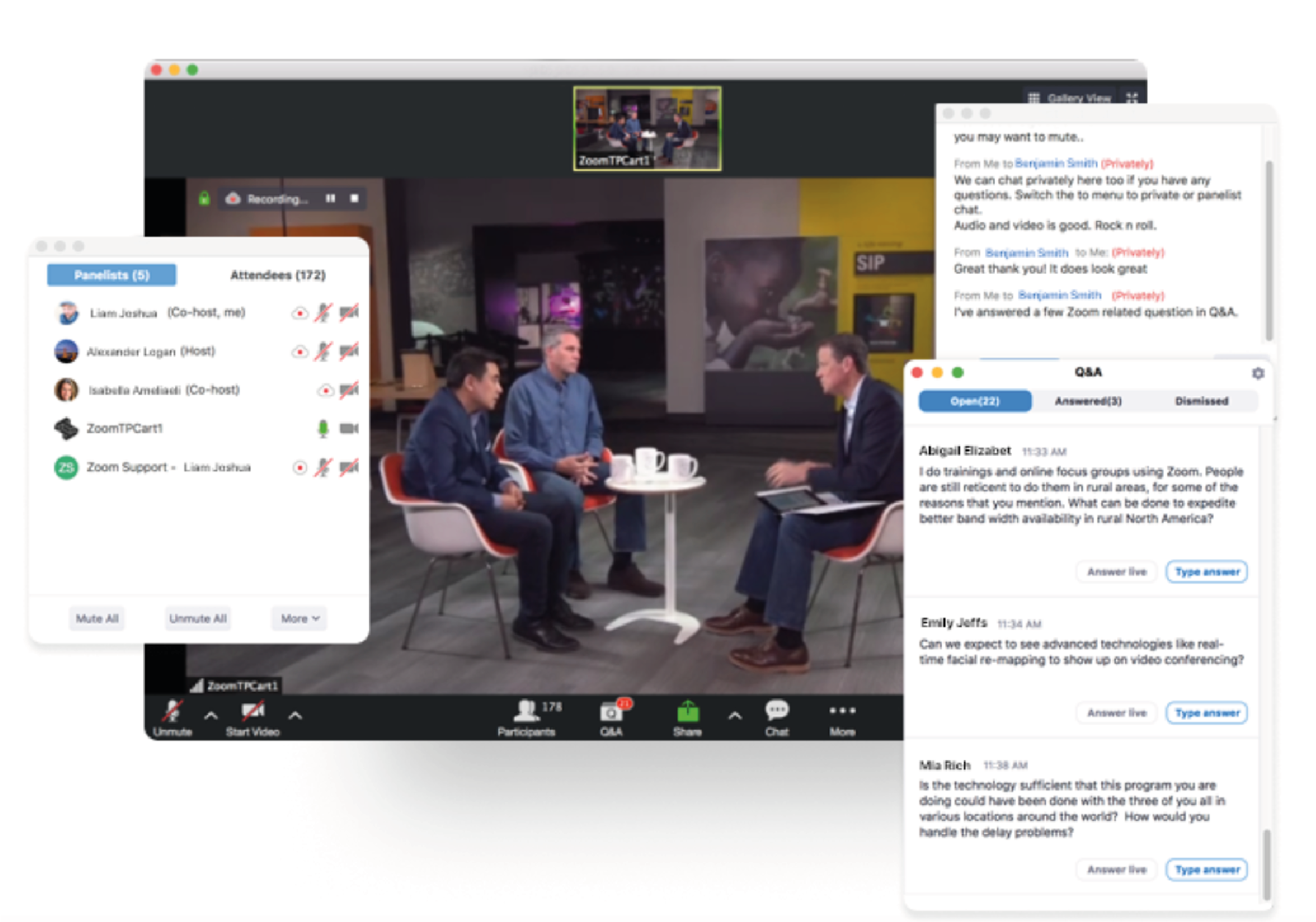 ---
Want to learn more?
---
Why do a Virtual Town Hall meeting?
It's all in the same place

The virtual town hall meeting sign up link is presented within the design feedback section of your site. As local people visit your Commonplace to engage and give their feedback, they will also see the Virtual Town Hall sign up. They sign up on the page with a name and email address, and can then carry on navigating through the Commonplace engagement.
The virtual town hall can be advertised using the News feature. Once it's over, a recording and summary can be posted on your News for the community to catch up on what they've missed.
By keeping the sign up, the news posts, and the virtual town hall meeting itself all on the same platform, it creates a straightforward process for the community. They know where to come for all their information, and won't have to use a separate platform to join the virtual town hall.
Collect feedback during the session
Another benefit of hosting a virtual town hall through Commonplace is the ability to collect opinions during the session. Aforementioned, if the virtual town hall is set up as a Webinar (where the attendees are 'view only'), you (the hosts) can choose to have a live Q&A session happening at the same time as the Webinar, see image below. This won't interrupt the speakers, but if you would like to engage with the attendees during the session, the live Q&A helps you to do this in a structured way.
There is also the opportunity to add polls during a Meeting or Webinar. Here you can ask quick opinions from the attendees, and collect their responses and turn them into useful data insights.
Save and respond to feedback
One of the main attractions of digital platforms is the ability to systematically organise and review previously collected information later. All of the questions in the live Q&A will be saved, meaning popular questions can be picked out and addressed on the News feature for all visitors to see who may not have attended the virtual town hall.
Who attended, who left, and why?
The digital nature provides further insights by enabling you to see who's signed up, who attended, and how long for. The beauty of this is that you can follow up with different attendees on specific topics after the session based on their behaviour. For example, if they left early you could ask them if they felt the session was missing something, or if there is something they were particularly passionate about that wasn't covered.
Get more inclusive opinions
With increasingly ubiquitous technology, today digital spaces are some of the most accessible. In 2019, 94% of adults owned a smartphone. Our statistics reflect this, with over 70% of our users being mobile based. With most people owning a smartphone, we know that VTH meetings provide equal opportunities for everyone to get involved.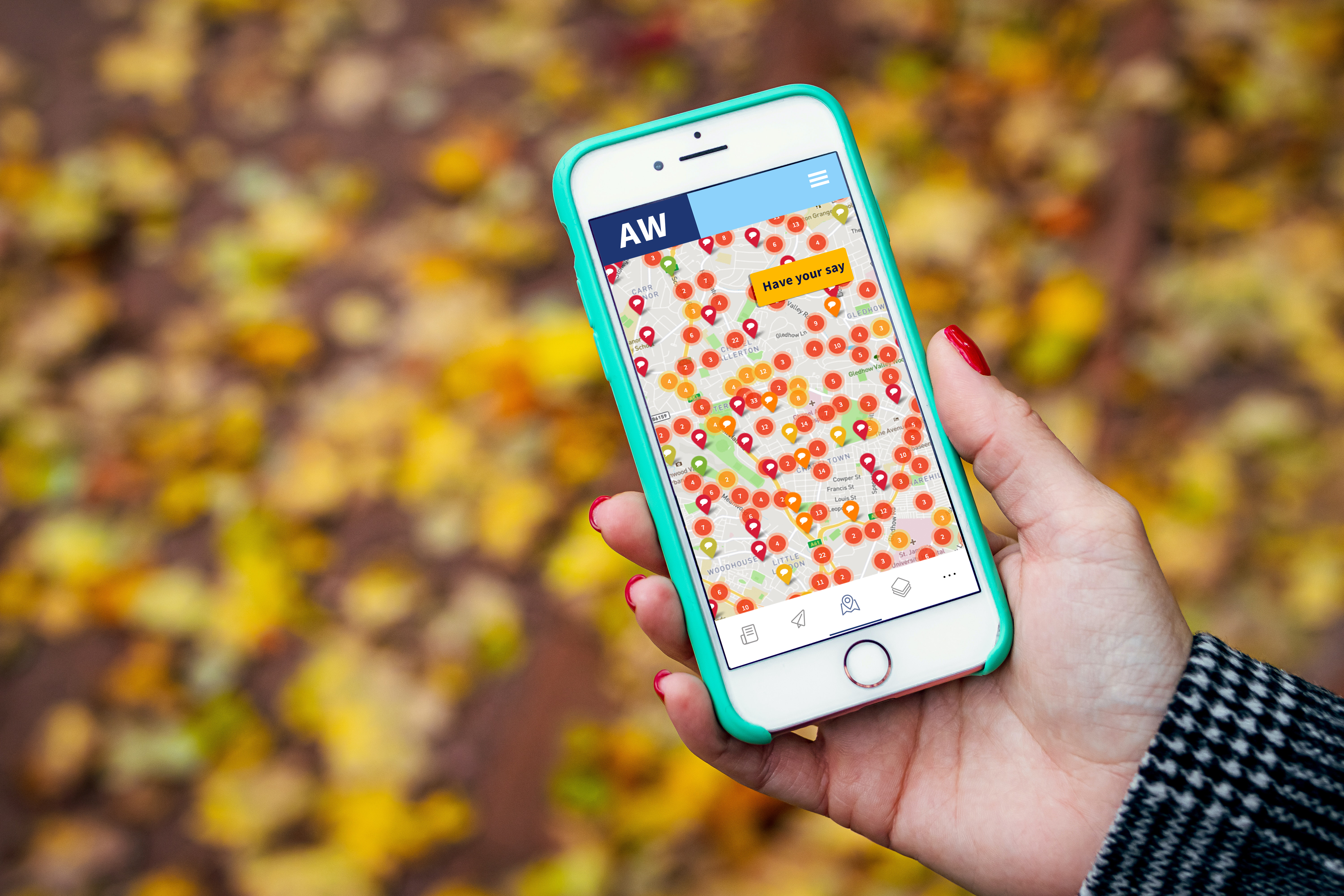 Face-to-face town hall meetings have several contextual factors that can be limiting. The location of a meeting may be difficult to travel to without a car, individuals could be restricted time wise, or they may need to be at home to care for children or the elderly. These limitations can be eliminated through taking the town hall meeting online, where more people will be able to join who may have struggled under normal conditions.
For those hosting a Webinar version of the virtual town hall, it can be streamed live on Facebook and YouTube. Again, this is another fantastic way to reach a wider audience through popular media platforms.
Most would agree that speaking from behind a screen is less nerve racking than standing up in a room of people, which is what engaging in a traditional town hall meeting requires. It can be enough to deter some of the community from speaking out, which in reality could lead to irreversible detriment to their local area. A core objective of Commonplace is to ensure our customers reach a wide audience that truly reflects the community, we know this is integral to building the successful, sustainable and human-centred places that you want to achieve.
---
Fancy trying a virtual town hall meeting out?