Webinars: Global engagement & the power of partnerships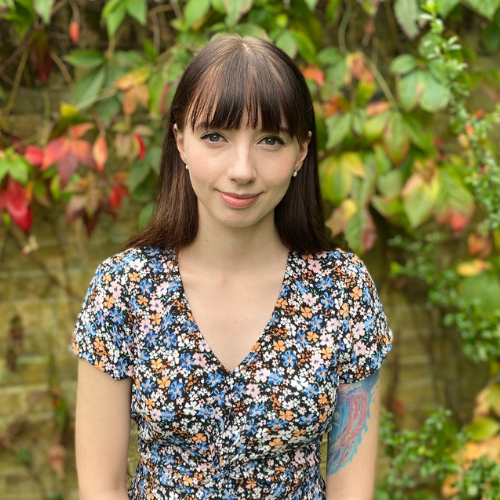 By Charlotte Cooper | Thu, Feb 17, 2022
6 min read
Missed out on our webinar: Global engagement and the power of partnerships? Discover what all our expert panelists had to say about how forging planning partnerships is crucial in an ever-connected world right here!
Or you can watch the whole thing for yourself. Access the free recording below.
---

---
As we become increasingly connected globally, the standard for engagement and informed decision-making continues to rise. As a result, there's a growing desire for more accountability and participation, and the role digital platforms play in this is unprecedented. On 7/2/22, we were joined by an expert team to discuss this:
If you missed out, we're here with a quick rundown of our panelists' talking points as well as access to the free recording which you can watch at your leisure.
Glen Brawn: Commonplace partners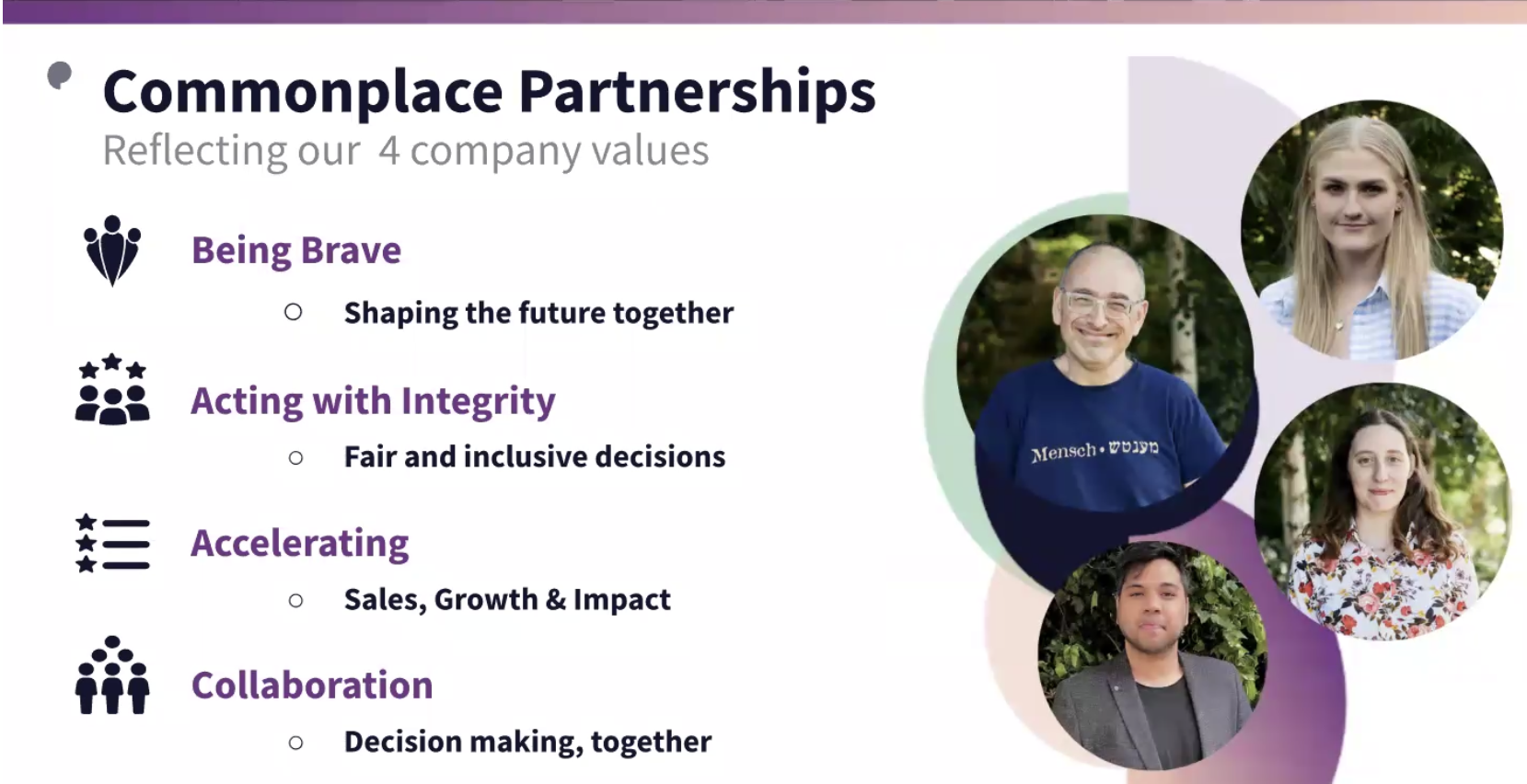 So I'm just going to say a few words to kick things off. When we say the word partnerships, I've realised that it's had many different contextual meanings, especially over the last year. I've helped the team here set up the official partner side of Commonplace and across that 12 months I've learned a lot. I've seen that great partnerships can have many outcomes, but also, what makes a great partnership reflects the company values of both sides. At Commonplace, we want our partnerships to be adventurous and for all our partners to be brave. We feel that anybody being brave in a new partnership can really help to shape the future. We all want to accelerate growth in every sense, but especially customer value and leaving a positive impact on communities, so it's crucial that we accelerate in those areas. And lastly, what good is any partnership that isn't a true collaboration? Because only by collaborating can we do all of the above, and make better and faster decisions together.
I also want to highlight how our partnerships can and have worked on vastly different scales. One example is a project we have run for SUSTRANS in Scotland and really exemplifies engagement on a hyper local level. We worked with Wick, a small town in Caithness and, in essence, we were set the task to engage with 750 meters worth of Wick high street. However, regardless of scale, we delivered to SUSTRANS that local sentiment on the place that means the most to the locals. That's something we should never get away from. This is just as important to Commonplace as any partnerships 100 times the size.
I couldn't show you a more contrasting project than the Lahore 2050 master plan project that we're working on with the DAR group and is on much more of a global scale. The numbers we're working with here are simply staggering and completely incomparable to the SUSTRANS example. But the outcome, which will be far wider reaching is no less important to us as the Wick high street example again.
Eric is here to give us more info on the Lahore project.
Eric Wright: Lahore's 2050 masterplan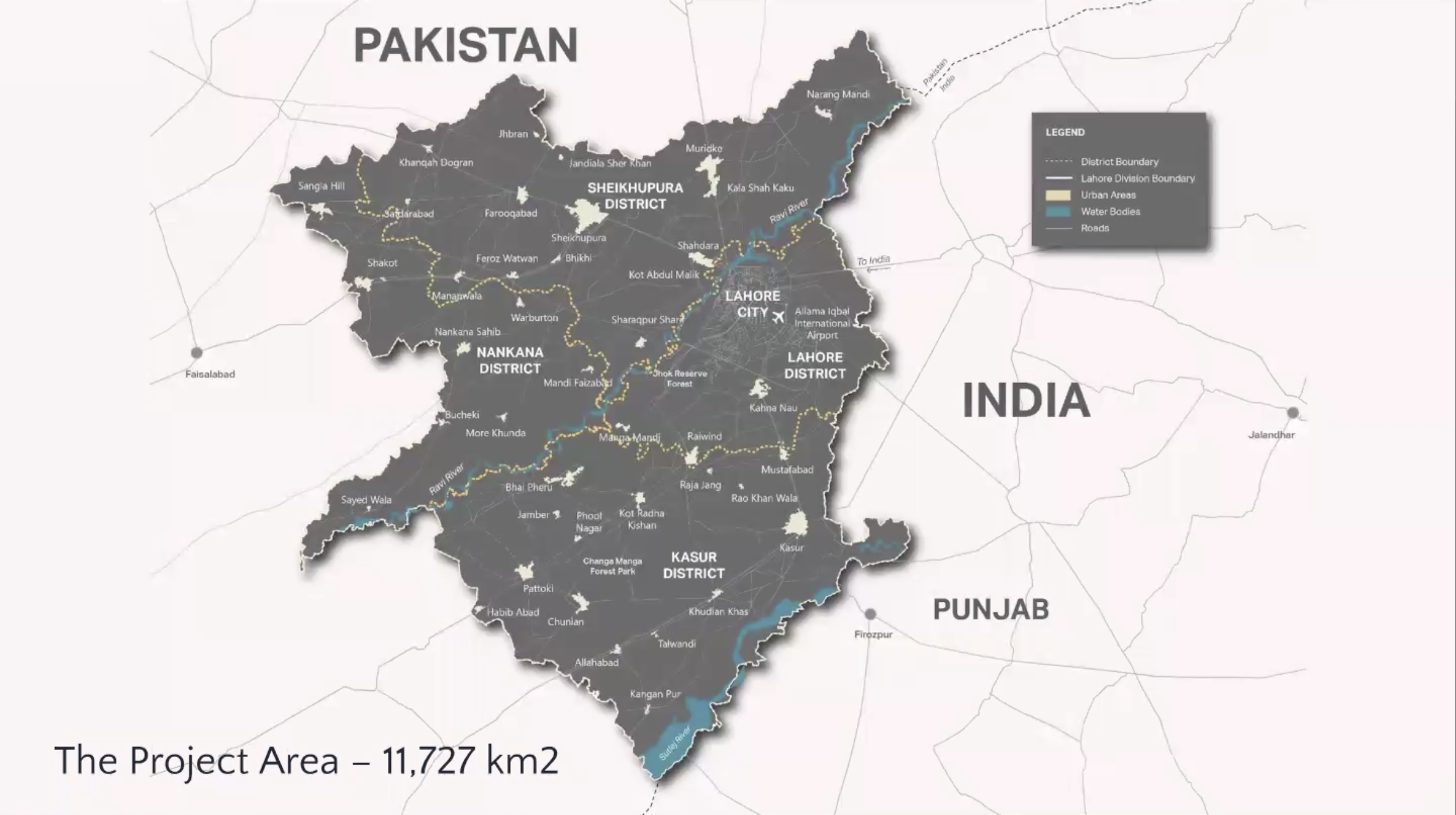 I've been working with Commonplace on the Lahore project and it has been extraordinary because we're working on a project of tremendous scale. We're preparing this master plan for the year 2050 as Glenn mentioned, which is a major undertaking given the scale of the area. The whole division and the region surrounding it is almost 4000 square km, so it's equivalent to all of London as well as some of the Home Counties around it.
Our client hired us to help them prepare this long term vision plan. Lahore is one of the growing megacities and by the year 2050 it could be one of the top five largest cities in the world. There's a lot of challenges that come with doing master planning at that scale in that context so we've had to approach this carefully. One of the things that our clients look to us to bring is an international perspective, so that's exactly what we're doing.
There is a back end to Commmonplace's platform- which shows where the data is coming from and gives us a real break down. This is invaluable for us- Eric Wright
With master planning this large, one of the challenges was how to do public engagement on a scale that is meaningful. There's about 21 million people right now in our division and by the year 2050, it will be up to almost 40 million people. That's a lot of citizens that need to be accommodated. So how do we even begin to get an understanding of the local situation?
Well, we're doing a traditional engagement process as well as an online one. We have a series of public workshops where people come and give us their feedback, but in a region of this size there's no way we can get even a fraction of the public's sentiment just through face to face engagement. So we're using a Commonplace platform that can be accessed from both a desktop and from a phone so we can collect data from as many people as possible from across the region.
The region also has a number of local languages, so we've made sure that the platform is accessible in many of them. Even now, we're getting feedback from people with all sorts of income and education levels- not just the 'elite', if you will. The project is designed to enable people at all sort of socio economic and education levels to have a stake in the plan and to understand what it means. This way, they can be a participant moving forward into 2050.
Max Farrell: #ParkPower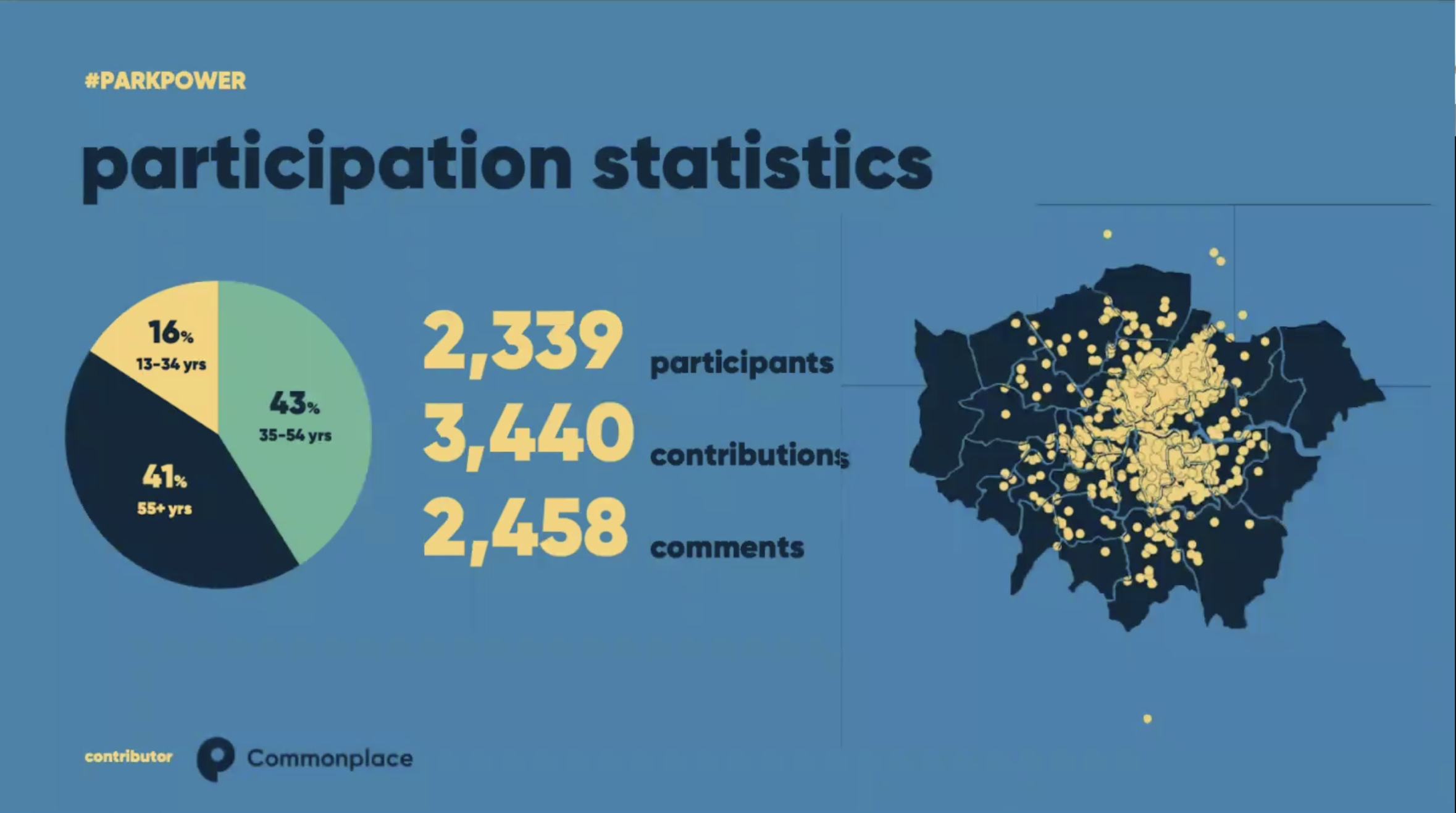 I'm going to show you an interesting case study that was done in collaboration with a number of different partners. It was called #ParkPower and took place in between the two lockdowns in 2020. This project tried to understand people's attitudes to green space and also the pressures that they were under because the pandemic increased the perceived value of parks and green spaces.
It was through collaboration and the partnership between The LDN Collective and also the City of London as they are one of the biggest owners and managers of green spaces. They even own my local park, Queens Park in west London, and so they are a real steward and they wanted to understand how to use their green spaces better.
This project was launched in 2020 on the Commonplace platform and we collected feedback from people in every London borough possible. People could just drop a pin on the green space near them and tell us what they thought was great about it, but also their ideas for the future. We asked a number of different questions and we really got some incredibly interesting and surprising feedback- over 3500 contributions from almost 2500 people. It gave us a really interesting picture about the challenges that people are experiencing around things like social distancing but also social connection.
The project quickly highlighted the physical and mental benefits of green spaces to people's health at that point in time… and arguably any point in time. The parks were actually created in London by the Victorians as a response to a public health crisis and, in many ways they played that role again in 2020 which we thought was really interesting to analyse.
I think the most important partnerships, if we are to create really successful & sustainable places are partnerships between the private sector, the public sector and most critically of all, the local community - Max Farrell
There were also some really interesting ideas around the cultural use of parks as well: food growing, the programming of activities as well as notes about making them more inclusive places for different community groups. For example, there were comments about the ability to make them safe 24 hours a day so women could walk safely at night on their own and several recommendations were put forward because of this.
With technology, we looked at how it could be invisible but also help the experience of park visitors: things like smart bins, self-cleaning toilets, intelligent lighting, automatic gates and other really interesting ideas. We came up with these recommendations and wrote an eBook! It's an ongoing project with people still feeding back on the different themes and recommendations but we're glad of it being such a continuous dialogue.
James Mark: a 90/90 vision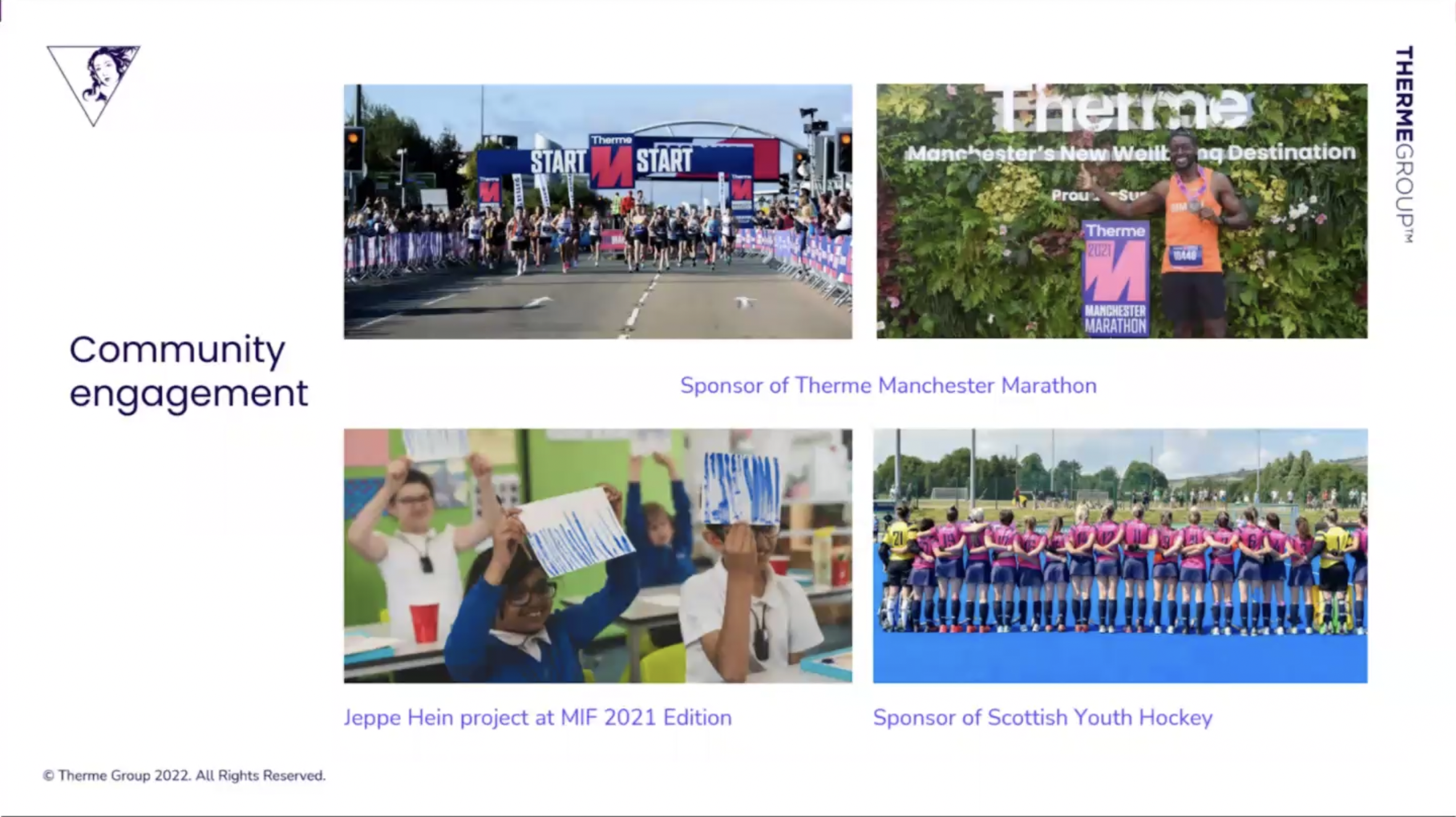 We believe in a vision of wellbeing as something that's not just a luxury, but is there for everyone always. It's an element that is very much important to all people's lives and as nearly as fundamental as human rights. That can be a real challenge with today's lifestyles- particularly in dense urban areas. We really believe in the concept of making health and wellbeing part of of social infrastructure.
The Therme Group are a global organisation and we have existing sites throughout Europe- this is a reason why community engagement is so important to us as there's not a 'one size fits all' scenario. You need to dig deep to truly understand what the community's wants and needs are.
We have a 9090 vision. That's 90% of the UK population within 90 minute travel time of a Therme resort and that will deliver approximately 3000 direct jobs in the UK and about a billion pounds worth of investments. For any of these projects, we need the same understanding of the local community so we can best meet their needs and maximise those opportunities to benefit their health and wellbeing.
In Scotland we have an amazing project we're developing in Glasgow. We're doing some work around youth hockey and promoting healthy lifestyles. The focus is very much around engaging the community in these ideas. In terms of how we collect information around that, we've done all sorts of public engagements and have been talking to Commonplace about how they can support us in working with The Human Race, the organisers of the Therme Manchester Marathon, in order to maximise public feedback and develop it further for that community.
There are a range of commonalities between projects but the Therme Group understand that different regions have their specific challenges, whether it is with social equity etc. Looking at those specific elements is important, which we can see in the data from Commonplace - James Mark
Considering the different aspects of what we do, we see a lot of different benefits. For example, the number of saved sick days and days people would have had to take off of work. This can therefore have a positive effect on the NHS. By keeping people healthy, we're very much part of the prevention agenda: so I hope we will be doing more with the Commonplace team around that.
That was the rundown of our webinar panelists! As always, you can rewatch the whole thing using the link below or sign up for our upcoming webinars right here.
---
---