Improving Active Travel across Wales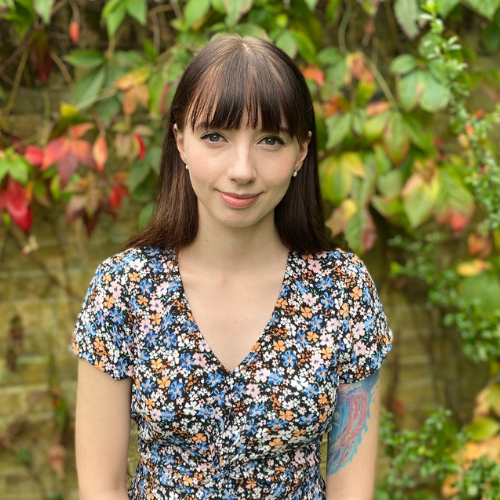 By Charlotte Cooper | Wed, Aug 2, 2023
4 min read
Every three years, all local authorities across Wales update their active travel network plans. This is part of their commitment to the Welsh Active Travel Act 2013, ensuring all Welsh citizens get the opportunity to be involved in planning the future of active travel.
The Active Travel (Wales) Act 2013 identified settlements throughout Wales as priority areas for action. These locations were chosen on the basis that they have the highest potential for more people to choose to walk or cycle due to short travel distances to regular amenities, such as schools, leisure centres, employment sites, local shopping districts and transport interchanges. From Anglesey to Bridgend, various local authorities within Wales have launched active travel consultations using Commonplace to engage communities.
While a bit of a throwback, we're still thrilled to see how the community engagement that started in 2020 has led to All local authorities in Wales now having produced maps of walking and cycling networks in their local area
Read on to find out how it started and where the scheme is now…
Local engagement on a national scale
Using the Commonplace platform for transport planning, local authorities aimed to gather the views of a broad cross-section of people to ensure that their active travel network plan is built on solid foundations and with the support of the community.
For effective consultations, it's fundamental to gather local information from local people that live and work in the area.
The Welsh Government recognised the value of online consultations in achieving meaningful engagement, particularly in 2020 with the Covid pandemic limiting opportunities for face-to-face engagement events. Therefore, they decided to make Commonplace available to all local authorities within Wales to assist them to meet their engagement duties under the Active Travel Act.
The scheme was designed so that each of the 19 local authorities that chose to use Commonplace had their own project page. This provides information about the project and serves as a place to gather real-time dialogue between decision-makers and local people.
Dual language
Inclusivity is crucial for consultation, so ensuring everyone can access the project page is key. In Wales, all public bodies are required by law to provide access to information equally in both Welsh and English languages. Commonplace built a Welsh language option into the platform to enable equal access for the Welsh-speaking community.
Working with Commonplace to adapt the system for use in Wales has been really straightforward and efficient. They have understood the statutory needs for accessibility and language parity and have been flexible and accommodating to ensure our requirements were met. I also highly recommend Commonplace to clients who are in similar situations where designing a single template for use rolling out across several different areas is the requirement.

- Jane Lorimer, Project Officer, Welsh Government

Phase 1: Understanding the lay of the land
The first phase for the local authorities began running in November 2020 and continued up until May 2021. From there,
The purpose of phase one was to consult with the community at the outset of the process and use they thoughts to update their active travel network plans. The local authorities needed to gain an understanding of the current state of active travel within the areas and how the communities feel about it. This required an open-ended approach that enables the community to raise comments and make suggestions that previously may not have been considered.
All 17 local authorities used a Heatmap for their initial consultation during Phase 1. The Heatmap allows users to drop a pin anywhere within an area and have their say. As part of the commenting process, sentiment is captured and displayed giving an idea of the overall consensus from the community on active travel.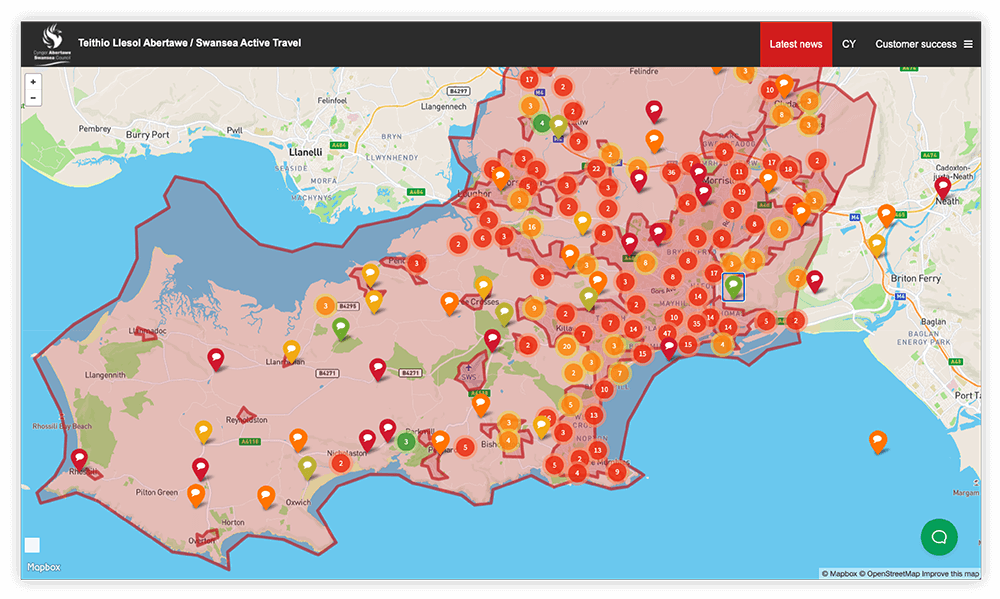 Phase 2: Advanced consultation
Following phase 1, the local authorities took what they learned from the community and turned it into proposals for active travel within their areas. The initial ideas were presented back to the community so they could get another round of feedback from local people on the draft network maps. This was another use for the Heatmap, this time with new routes layered on top.
This stage was designed to be open and flexible, welcoming comments on the initial designs before phase 3.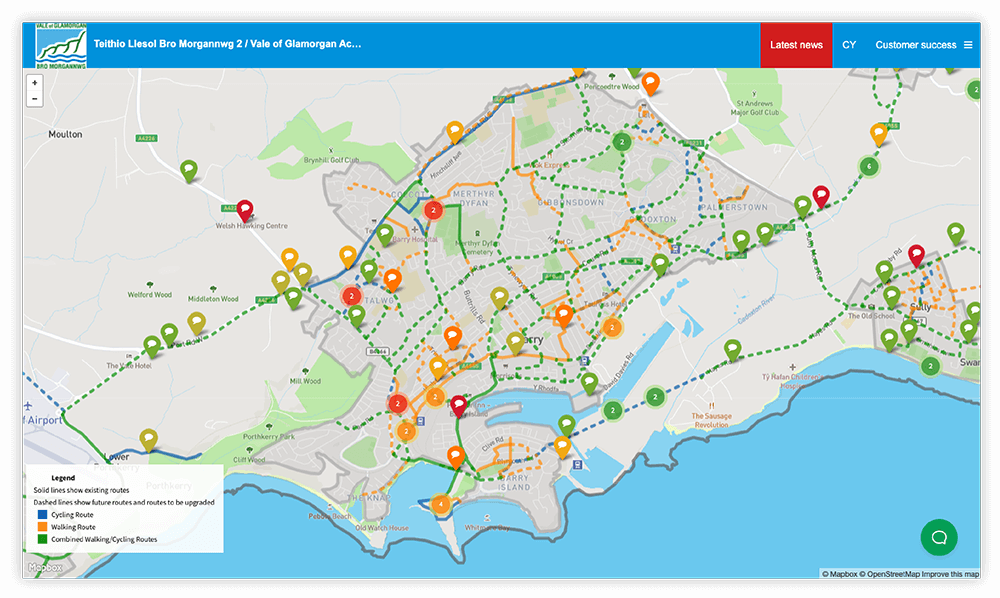 Phase 3: Advanced feedback
Phase 3 was the final stage and formed a three-month statutory consultation. The local authorities finalised their Active Travel Network Maps ready for submission to Welsh Ministers at the end of December 2021.
The 3 phases approach means the local authorities are closing the loop with the community throughout the consultation timeline. This ensures that their voices are heard and their needs are reflected in the plans.
One of the reasons Welsh Government chose Commonplace as our preferred supplier for online engagement was because they had different tools available to suit different stages of the process. The design feedback module is ideal for local authorities to use for their statutory consultations as they can include detailed information, and layout the information in a very user friendly way.

- Jane Lorimer, Project Officer, Welsh Government
The completed active travel Wales maps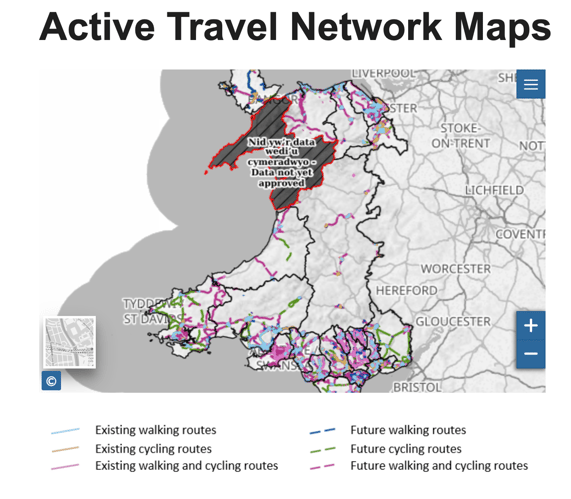 After gaining input from various communities and stakeholders, the Welsh Government gave official approval to the county's Active Travel Network Maps (ATNM) last year. These maps depict existing active travel paths and information on potential future paths in the county's 11 active travel localities, as defined by the Welsh Government. They are available for viewing on the Welsh Government's website.
Continuous & transparent engagement
Transparency, openness, and trust are central to the way we operate at Commonplace and the values that underpin our platform. At a time of rapid change in the way we work and travel, these principles are as important as ever.
Community engagement works best when it is part of an ongoing, continuous process that enables trusting relationships to build and strengthen over time. The Welsh government encourages local authorities to do this by engaging with their communities as part of an ongoing process. As demonstrated in the timeline above, the engagement period spans up to a year with two defined phases spread over long periods, allowing ample time for community engagement.
Furthermore, by having a central hub where all consultations across the nation are posted, people that live in one local authority but work in another can comment on what is happening in both. The local authorities believe that their consultations need to reflect the flexible and transient lives of their communities, and this method allows them to meet those needs.
Transparency is a core part of the Commonplace platform, keeping an open and visible record of all comments, and upholding a key part of the engagement process: being able to read others' comments. As a result, the central project hub for Wales shows current consultations, and also past and future consultations. This means that other local residents and participants can see what their neighbours are saying at different stages in the project. This in itself encourages higher levels of participation. Such a transparent process doesn't just inform but ensures the local authorities remain accountable for taking the communities views into account as there is a digital record available for everyone to see.
---
Inspired to create your own Active Travel engagements? Have a chat with one of our experts by clicking below!