7 ways to increase participation in your online consultation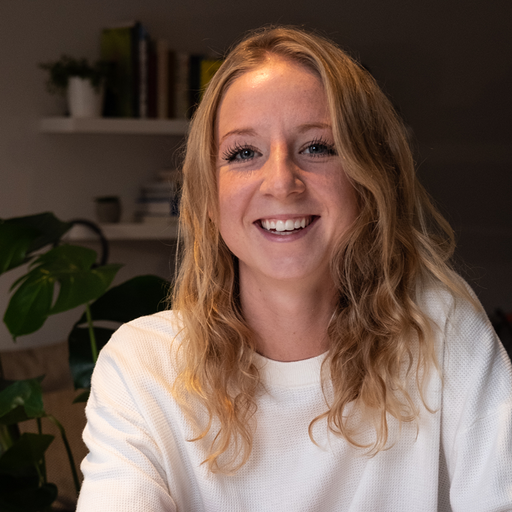 By Amy Outterside | 12/05/21 13:37
6 min read
Successful digital community engagement is far more than just creating an informative and attractive website. You need to ensure the community knows what is happening, what impact they can have on the project, and provide them an opportunity to have their say.
It is crucial that you deliver your engagement site, alongside a carefully thought out, integrated communications strategy that supports a broad, yet inclusive approach.
Don't worry, we've got your back. Getting your message out and extending your reach across your community is one thing that we are experts at after working across more than 1,200 engagements on our platform. To help, we have pulled together 7 tips to drive engagement in your project and of course, our team is here to help every step of the way.
1. Use social media to promote, target, and extend your reach
Nearly 78% of people in the UK are active on social media which means the vast majority of your community are available to be reached through this medium.

However, the competition for people's attention on social media is extremely high. According to Moz, the average lifespan of a tweet is a mere 18 minutes! To make the most of your posts, lighten things up. Invest time in creating compelling content that is concise, interesting and fun.
Here are a few tips and tricks you can use in your social media plan to ensure you get high engagement:
Make it visually appealing
Don't be afraid to use an emoji or a GIF to help inject a bit of personality into your communications. The use of GIFS in social media posts to drive people to your site are far more compelling than flat images or purely text. See below an example from Manchester Climate Change Agency inviting people to their project site.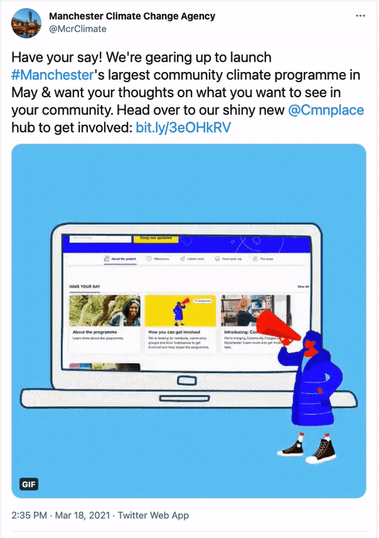 Use the power of 'social proof'
Social proof is the concept that people will follow the actions of the masses. As you start getting people visiting and contributing on your website, make sure you communicate how many people have participated in order to drum up support from the rest of your community - the Fear of Missing Out (FOMO) is a real thing!
Consider targeted paid social media advertising
Struggling to get the attention of a particular group or area? You can set up targeted social media campaigns on platforms such as Twitter and Facebook, to help increase visibility across particular audiences. At Commonplace, we can run social media campaign packages on our customer's behalf to help guarantee engagement in their projects.


---
Interested in learning more about our paid social media campaigns?
---
2. Local Influencers -Think about the messenger
Social proof is often more effective when it comes from someone your audience trusts. We always advise connecting with local influencers to help spread the word of their engagements.
Start by thinking about exactly who you want to engage. For example, some of our customers have traditionally struggled to reach younger audiences (18-25) in the past, so think about who can connect you to this demographic within your area.
Then, focus on connecting with the community groups that can help you access these people. These can be religious groups, local parent meet-ups, sports clubs, exercise classes, or charities within the community. These groups are well known and often have influence beyond their members, so it's worth getting in touch with them.
Similarly, there are individuals that have local influence which could be very beneficial for your project promotion. Local politicians, long standing community members, or even shop owners in the area will often have an interest in your engagement and will motivate others to get involved too.
Having a ready made 'communications brief' that can be distributed amongst these influencers will help speed up the process and make it easier (and more likely) for people to spread the word. We advise our customers to include the following information:
About the project - brief overview of your project and objectives.
Core topics - what are you consulting on?
Content plan - give an overview of what content you intend to produce and when.
Key assets - give people access to social sharing assets and links.
Sample copy - do the hard work for them, give them examples of what to write.


3. Commonplace Communities
Over the past 7 years, Commonplace has hosted online consultations from the highlands in Scotland to the very southernly tip of Cornwall and everywhere in between. Across these projects, we have accrued over 82,000 subscribed community members across the UK. Why is this important?
Well, this network of engaged community members have indicated that they want to hear more about consultations happening in their area. This means you can spark a local conversation about your projects straight off the bat, by sending them all an invite, via email to get involved.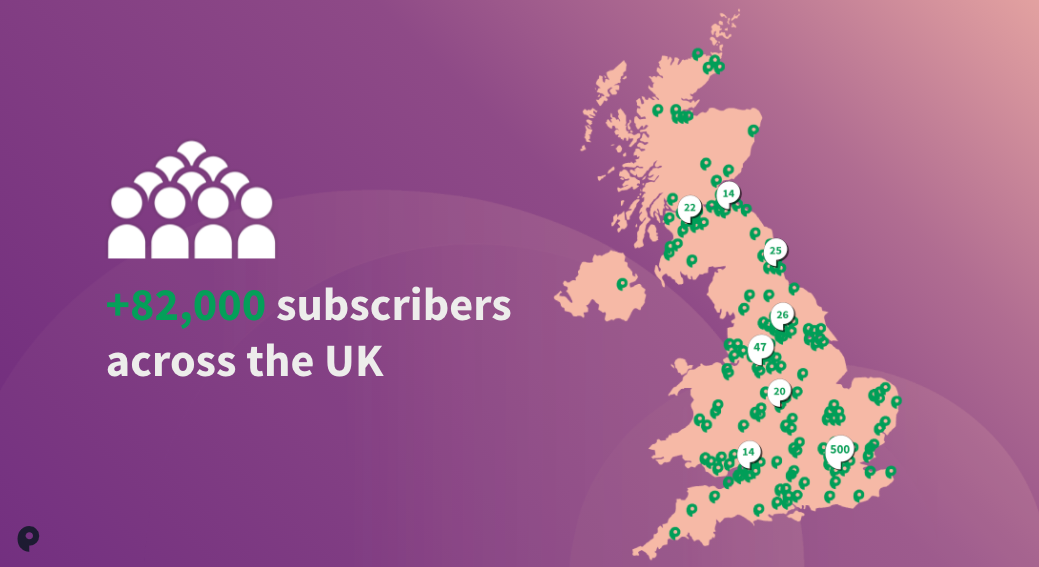 ---
Want to tap into Commonplace Communities in your area?
---
4. Post Regular, informative updates
Here's the thing, every engagement site has to start somewhere, and often with little to spend on social promotion. That's not to say that you can't still get a fair amount of traffic.
Start by creating a draft content strategy. When launching a project, we recommend scheduling pieces of content set to go out at regular intervals throughout the consultation period. This content needs to resonate with your audience and provide real value throughout.
Regularly updating your community with news no matter how big or small the progress of the project will bring them back to the site and keep them engaging with your consultation.
We'd like to place an emphasis on 'regular' updates here, as a cadence of news is crucial to maintaining your relationship with the community. Posting 1-2 times a week, will successfully re-engage people and get them talking about your project with their friends and family.
Need help structuring your content plan? Here's a template to get you started.
5. Drive website links back to your project site
A backlink is when one website links back to another, they are also called inbound links and they are very important for driving traffic to your engagement site.
The reason why backlinks are so important is that they represent a vote of confidence from one site to another. In essence, they are a key indicator that search engines use to assess the quality of your site. The more relevant, reliable and well known a site is that links back to yours, the more favourable your site will start to appear on search engine rankings.
At the very least, making sure your project is linked from your local council and/or corporate site, any news articles or local press related to the consultation should also link back to your project URL.
Similarly, your project will be the first to pop up if you've got your search engine optimisation right (SEO). That means ensuring your keywords are up to scratch. The more keywords that appear on your project page that are relevant to what your community searches, the more visitors your site will receive.
6. Webinars and online chat hours
More often than not, the community will have questions about a project that go beyond what you can provide on a webpage. Another way to build strong relationships with the community is to offer webinars and online chat-hours to open up the conversation on a wider level.
There are various benefits to webinars, including speaking about certain parts of the project in more detail, particularly contentious areas to alleviate any worries. Also, they provide the opportunity to set up a Q&A session, where you could collect questions before the webinar and answer them publicly, or have an open Q&A session on the spot. Similarly, you could have a less formal 'online chat hour' where the community can drop in and resolve any queries they have.
Webinars and online chats can be recorded and uploaded to your project site, which benefits you and the community two ways.
Firstly, for those who aren't available for the live webinar they can catch up with the recording after. This will stimulate more interactions on your project even after the event has passed.
Secondly, the recording provides a permanent record of what was said by either side, again demonstrating a transparent process and laying the foundations for a trusting relationship with the community.
---
Want to run your own virtual town hall webinar?
---
7. Blend online and offline methods in your consultation
The way we conduct community engagement has changed significantly over the past 12 months. The Covid-19 pandemic has accelerated a shift in the way we use and understand digital communication tools. Digital community engagement has become far more 'commonplace' and has demonstrated the possibilities of reaching a much broader and extensive audience.
The new normal is starting to take shape as lockdown restrictions start to ease. Before long, civic centres, town halls will open up again and public meetings will become a possibility for residents once more. With this in mind, it is important to reach a balance in the way we engage communities with both approaches, digital and face to face.
We always recommend a blended approach to engagement where both online and offline techniques are used in tandem to maximise participation. The challenge though is to ensure that you can collect all of the community feedback in one place so that your findings can be used to drive better decisions making.
Fortunately, there are ways in which digital technologies can complement offline engagement and help you keep everything in one place:
QR codes - make the virtual, physical
Give your online consultation a physical presence by promoting it at the point of development. By publicising QR codes near the sites you are consulting on, you can give people the opportunity to learn more and have their say in real time.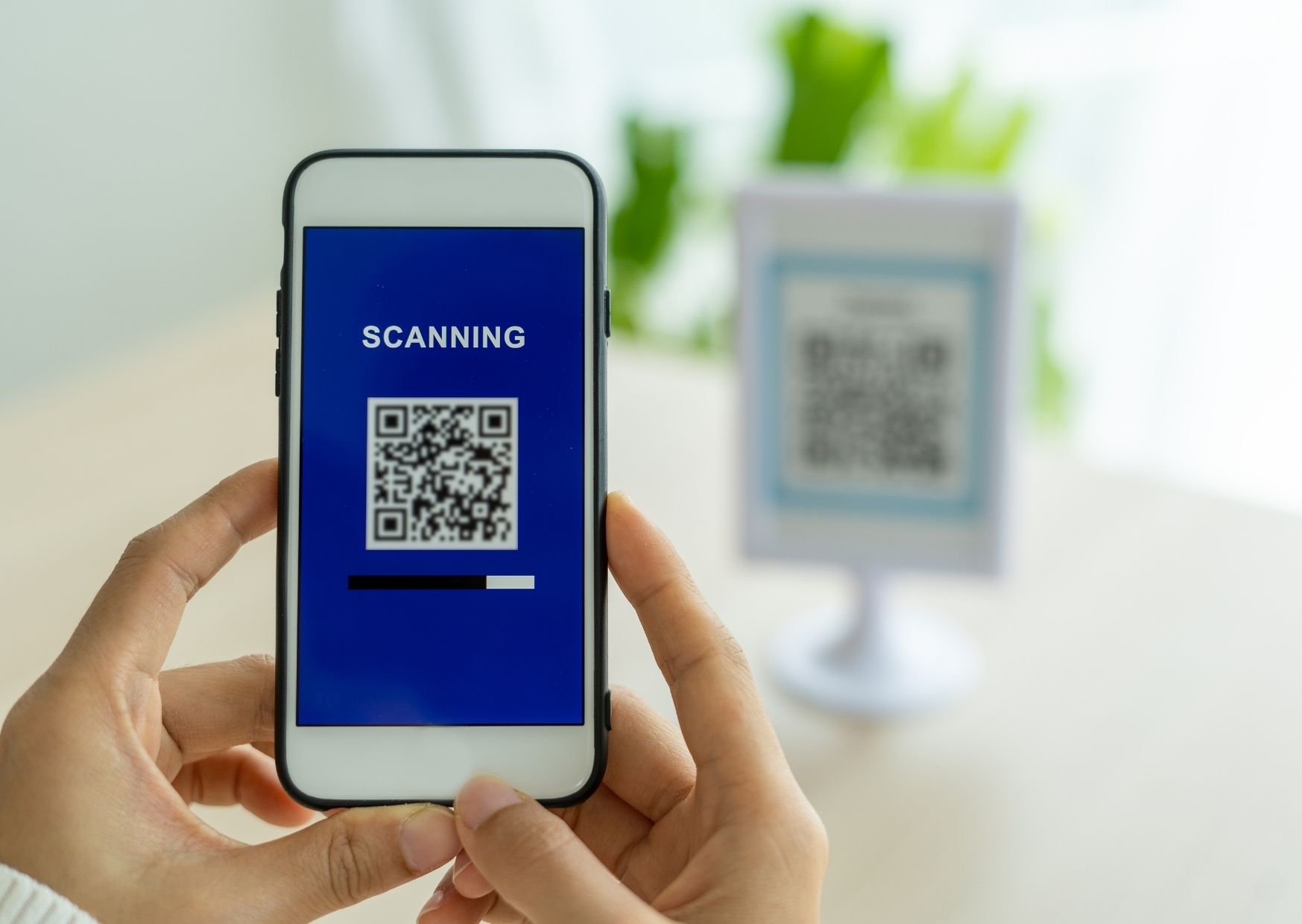 Paper Survey
Replicate the questions you've asked in your online engagement on paper surveys for those who are not able to participate digitally. If a respondent provides you with an offline response, you are then able to manually add these to your consultation and ensure you have all your data in one place.
Tablet mode
Reach residents at face to face meeting by giving the ability to share their feedback using a tablet or mobile device.
Each of the areas we've covered in this post will always work best in unison. Whilst it seems like a lot to take on board, once these tips are set in place we can assure you that a well crafted and delivered communications plan will take your consultation to the next level.
For more information about how Commonplace can help facilitate any of these techniques, please get in touch and we'd be happy to help.
---
Organise a free personalised demonstration of the Commonplace platform