The benefits of social media promotion for community engagements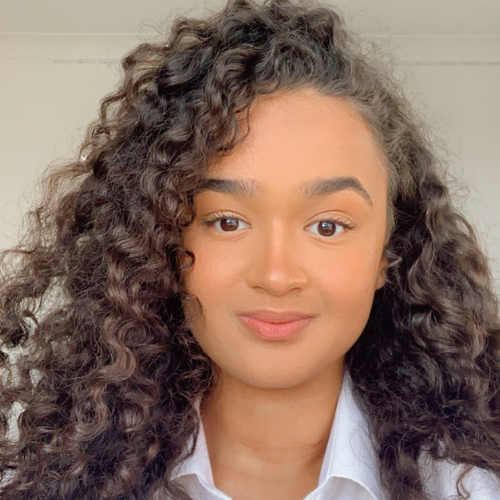 By Lauryn Brown | 24/02/23 16:25
6 min read
Instagram can boost your next community engagement? Facebook can find you new audiences? You heard us right. Now let us show you how in a few simple steps…
Did you know that over 90% of the UK uses social media regularly?* In fact, the average use worldwide is 2 hours 31 minutes every day!** To us, it's hardly a surprise. Think about how often you use it day to day. Whether you're sitting at home, waiting for the bus, or relaxing in bed, more and more of us are reaching for our phones/devices to see what's going on with our friends, the news or subjects we're most interested in. With it now in the palm of our hands, it's how many of us connect with the world around us - and that includes when changes are happening to our local areas.
In this day and age, social media isn't just a benefit to a community engagement marketing strategy; it's a necessity. And we don't mean the occasional post to your current Facebook page. Even if you are uploading constantly, a paid social media campaign can get your project in front of thousands of new eyes. There's a huge difference between posting to your own social media page - which relies on people visiting at the right time - and strategically placing your information in front of, not just new, the but the right people for your project.
---
Want to find out more already? Simply click below to book a free chat with one of our engagement experts
---
In this blog, we're focussing on paid social promotion as part of your strategy and showing you how it can boost viewership and engagement with your next project.
Discover:
How social media promotion is typically used for community engagements

The main differences between paid and organic social (

and the benefits of each!

)

Tips and tricks for creating paid posts that really turn heads

How we've helped our customers

And… how we can help you get set up!
Let's get social and dive right in.
How is social media promotion used for community engagements? Let the world know what you want to say!
Social media promotion is often part of a wider marketing campaign for community engagements. You might have crafted the most beautiful engagement website in the world and written unique thought-provoking questions to get you the data you need… but they're not much use if no one knows they exist.
While a key part of your wider engagement strategy, your community engagement website is like a magical island in a massive archipelago known as the internet. Hardly anyone will be able to find it without good directions. This is where marketing methods (digital and analogue) come in: email, flyering, in-person meetings and, you guessed it, social media.
Many local planners, developers and communication experts in both local government and businesses choose to use both paid and organic (non-paid) social media posts. While they're both posted on the same platforms, they do fairly different jobs.
Paid vs organic social. What's the difference?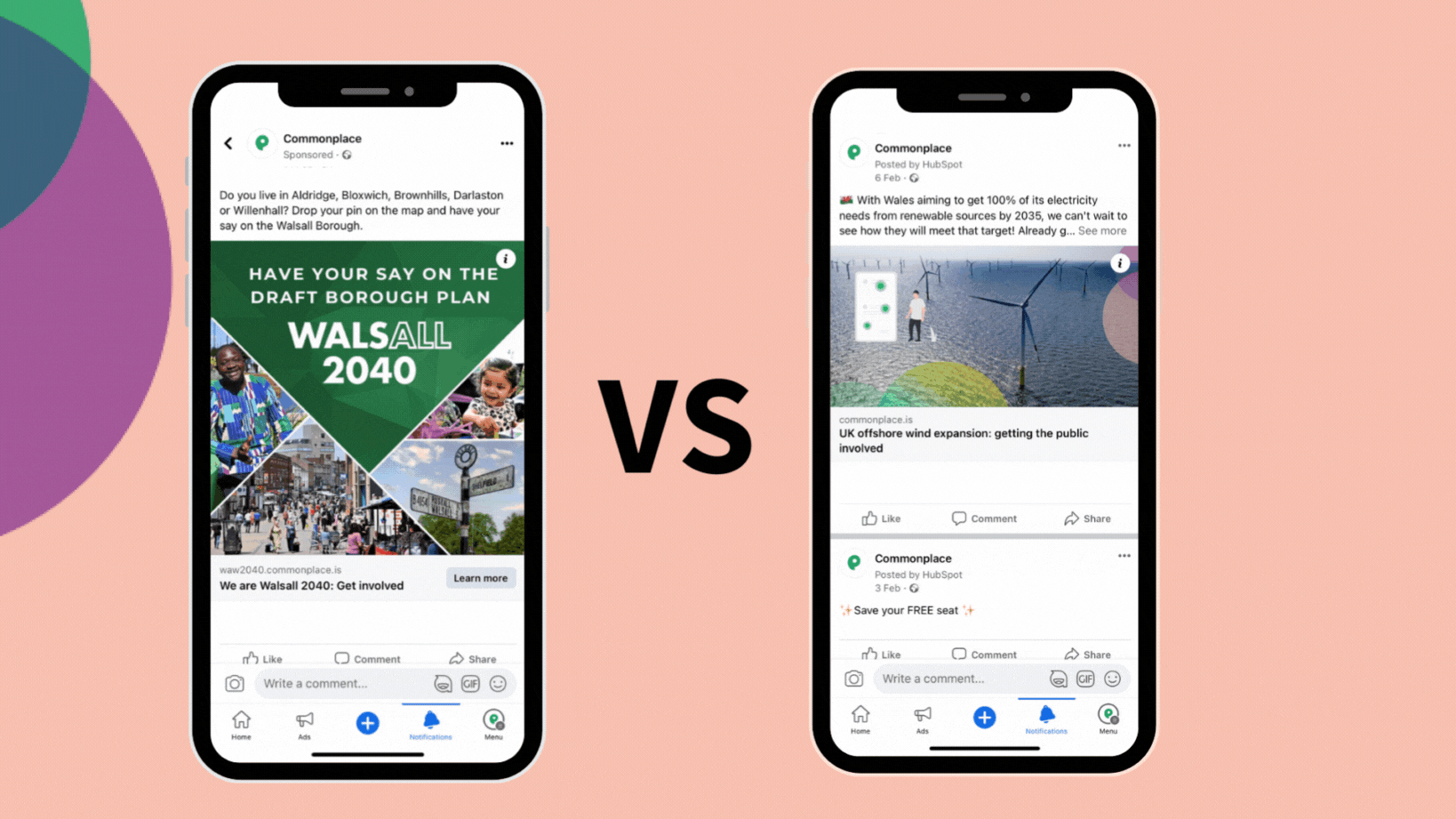 There are a few differences between paid and organic social media posts, and not just that one costs money. When you post organically on your pages, it's mostly sent out to the feeds of those who already follow you. For example, if you were to post something to your project's Facebook page, it will only be seen by existing followers or by people who search for you on that social platform. This isn't a bad thing however as regular organic posting is a great way to keep your current subscribers and followers in the loop and showcase how much progress is being made with their help.
Find out more in our organic social media guide
However, if you're looking to reach a wider audience or target specific demographics that are currently missing in your data, organic posting can fall flat. This is where paid social promotion comes in.
You've probably seen one or two paid ads already today. Whenever you scroll on any social media platform, you'll come across them on your feed, clearly marked. They aren't on your page randomly as each one has been created to target people who are most likely to engage with that product or service. This is a huge benefit when using them for community engagement as you can be extremely specific with your targeting. From the location to the age-range, to the job type and even specifics like spending habits and political affiliation, you can fill holes in your demographic data with careful targeting.
For example, your data may show that you've hardly got any responses from young people aged 18-35. You can create a specific ad with unique copy and images designed to engage that age- range in the area where your project is taking place.
Sounds good right? So- let's move on to how you can get set up.
How can I set up a paid social media campaign?
Setting up a paid social campaign for your community engagement requires a few more steps than posting organically. Commonplace's team can help you at every step. We know our websites and their audiences best and continuously analyse our customers' social media campaigns to give you the best shot, every time.
Firstly, each social platform has its own advertising manager for which you'll need to create or link your existing accounts. You can find them here:
Once that's done, it's important to remember that each social media platform also has its own set of guidelines about what can and can't be shown in ads. For example, Facebook ads can't imply that you are aware of someone's specific name, race or voting status and images cannot be text heavy.
Then comes the task of building your audience. This is where you can go as broad or as specific as you need. All platforms will give you the tools to create one narrowing by broad demographics like age, race, gender and location, but you will also have the choice to upload existing email lists you may have access to target very specific people.
Now to craft your ads. These need to be unique, engaging and visually appealing. Think about how many adverts you see every day and which ones actually make your thumb stop scrolling. This may take some design work on your (or a designer's) part. Commonplace can carry out this work for you, with the added advantage that our social media team will work with your Customer Success rep to optimise the website and the campaign ads so as to maximise the responses - this is called "conversion" - from visitor to respondent.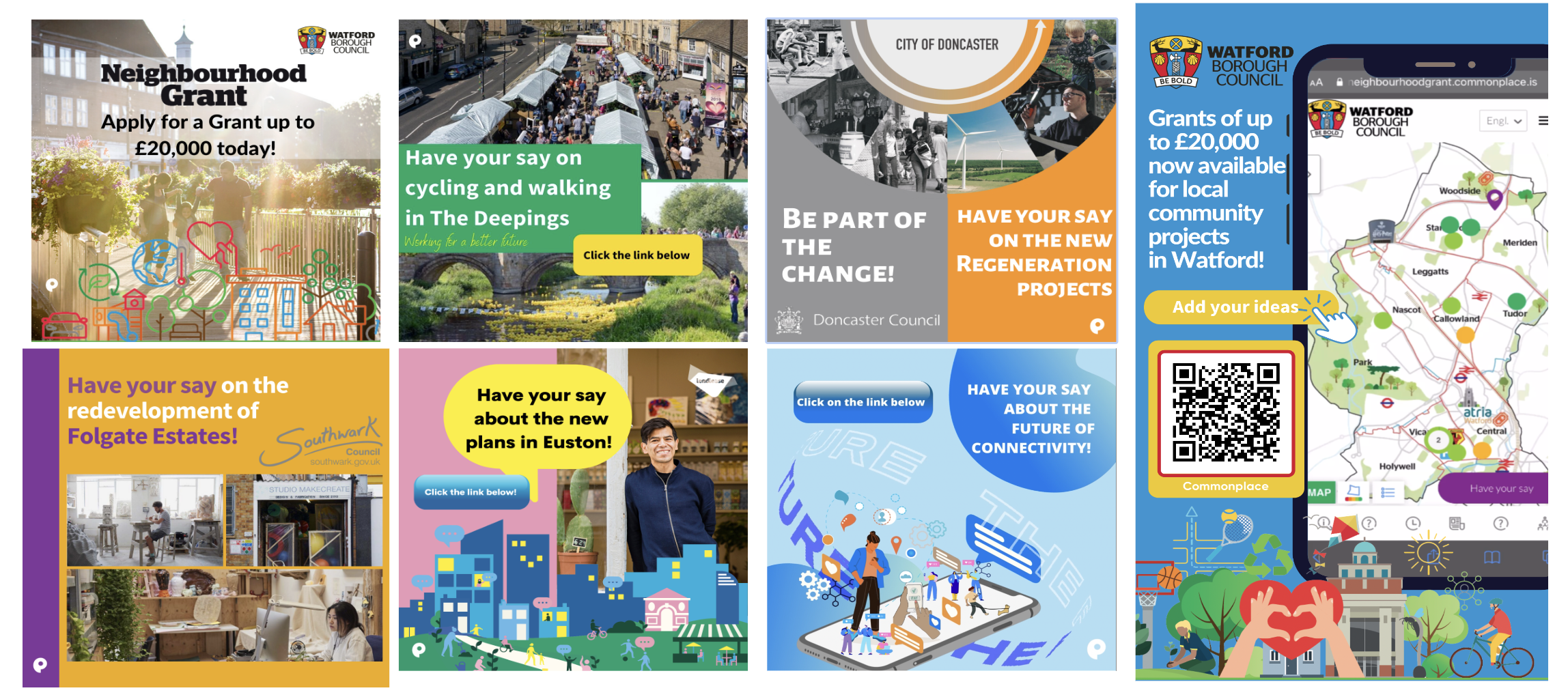 (Adverts from Commonplace paid social media campaigns)
Then it's time to set your budget. Before you set a campaign live on any platform you can set a maximum spend over a specific period of time so you do not go over.
Throughout the entire campaign, it's crucial to monitor the traffic being sent to your website. Not just how many people, but if it's the type of audience you need for your engagement. If it's not, then you'll have to go back and tweak certain aspects of your campaign or get more specific with your audience parameters.
We know- it sounds like a lot of technical work. Work that you might not have the time or resources to do at the moment. If you're not quite sure how to venture out on your own in the world of social media promotion, Commonplace will always be here to help.
How Commonplace builds paid social media campaigns
To show you how we can promote your project through social media promotion, let's show you an example of our customers' ads and how that strengthened their engagements.
LLDC Social Promotion
We created an engagement website for the London Legacy Development Corporation (LLDC) so local people could have their say on the future of Stratford Station. The train and bus stations are some of the most used in the whole of the UK and have been essential to the success of the town centre. However, increasing numbers of people are using the stations and many residents feel as if they haven't benefited from any changes to the station. Newham Council has been working in partnership with LLDC to make changes the locals need, so to get as many relevant voices in this conversation as possible, social media promotion was used to direct people to the engagement website.
Throughout the social promotion campaign, Commonplace monitored the conversion rate and impressions towards LLDCs site by using a range of assets produced by our internal specialists. The use of geospatial targeting within the Newham Borough allowed an engagement of over 65,000 impressions on the campaign and 1,933 landing page views!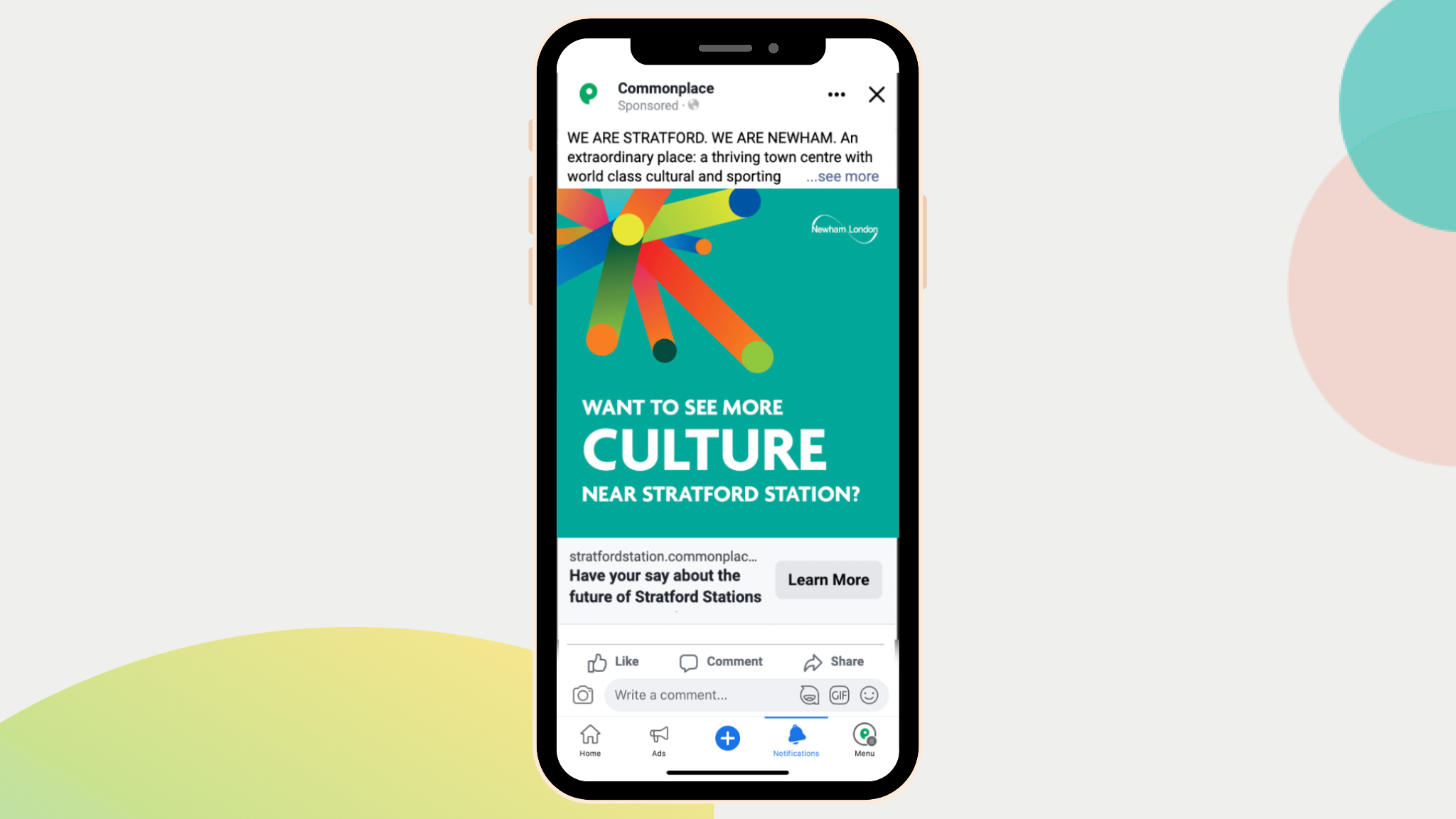 Following this, Commonplace deep-dived into the demographic data of the respondents to make sure that the data collected was a reflection of the demographic Office for National Statistics (ONS ) data of London Borough of Newham in terms of age, gender and ethnicity. In the end (and thanks to close monitoring!) the social promotion was able to bring in 335,586 impressions with the final phase averaging 22 contributions a week.
Newhaven social promotion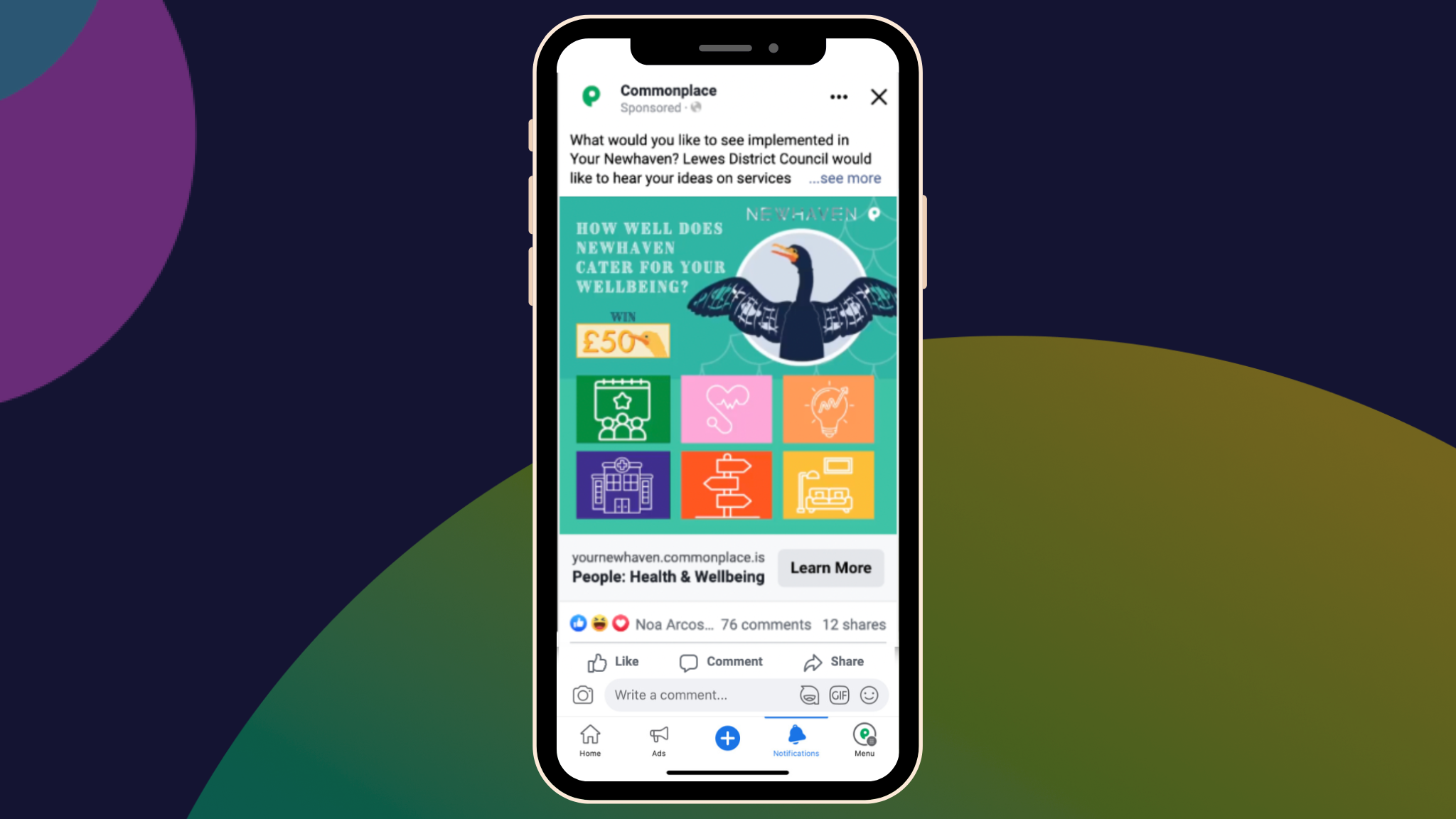 Now let's look at Your Newhaven. This engagement website was created so locals can see and comment on all planned projects like their safer spaces scheme, improvements along the West Quay Riverside Walk and understanding the social problems of wellbeing within the area.
A full marketing strategy was produced by the Council and Commonplace, to get as much traffic to the website which included the use of animated films, interviews, print posters with QR codes, physical touch-points and, of course, paid social promotion. A goal here was to get as many young people as possible to contribute, so the social aspect of this was crucial.
In the first half of the social promotion campaign, we reached over 18,500 people in the Newhaven area, generating over 2,800 unique visitors. Following this, social media referrals became the most popular source of traffic for the website with it responsible for over 60% of traffic and 50% respondents. Plus, Of the 3600 visitors from social channels, 75% came from our paid campaign. And of the 260 respondents from the website, 57% came from our paid campaign.
---
And that's the lowdown on social media promotion for community engagement! We've helped a number of planners create campaigns to boost their traffic and we're here to help you too. Just click below to get started
---
*https://www.statista.com/topics/3236/social-media-usage-in-the-uk/#dossier-chapter1
**https://www.smartinsights.com/social-media-marketing/social-media-strategy/new-global-social-media-research/#:~:text=59%25%20of%20the%20world's%20population,10%20digital%20marketing%20statistics%20sources.