Civic exclusion #2: How do we reach the silent crowd?
By David Janner-Klausner | 11/01/23 15:08
4 min read
In the first blog of this series, we showed that civic exclusion was far wider than digital exclusion, yet is not discussed nearly as often.
About 10% of the UK population does not have internet access, and the ethnic group with the highest rate of digital exclusion is white. However, looking at Commonplace's wide set of engagement data, it's non-white communities that tend to be under-represented, as well as younger citizens. Not in line with the digital exclusion statistics at all.
Indeed, given the web-use profile of these civically excluded groups, we would argue that digital engagement ought to be part of the solution, rather than being the sole focus of this "exclusion' discussion.
The real challenge is to deploy digital engagement in a way that builds trust and makes these under-represented groups feel that it is worthwhile to engage with local projects. Overcoming a sense of powerlessness and alienation from the authorities in charge is the main challenge. Web-based communications should be part of the strategy for addressing this challenge. We have been working with customers to build inclusion and accountability into their Commonplace websites and the way the websites are disseminated to the public.
The examples below focus on the successful reach to minority communities in Watford and young people in Newhaven.
1. Watford's Community Grant scheme - translation and publicity yield participation

Commonplace was asked by Watford Borough Council in mid-2022 to design an online platform for its Neighbourhood Grant Scheme. The Council was particularly keen to ensure that all communities were aware of the scheme and felt welcome to apply, overcoming civic exclusion as an issue. Commonplace and the Council then agreed to develop the online platform in three languages widely spoken in the community besides English -Tamil, Hindu and Urdu.
The results were very positive. It led to an unprecedented level of engagement on the Commonplace website from minority communities. 26% of respondents who provided their ethnicity identified as non-white, compared with a 28% non-White population identified in the 2011 Census. Overall engagement was also very high with over 13,000 unique visitors, 2,340 Respondents and nearly 11,000 contributions from people proposing projects and expressing their views on proposals.
The key insights and actions that helped drive this wide engagement were:
Acknowledging Watford's diverse population from the start:

This means adopting a bespoke approach to engagement across all channels, both digital and physical.

Translation:

Watford decided on a campaign in the top three languages spoken in the area, after English. The Commonplace website is in four languages and the associated promotional materials incorporate these different languages. Having multiple languages makes it easier for some people to contribute to the conversation and importantly, it broadcasts to everyone that the grant scheme is for them - for all the communities that make Watford their home.

Branding to connect:

Part of the bespoke approach involved adopting a non-corporate feel. This meant bright, engaging colours and graphics, with visuals that represented the community.

Reaching a diverse audience calls for diverse content and use of different types of media:
Gifs highlighted the consultation as well as instructions on how to use the platform.

The website imagery showed a diverse range of people, bringing a personal aspect towards the project.

Photos were staged in Watford, which further supported the local focus and call-to-action aimed at local groups.

The photos showed people from different backgrounds, to bring resemblance and connection to the target audiences.

When images were not available, we produced animations and cartoons to highlight the demographics and activities which the Watford Grant scheme spoke about.
With the languages, we made sure to attach the media (via QR Codes or links) straight to the survey". Fewer steps made sure that respondents were able to change the site's language and answer the survey questions as soon as possible.

The Call to Action was a simple and direct:

"Have your say"

which was translated into Tamil, Hindu and Urdu.
2. Newhaven engages young people
In 2021, Newhaven received funding for a number of regeneration projects through the Towns Fund, which followed a 2020 award from the government's Future high Street Fund.
Lewes and Eastbourne Councils operate a shared services framework for the area; the council had conducted a previous public engagement with the community and was clear that it wanted to engage the widest possible local audiences and especially young people. They adopted a digital-first approach with Commonplace at its heart, as well as a publicity campaign that includes digital and local publicity.
The engagement activity has been highly successful in targeting young people and bringing their views into Commonplace with 46% of respondents (to date) provided their age are under 24.
Key insights and actions that contributed to the success of the engagement exercise were:
Taking extra care to use concise language:

for example, simplified sentences and use of emojis.

Composing questions and response options that address issues and interests of a younger age group:

e.g. clubs, events, and local facilities. Including these elements signals that the engagement has considered younger people and is open to their needs.

Ask questions to understand attitudes:

E.g. If they aren't using the high street, why? The response to the "Why?" question is likely to vary considerably by demographic. Giving voice to varied age groups is a key to making the engagement relevant and then to developing inclusive policies.

Actively seek and engage with young people:

Newhaven got a local school involved and asked for their feedback. They even gave them the freedom to create their own space on the website in the future. This created internal champions as young people felt involved in the process and not just a tick-box on a check list.

Using incentives:

This can go a long way. Young people are surrounded by digital inputs so the public engagement is immediately competing with everything else they could spend their time on. Explain why your survey is important and relevant to them and then give them a little incentive to encourage their input. Local vouchers work wonders with promotion and encourage sharing among peers. "Take our survey" can easily get lost on their social media timeline, but "Win £50" will grab attention a lot more. Know your audience, younger people have a lot less disposable income.



3. Targeted social promotion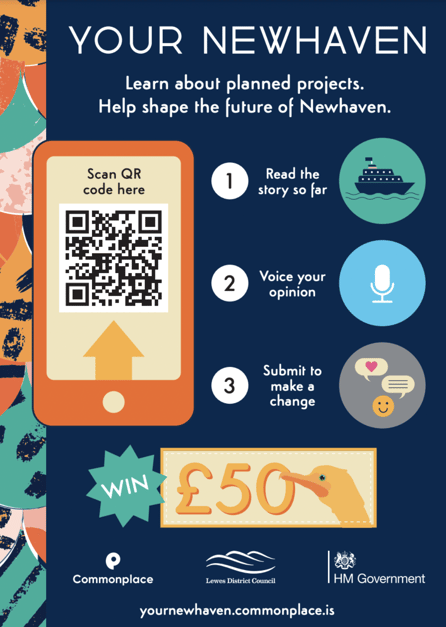 Targeted social promotions are an effective route to targeting civically unengaged groups. The targeted social media campaign that Commonplace designed and ran for Newhaven was a key to drawing young people to the engagement exercise. In the first half of the social promotion campaign, we reached over 18,500 people in the Newhaven area, generating over 2,800 unique visitors. The advertising imagery and wording created by Commonplace has produced a 5.2% conversion rate which is higher than average online advertising and means that the visitor and respondent counts doubled every week. Overall, social channels were responsible for over 40% of traffic and 14% of contributions.
In conclusion
Part one of this blog argued that we should shift attention from digital exclusion to civic exclusion. Our experience and methods reviewed in this instalment show how a digital-first approach can succeed in talking to populations often seen as "hard to reach".
With greater digital engagement among young people and minorities, there is an excellent opportunity to narrow civic engagement gaps. Engaging these groups alongside a hybrid engagement strategy that addresses those who are digitally-excluded is the best mix. The reach of digital, its versatility and the relative ease of translation creates opportunities for greater civic engagement, not barriers.