UK Shared Prosperity Fund: creating a community-led investment plan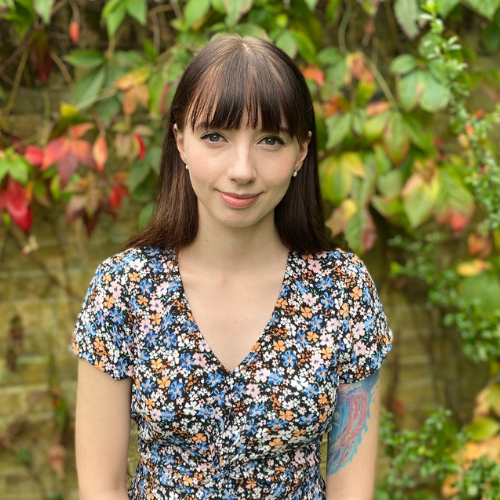 By Charlotte Cooper | 28/04/22 09:33
4 min read
The government has just announced its Shared Prosperity Fund - a £2.6 billion fund to be used by March 2025 solely for local investment. Presented by the Department for Levelling Up and Housing, rather than using a competition to decide who will receive the funding, all areas in the UK will receive an allocation from the Fund after creating a community-led investment plan.
---
There are only a few weeks to take advantage of this fund, but Commonplace can get you sorted quickly. Our team includes experts in regeneration and urban development as well as public engagement, so we can connect very quickly with local ambitions and directions and help pin down the wants and needs of your local community. With experience creating 1800+ engagement websites, we can get you set up ASAP.
---
Presented as a "central pillar of the UK government's ambitious Levelling Up agenda," it aims to showcase a new approach to investment and the empowerment of local communities. The delivered fund will be planned and delivered by councils and mayoral authorities across England, Scotland and Wales, shaped by an investment plan that highlights the wants and needs of each area.
There isn't much time to get this plan sorted, but Commonplace is here to make this process as quick and effective as possible. Our ethos is entrenched around giving local citizens the tools to create positive change in their area, and this new fund is a great opportunity to do just that. If you're interested in making the most out of your allocated funding, take a look at our quick rundown of the UK Shared Prosperity Fund (UKSPF).
Shared Prosperity Fund Overview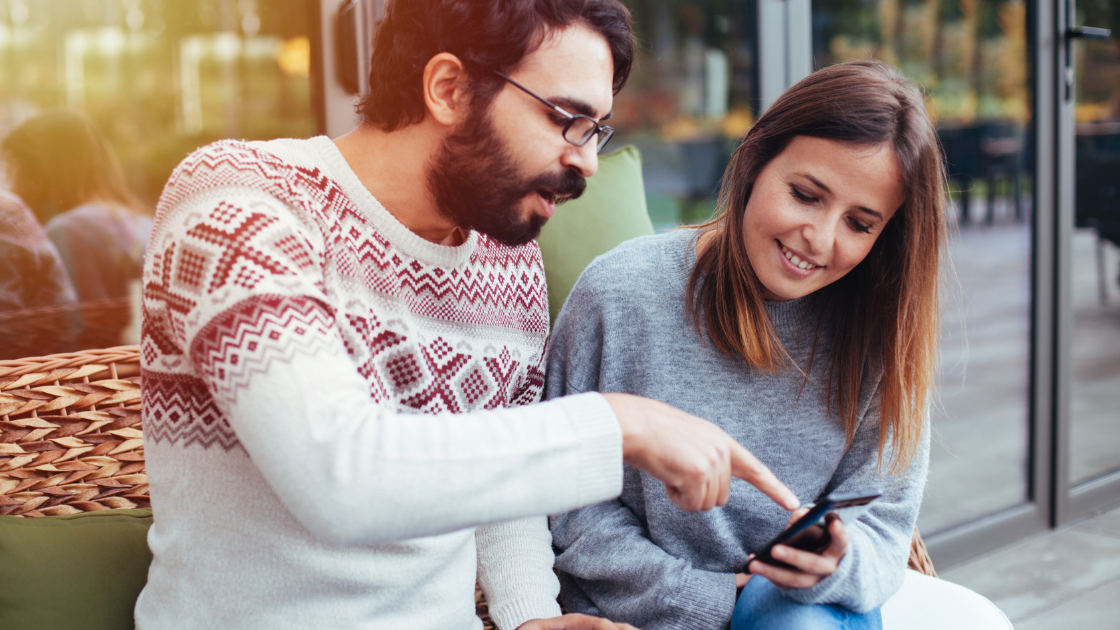 According to the prospectus on the fund, it's centred squarely on bringing the government's Levelling Up agenda to fruition.
The primary goal of the UKSPF is to build pride in place and increase life chances across the UK. This aligns with Levelling Up White Paper missions, particularly: 'By 2030, pride in place, such as people's satisfaction with their town centre and engagement in local culture and community, will have risen in every area of the UK, with the gap between the top-performing and other areas closing.' (UK Shared Prosperity Fund Prospectus).
The three main investment priorities of UKSPF relate to a number of the white paper's missions:
Community and Place: Raising people's satisfaction with their town centres and local culture as well as narrowing the gap in Healthy Life Expectancy (HLE) between local areas where it is highest and lowest.
Supporting Local Business: By 2030, pay, employment and productivity will have risen in every area of the UK and domestic public investment in Research & Development outside the Greater South East will increase by at least 40% by then.
People and Skills: By 2030, well-being will have improved in every area of the UK and the number of people successfully completing high-quality skills training will have significantly increased.
It's up to each individual area to assess what their part of the funding will be used towards, and these ideas must be submitted back to the Department for levelling Up Housing and Communities (DLUHC) in the form of a thoroughly researched investment plan. Given the emphasis on pride in place, the community needs to be strongly involved in this process- something we have helped hundreds of local authorities with…
Creating a community-led investment plan using Commonplace's success.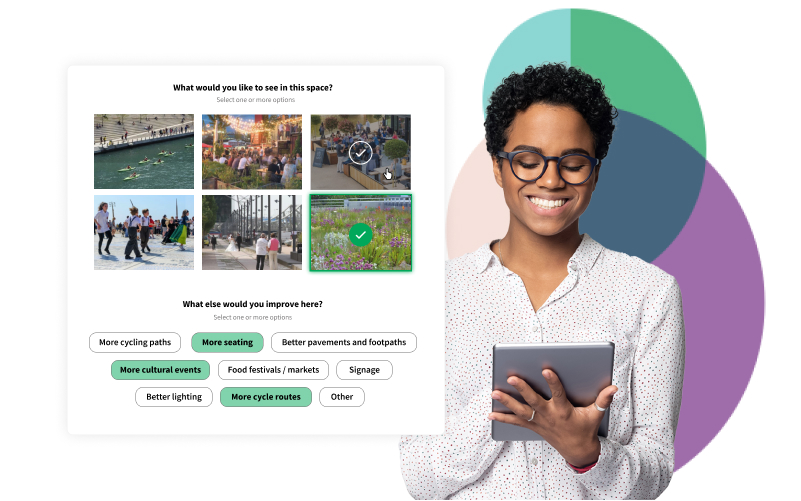 Each Authority must submit this plan between June and August 2022 (not much time!), which outlines among other things, an evidence base for needs in the local community, resident priorities, and set objectives and outcomes you wish to achieve. The plan will be structured in three broad phases:
Local context: an opportunity for places to set out their local evidence of opportunities and challenges through the lens of the three investment priorities for UKSPF.
Selection of outcomes and interventions: where places will identify the outcomes they wish to target based on local context, and the interventions they wish to prioritise. These should be clearly linked to local opportunities and challenges.
Delivery: this will represent the most detailed stage of the investment plans. Places will need to outline the structures and processes that will support the delivery of their chosen interventions. They will also need to set out the engagement they have undertaken as part of the development of their Plan.
UKSPF has been designed to empower local leaders and communities to deliver locally-identified priorities and the investment plan process has been designed with this in mind.
Lead local authorities will be asked to develop their investment plan in conjunction with local stakeholders. Places should establish or designate a local partnership group to consult when developing their investment plan. Plans will then need to be agreed upon by both the lead local authority and by UK government to unlock their allocated funding.
This is where digital-led engagement technology comes in. With a fund designed specially to create a greater sense of 'pride in place,' as much of the community as possible should be consulted to see what their biggest concerns and desires are for their local area.
Thanks to our unparalleled expertise across urban regeneration and development as well as our leading work in online engagement, we know how to get the most from a plan like this, even in just a few weeks: With our hybrid engagement methods, our strategies use both online tools such as our heatmaps and surveys as well as integrating data from face-to-face events and interviews so as much of the community can be reached as possible.
We've seen the success first-hand through our own work with local authorities successfully bidding for and implementing a number of government funds:
Using Commonplace community engagement to support your application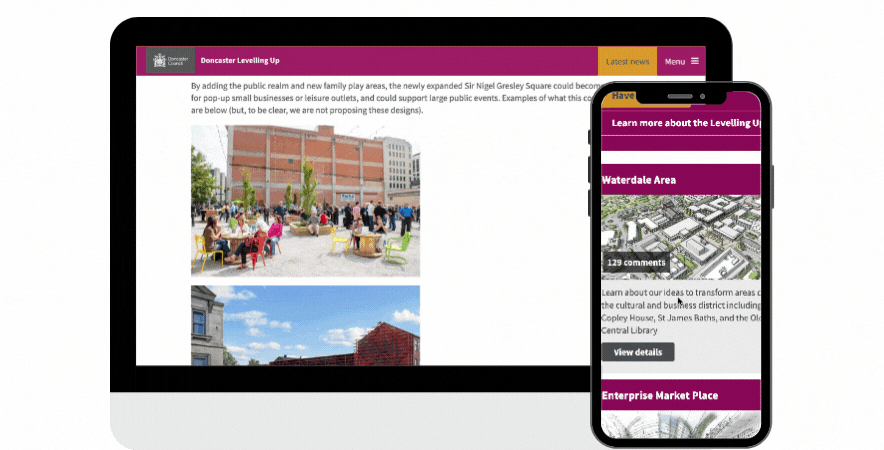 Commonplace offers an ideal tool to draw on public understanding and pride of place, and is able to reach large audiences in a short period - the timetable for submitting bids means that the public engagement phase must be super-efficient.
Commonplace has worked with local authorities bidding successfully for Towns Fund. Doncaster used Commonplace to engage the public before submitting its bid in early 2021. Its website was open for just a few weeks yet received over 1,600 contributions. Doncaster was awarded £18.4 million
The government was a little nervous around consulting, but the community really backed this bid. The visuals with the consultation really helped tell the story of what it could be. Our bid was voted 8th out of the 75 that were approved in England. 305 were submitted in total. We definitely think our success is down to the quality of the community engagement that occurred.

- Christian Foster, Head of Programmes at Doncaster Council
Read our Doncaster case study here
---
There isn't much left time to get your plans in, but Commonplace can help you better collaborate with your community, even in such a short time frame. Just click the link below and a member of our team will be with you.
With our experience of 1800+ engagement websites, we'll be able to set you up an engagement site ASAP.