All improved, intuitive, intelligent editor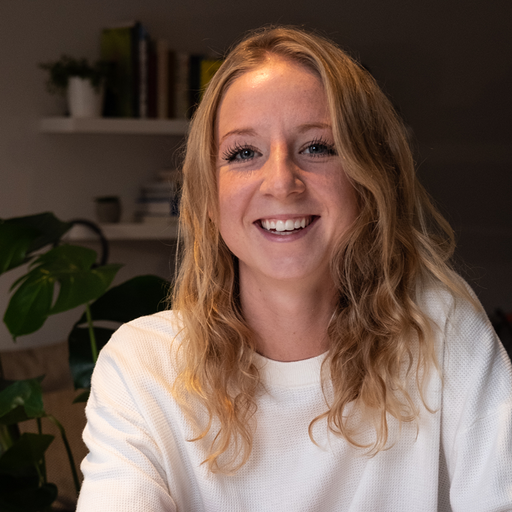 By Amy Outterside | May 5, 2021 2:59:40 PM
3 min read
Our new editor places control into your hands, making it even more seamless and efficient for you to plan, design, and update your project site. We've even provided you with your own personal design guide to help you on your way!
Today we'll be showing you how our new platform makes editing your project site intuitive and easy. We haven't just stopped at increasing the editor functionality, we've also introduced some new features which will boost the efficiency and efficacy of your online engagement.
How to start editing
Commonplace 2.0 is a brand new platform in every sense of the word, it's had a complete visual overhaul and therefore how you navigate around the platform has also changed. So, first things first, how do you access your new editor?
As shown in the image below, you'll notice a new button that appears at the bottom right of your project. By simply clicking on this button, it'll take you through to the new editor.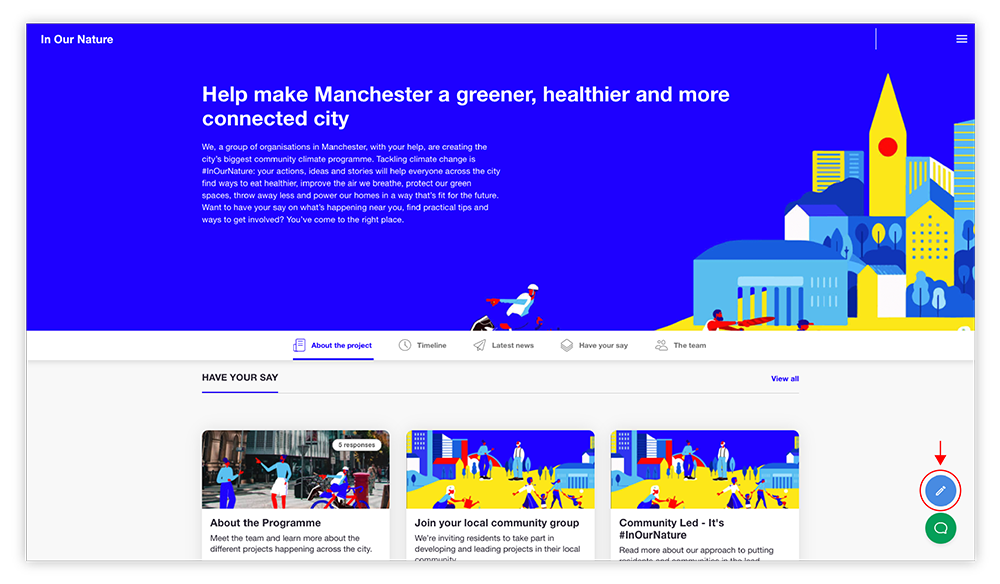 ---
Not familiar with Commonplace 2.0 yet? Check out the new platform in action here
---
Flexible design
Our new editor is intuitive and flexible, giving you more control over your content. It has a simple drag and drop interface. Here you can choose what element you want to add to your page from the side panel and simply drag it and drop it onto where you would like on the page.
The design elements are broken up into 'content blocks'. In the example below, you can see the different question types and the user adding 'Options cloud' to their page.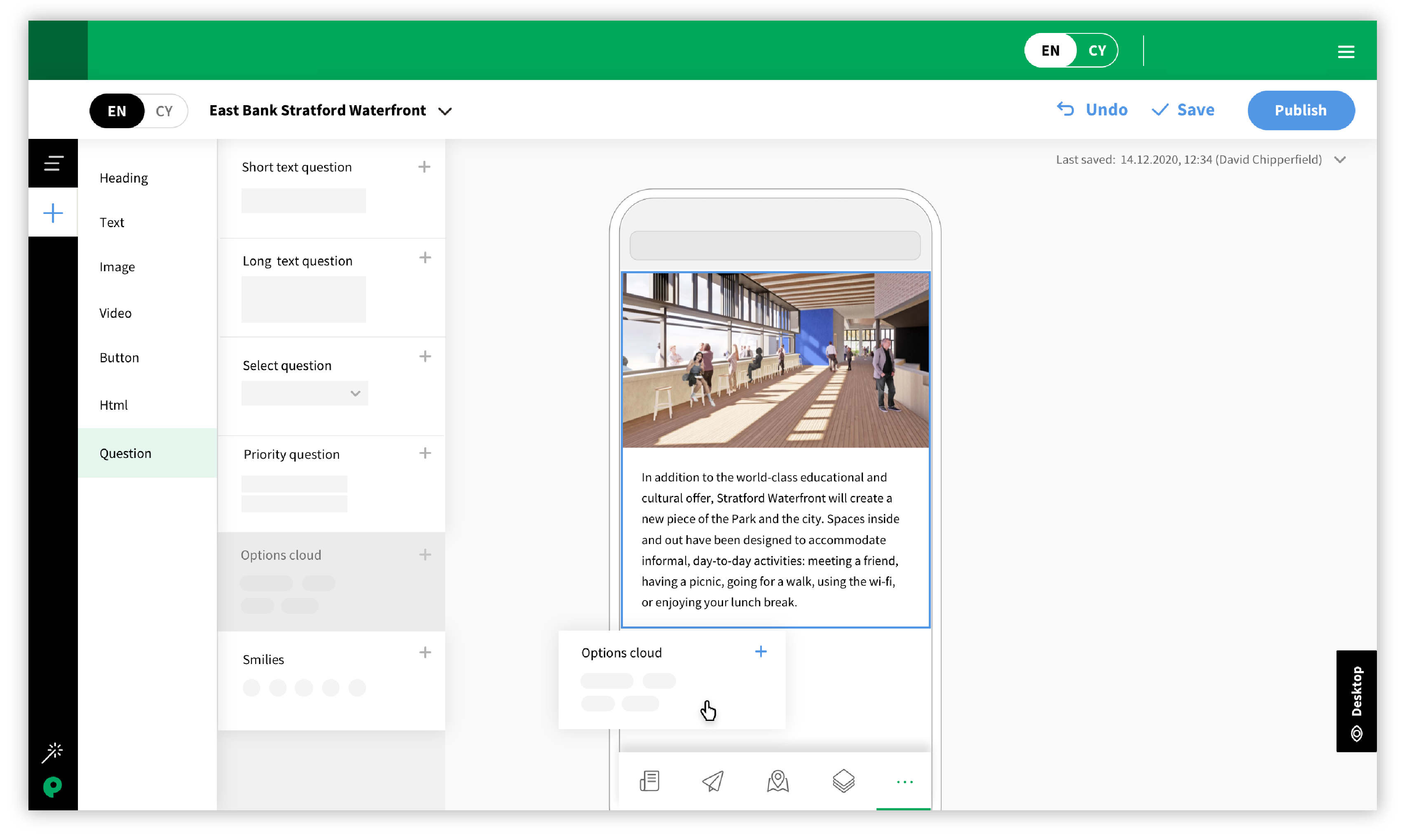 It's not just the functionality that's more flexible, we've also put a lot of thought into how teams work together on projects from remote locations and how we can make this experience better. Imagine you've been working on your project page when one of your colleague's pops up and decides that the question types you had before worked better. Problem is, you can't remember what they were and in what order...
No need to worry, the new editor now saves your revisions, so you can go back to a previous version and reinstall that. We recognise how important this feature is when working within a team, being able to chop and change between various edits of the project is fundamental for collaborating in a digital age.
All your pages in one place
Our old platform works by editing each page individually. This is fine if you're just focusing on one page at a time, but more often than not when you need to edit your project there's various pages you need to dip in and out of.
Our new editor approaches this in a different way. Through a drop down menu along the top of the screen you can choose from each part of your project, such as the about page or news updates. So if you're updating some information in your about page, and then decide this should one of the first things respondents see as they open up the project, you can easily jump over to home page and add the info there.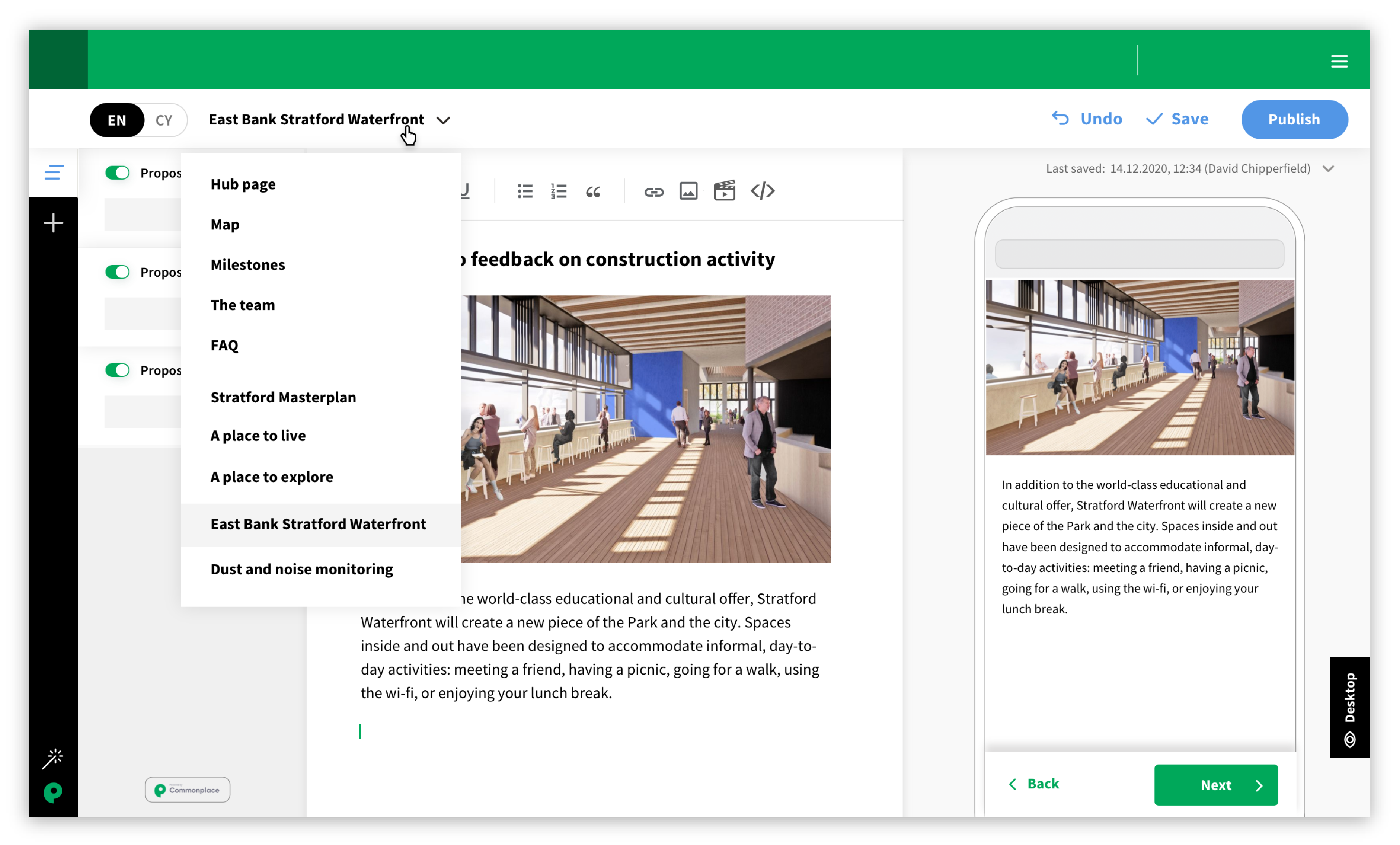 You see what they see
When web pages are designed with just desktop viewers in mind, more often than not, the content will not read as well on mobile. If you think about how many words fit on your desktop screen, and how many words fit onto your mobile - you can imagine the problem we're talking about.
Over 70% of the users on Commonplace will visit your project site via their mobile device. So the best way to make sure your content is as accessible as possible, is to design it from the perspective of a mobile user.
To help you do this, we've introduced a new feature that acts as a design guide whilst you're editing your project. If you're adding some written information to the project and it's getting a little long, we'll send you a nudge to let you know. Similarly, if an image you've uploaded is a bit blurry, or the typeface you've used is too small, we'll pop up and let you know so you can change it, increasing the accessibility of your project.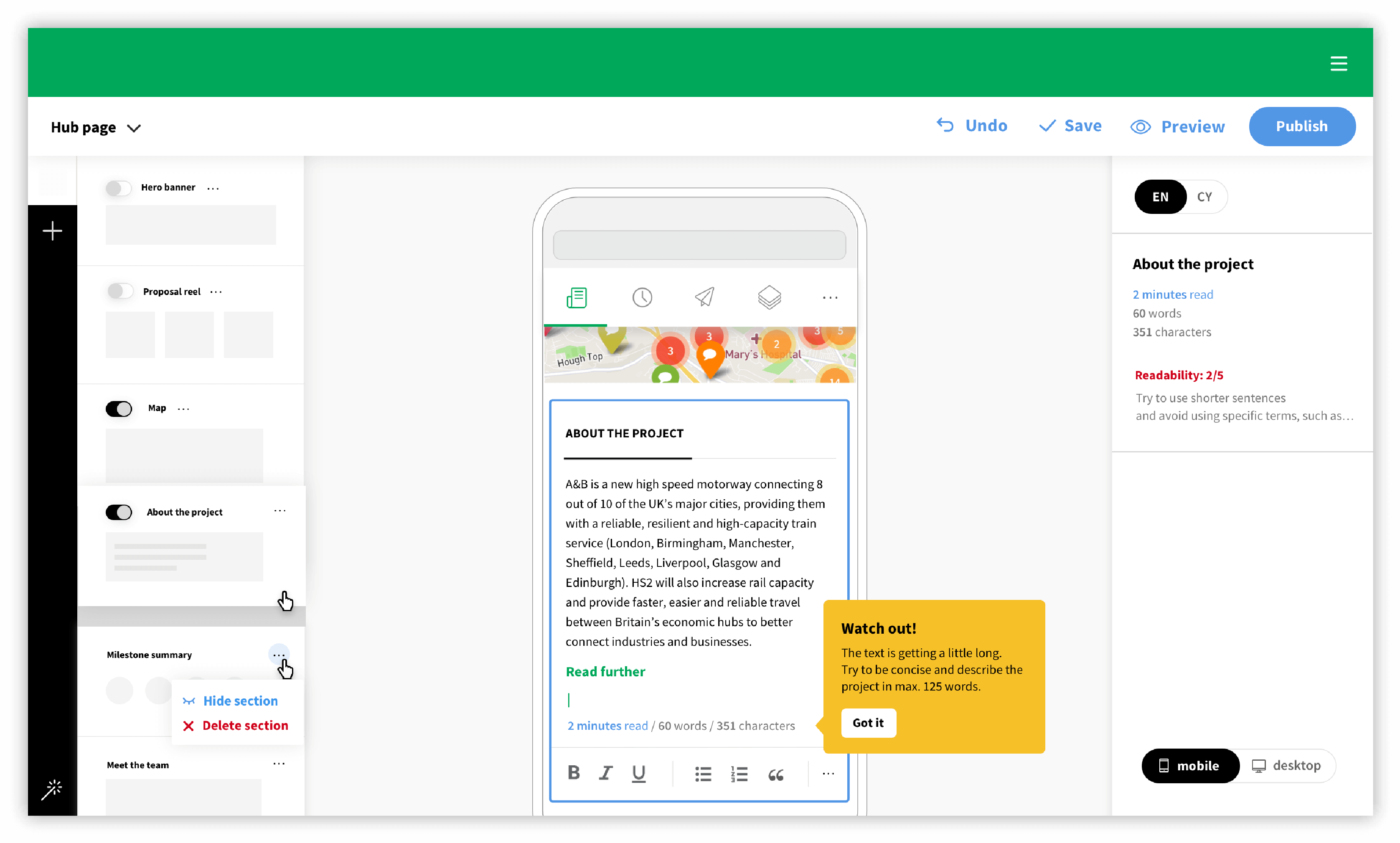 Alongside this, we've added the ability to preview your designs. You can preview your designs at any time, allowing you to view your page the way your respondents will. This feature will enable you to see what you might be missing, or if there is perhaps a little too much information on a page. Preview also enables you to generate a URL link which you can share with colleagues so they can review the project before you upload any changes. Making virtual collaboration that little bit smoother.
Language accessibility
Last year we introduced dual-language to our platform. Under our new editor, if you have added a language to your project, you'll be able to switch between the two easily by using the toggle as shown in the image below. The language used on this project is Welsh.
At the same time as improving the language interface on the frontend, we've made changes on the backend that mean adding new languages is an efficient and affordable process. If you're interested in adding a new language or two to your project, please get in touch.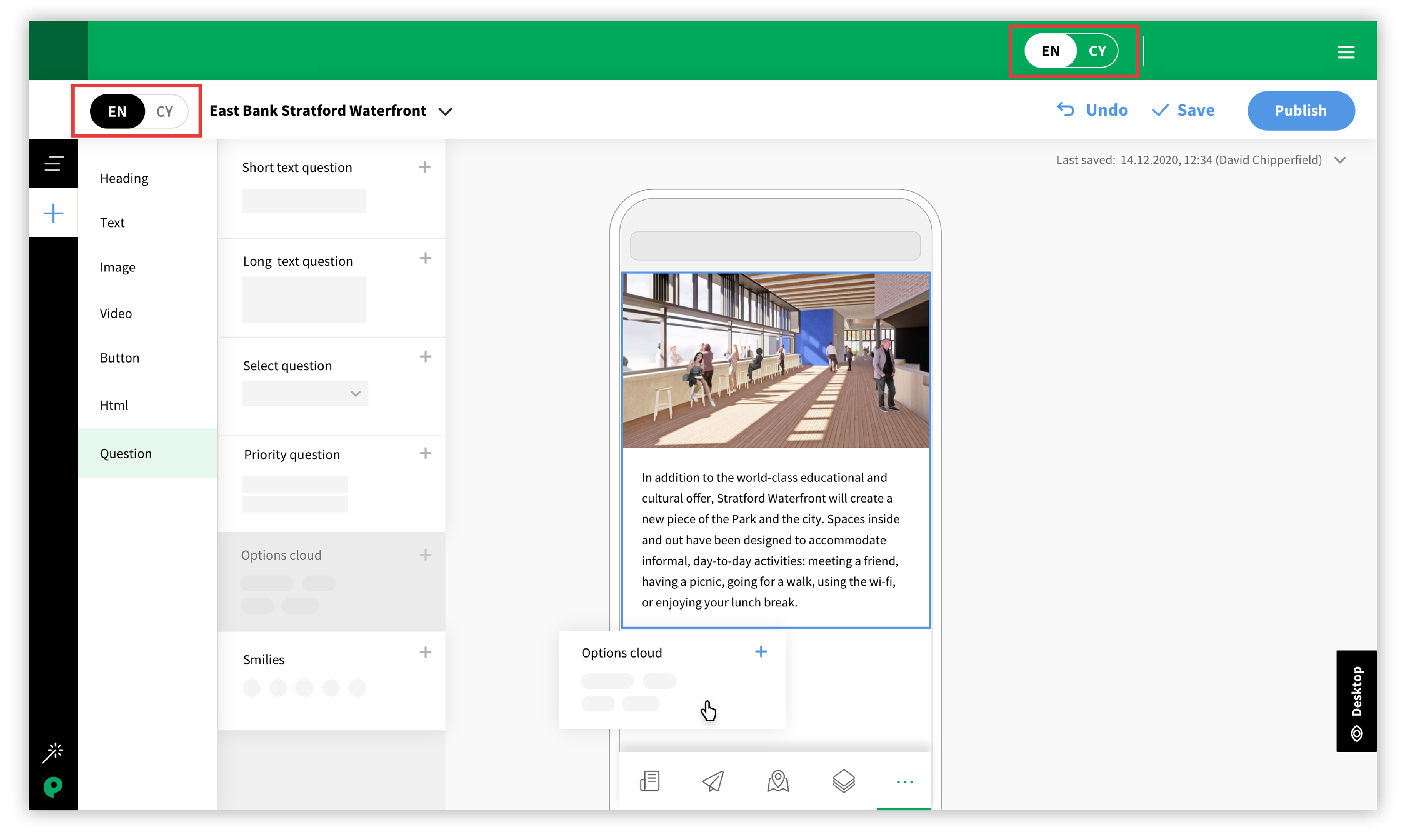 When can you start using the new editor?
Now! We'll be shifting all projects to the platform by the end of June 2021, but why not join the other customers using Commonplace 2.0 sooner? To get your projects transferred onto the new platform, join the waiting list by contacting us below.
---
---