Your 'one-stop-shop' for planning application engagement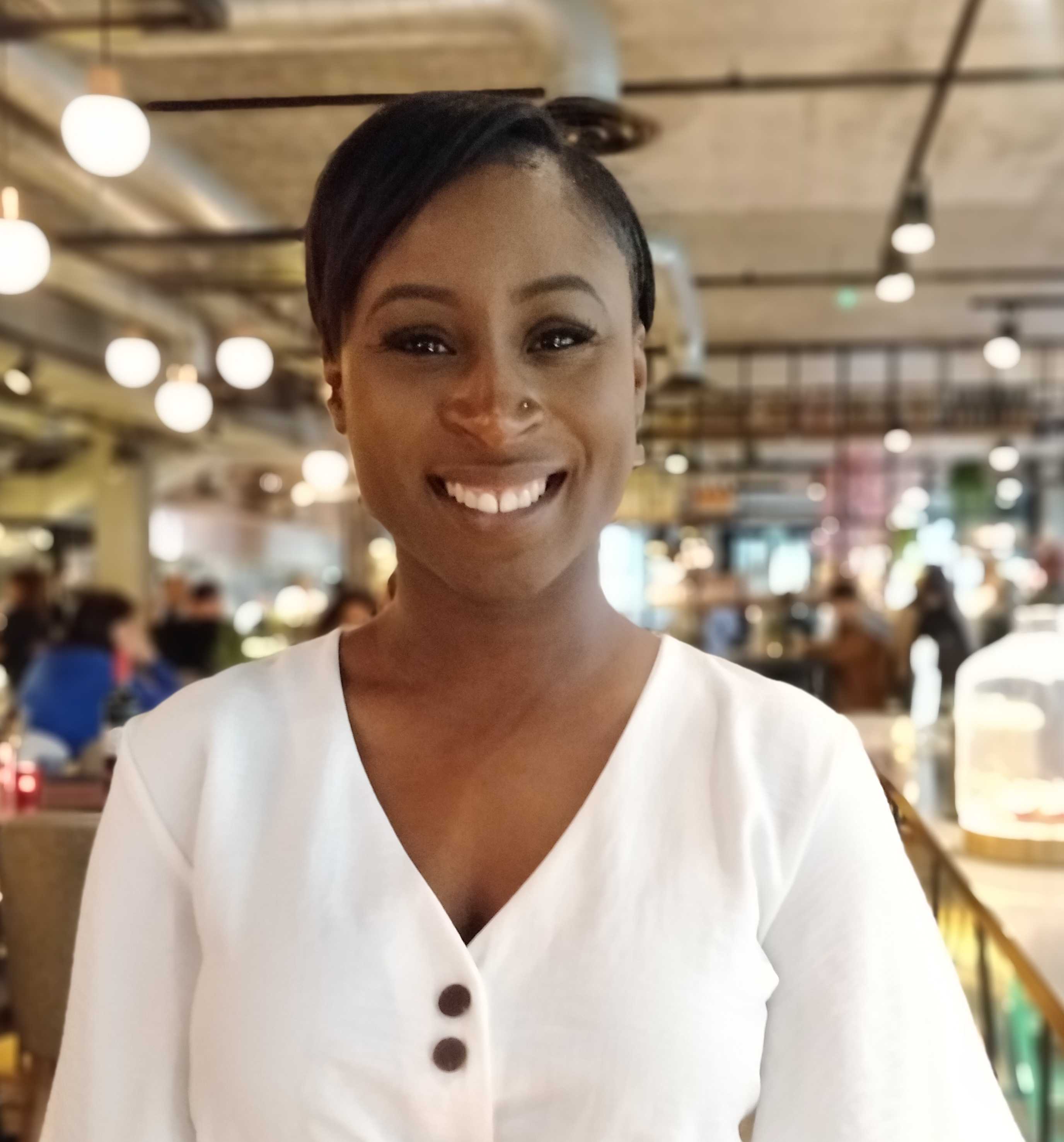 By Nouvella Kusi | Feb 15, 2022 6:35:39 PM
4 min read
The new Commonplace Planning App transforms the way your communities learn about - and contribute to - your planning applications.
As a leading digital platform, our aim is to innovate continuously in order to bring planning participation into the 21st century. We are thrilled to have collaborated with Watford Borough Council to bring this latest feature to life.
First things first, we'd like to ask you a question. When you walk down a street, what do you tend to notice? The houses? The cars? Maybe the trees? All of these are common observations, but do you ever think about how an area might change over time? Rarely will someone say that a planning notice strapped to a lamppost is what catches their eye, and this is the problem that our new planning app solves.
---
Want to see the Planning App portal in action?
---
So, what is the planning app?
The planning app is a mobile-friendly, bespoke digital engagement portal created for the sole purpose of making planning applications much more accessible to the citizens within a borough, town, or city. The planning app serves to improve visibility and engagement on planning notices, and is a huge step towards modernising and simplifying the planning process for everyone, planning professionals and everyday people.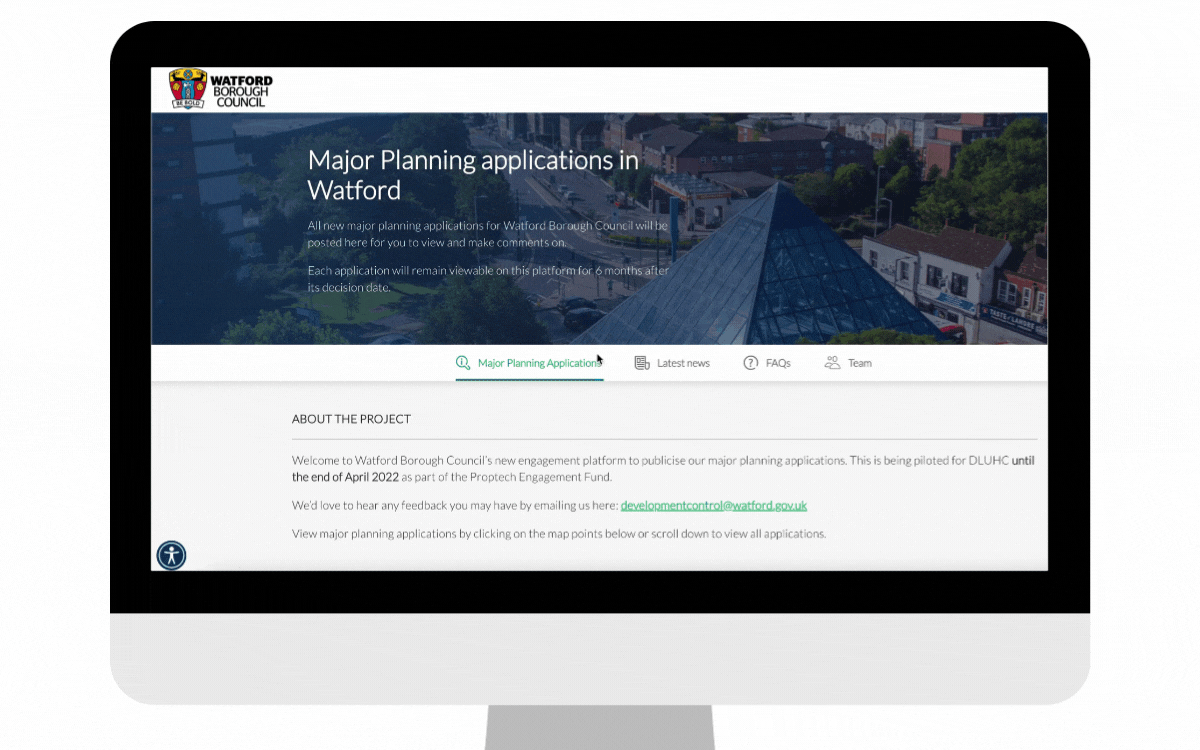 Key Features
The preview in the GIF above gives you an idea of what the Planning App encompasses and in the spirit of simplifying things, here's a step-by-step description.
Navigable Map for context and ease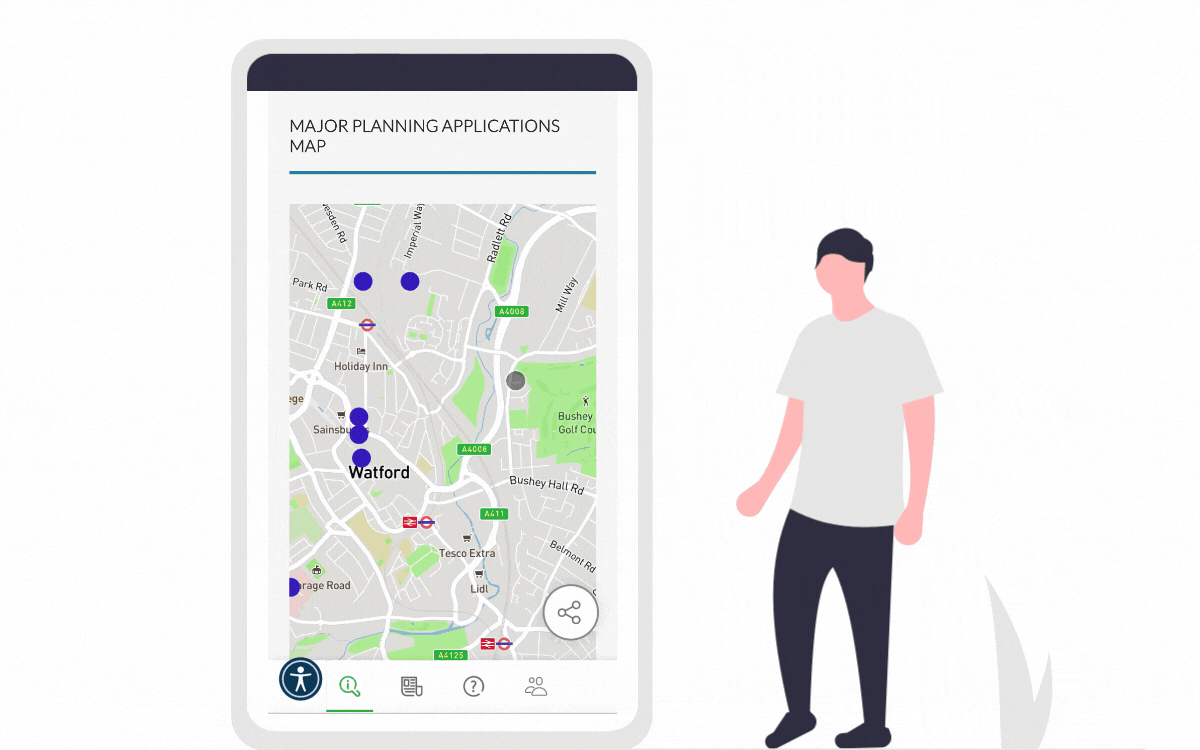 One thing our research has shown is that people feel uninformed and out of the planning decisions loop. This isn't down to a lack of information, but often due to inaccessibility and a lack of context. For this reason, we have evolved our iconic community Heatmap to clearly show where each proposed development will take place, represented by the coloured pins. By simply clicking on these, a tile appears and transports the visitor to a page containing more information about that planning application. 👆👆👆
Planning Application tiles providing key information at a glance
We've also made it easy to stay informed at-a-glance by using concise informative tiles. Each tile represents a major planning application and has a status indicator and application type label. This way community members can immediately know whether the planning application is for a Mixed Use Development, for example, and if it is "Awaiting Committee" review; "Awaiting Decision", or if a decision has been granted before clicking on a tile for more information. Alongside this, any downloadable content in the portal has a label indicating how long each document will take to read.

Image sliders for a more visual experience
For those wanting to picture exactly what the proposed development might look like, we've included these visual sliders. It's one thing reading about a 20-storey mixed use building going up at the end of the road, but it's another thing seeing how it will fit in its surroundings.

FAQs to ensure everyone is on the same page
It is a truth universally acknowledged (to quote Jane Austin…) that planning applications can be as extremely inaccessible as they are significant (it's why we've made this engagement portal). Much of this may be due to unavoidable technical jargon and much is due to presentations that have never placed public engagement front-and centre in the planning application process. Our clear imagery, concise key information and jargon-clarifying FAQs all redress this balance. This way local people can gain a good understanding of what each application talks about.
Your benefits
And if that wasn't enough to convince you that the planning application portal is the future, below there is a list of practical benefits.
It saves your team time!
The portal and template we have created means your teams won't have to spend hours entering information into the back end of our platform to ensure that everything is up-to-date. Imagine your team had 10 concurrent major planning applications - that could be a lot of admin to stay on top of. It's a good thing we thought ahead and created an easy and efficient system for you to save time.
---
Learn more about how the planning app works to save your team time, whilst reaching more people?
---
It's mobile-first and easy to share
87% of adults in the UK are proud owners of a smartphone and 70% of visits to Commonplace websites are from mobiles. We created the planning app with this in mind. The design of the app is easy to use on your smartphones, and it's also highly likely to boost engagement. Commonplace already has full integration with social media platforms, therefore, it'd only take the click of a few buttons for local people to encourage their friends, family and neighbours to participate via Facebook and Whatsapp (our highest converting social medium).

You can learn more about your respondents
The demographic questions available with this engagement portal enable you to understand more about why a respondent has certain feedback to offer. Do they live locally or do they work in the building next door to the proposed site? Our questions are designed to help you see who you've engaged with, and see which parts of the community you would need to direct more engagement effort towards.
It's easier for everyone to stay in the loop



And we really do mean everyone. Members of the local community can stay informed by quite easily signing up for updates per application, or for general news updates, and you (our customers) can get an email every time a contribution is added. A member of our team will also be notified, this way everyone can keep track of the engagement taking place.
Although we're pretty excited about the impact this portal will have on engaging the local people around your planning activity, we're already developing ways in which we can enhance it, both for you and your users. We don't want to give too much away just yet, you'll just have to check out our next update, and attend our next webinar on Thursday 3rd March 2022 to learn more.
---
Save your seat for the next behind the scenes Product Webinar!
---
And Finally, the lampposts
The lamppost sign is not dead but it gets a refresh to tie in with the Commonplace Planning app. Clear information matching the images and design of the panning app; a QR code for immediate access to the app from the lamppost - all these turn the humble laminated sign into a local communication hero! The Planning app lamppost sign is generated automatically from your Commonplace PlanA Portal and provides a seamless paper-digital experience.
Look out for our fortnightly updates to keep you in the loop about how our continuous innovations work to your benefit!