Commonplace at MIPIM for a week of driving urban change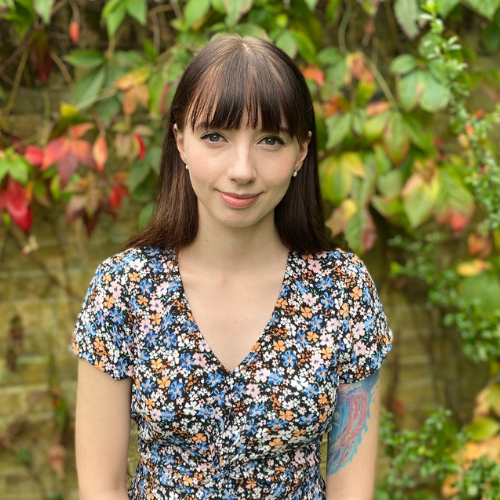 By Charlotte Cooper | Fri, Mar 18, 2022
4 min read
MIPIM 2022 has just finished and the Commonplace team has attended Europe's largest real estate event. We did more networking and learnt more about the state of real-estate, development and planning than we thought possible in such a short time.
This week kicked off with the grand opening of MIPIM 2022. After a two-year pandemic gap. Our highlights included:
Attending a very interesting talk at The London Stand at MIPIM about how we can help the Build to Rent developers and investors with regeneration and placemaking. They need to create longevity instead of simply building new flats for sale.

Meeting with incredible delegates from institutions such as the City of London Corporation, The Financial Times and VU.City LTD.

'The Future of Community Engagement' event we ran in partnership with The LDN Collective

Listening to another talk on investment opportunities at the Great Britain and Northern Ireland stand and how they may change over the coming years
The future of community engagement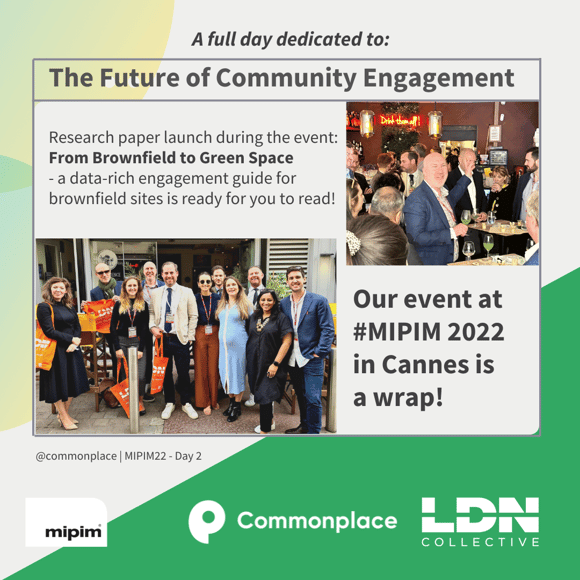 We spent the afternoon of our second day discussing what the future of community engagement will look like with a very knowledgeable guest list.
The lunch co-hosted with Commonplace was a roaring success. Fifty guests were there to hear from political leaders from Barking & Dagenham and London Councils, Westminster and the London Assembly and the City of London Corporation about the future of Community Engagement. - Max Farrell, Founder & CEO of the London Collective
The event was opened by Councillor Darren Rodwell (Leader of the Barking and Dagenham Borough Council ) commenting on the importance of engaging in the wake of the pandemic while everyone sipped on some very green Commonplace signature cocktails. We were delighted to see so many people in the audience inspired by Darren and adding their own perspectives. We've highlighted a few of our favourite excerpts.
Mike Saunders. CEO and CO-Founder of Commonplace: "We wanted to have a conversation with all of you about what the future of community engagement looks like. And I think that, like Darren said, it's going to be digital.
We've also got to learn from all the work that we've done. We've done a huge number of digital engagements over the last few years and we have a tremendous amount of data from those. What we're starting to do now is pull out trends from those engagements and create recommendations to establish what people most talk about. We're also launching a report today about engagement in brownfield sites because 20 different brownfield sites have used Commonplace over the last two years. We've analysed all the data from these and we've created some practical recommendations about what you can do to set up an engagement.
There are a couple of things that are most popular. The top one is green spaces in brownfield sites- we love talking about them! They really value nature with most of our respondents wanting access to nature. For example, our collaboration with the London Collective and their #ParkPower project. People really enjoy being able to shape their spaces.
The second is local businesses. In our youngest age group this was the most popular topic, so if you want to get the younger generation involved, make a campaign around local business. "
Deputy Catherine McGuiness, Policy Chair at City of London Corporation: "One thing I'd love to highlight is that people across London are real Londoners whether they're born there or not. That's what makes London so great. As a city, it has many different voices and those voices have been very good at coming together over the last couple of years. I've seen collaboration the likes of which I'd never even thought of during my time as a London politician. As we saw all levels of London government coming together and creating a response to the pandemic and then in the longer term with the challenges we've been facing. We've seen business come together into that conversation too. I think it's more critical than ever that we keep that London team working as we look at the Levelling Up agenda- so let's see what we can do to strengthen this team approach.
Finally, on a really positive note, I do sense that we seem to be turning a corner after the panic of the pandemic. Looking into the future I do feel that this is a great time to be here and talk as London is open and full of opportunity. Get out there and remind people of how we are such a great global city."
Juliemma McLoughlin, Executive Director of Environment at City of London Corporation: "We've recognised that we do need to do more for London, so we're seeing how we can reorganise ourselves and make ourselves a great place to do business. We're almost that one stop shop when an investor comes here and we've got our arm around them until you hand the keys over. We've got a really interesting network of four bids that have started and I hope we have another one in the summer. The city wants to be the glue in between that so we can have that constant dialogue with our stakeholders and it will help us inform the city plan that's currently resetting. And because we have a lot of assets as well, our reach goes beyond the square mile. How do we make things like Epping Forest and West Ham park more relevant to communities and the square mile ? They are the lungs of the city and we are the custodians to them. We're going to put a lot of emphasis on helping them and that is going to take a lot of conversations and a lot of resetting and listening. That also means we've got a lot of communities and businesses to listen to. It's a big challenge we're setting ourselves and there's a lot the city wants to do. We have expertise we want to share by working collaboratively."
Councillor Tony Devenish of Westminster City Council & London Assembly: " Everyone here is right- the future is all about partnerships. Darren often says two words: "jobs" and "homes." And I'll add a third one, "environment." We've got to help those three things the most because we absolutely haven't given up on the environment. I want to thank everyone from the private sector here, because we can't do it without you. Again: it's all about collaboration."
From Brownfields to Green Space
As mentioned by Mike, we took this opportunity to launch our research paper: 'From Brownfield to Green Space' - a data-driven guide explaining the best practices of engagement around the brownfield sites.
Our research is based on engagement data from 20 brownfield site engagement projects around the UK, which have elicited over 8,000 comments. It draws out insights, trends and demographic groupings, and provides recommendations for any organisation planning to start a brownfield development project.
When designing an engagement strategy for the development of a brownfield site, we recommend some simple approaches to increase the constructive nature of the discussion. They are universal and will be equally valuable to developers, councils or housing providers. These include starting a discussion around the project early; making the outcomes clear; helping create a sense of community and doing your best to get people interested in the subjects surrounding these new developments. There's plenty of nuance and discussion to be found, and plenty to dive into in this research paper.
---
The full report can be found on our website and is available for free download.