Earth Day 2022- Climate efforts at Commonplace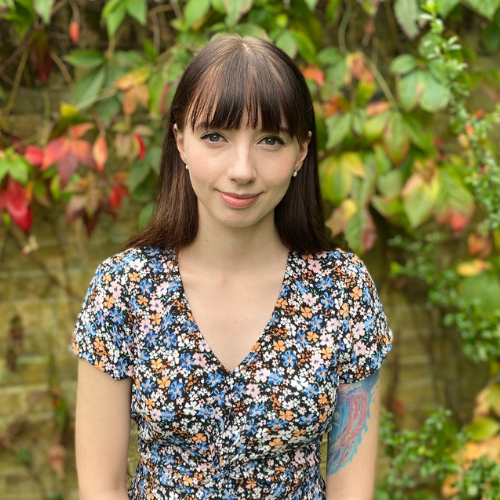 By Charlotte Cooper | Fri, Apr 22, 2022
4 min read
It's Earth Day 2022! This year, the focus is on acting boldly, innovating broadly and implementing equitably. At Commonplace, we pride ourselves on being a business that cares about the environment. From our collaborations on a number of environmental engagements to our presentation at COP26 last year, we continue to strive to help Britain reach its 2050 Net Zero goals.
---
"It's going to take all of us. All in. Businesses, governments, and citizens — everyone accounted for, and everyone accountable. A partnership for the planet." - earthday.org
It's a fact that climate change can't be fought without community collaboration. With growing efforts to make Great Britain a sustainable land, we've seen the passion that local authorities and communities have for making greener choices in their areas first-hand. With sustainable environmental improvements needing big changes from business and small everyday changes from the general public, we've done all we can to help those looking to make a difference.
Read on to find out all about Commonplace's commitment to the environment.
Commonplace's practices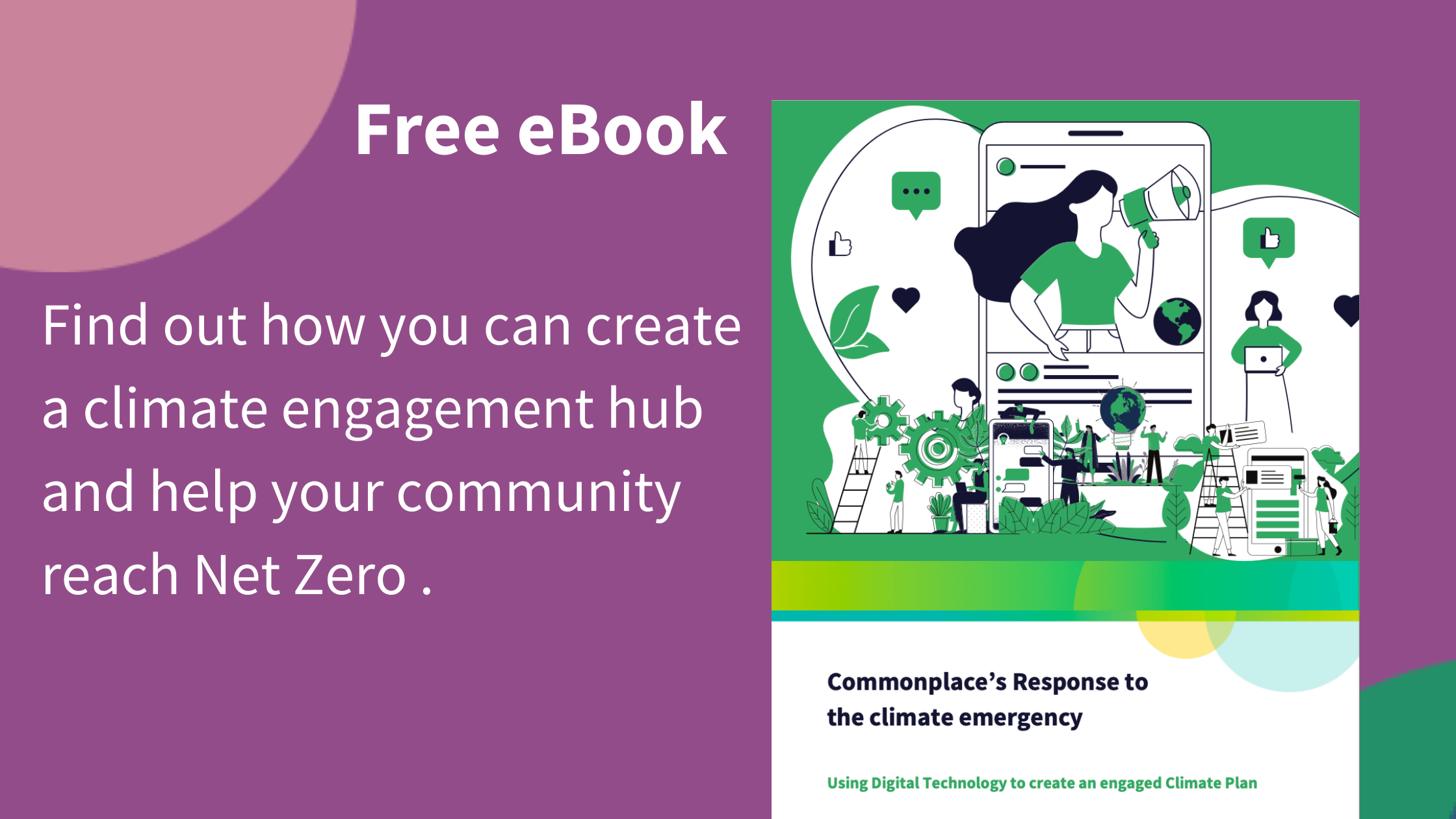 Before we talk about our own climate work, let's begin with our green business practices.
Commonplace is part of the SME Climate Hub, a group of similar businesses working to reach net-zero goals and fight climate change. We are also on course to obtain our certification from BCorp, a non-profit organisation dedicated to making businesses a force for positive change in the world- including for the climate.
As advocates of tech in the fight against climate change we also take our own responsibility very seriously. The carbon created by the company comes from the energy we use, the energy our technology uses and the carbon created as we move around. With this in mind, we've taken a few key actions:
We have implemented flexible working to reduce the amount of carbon created commuting every day. Thanks to many of our employees already enjoying the exercise, many staff enjoy walking and cycling with none of our current employees using a personal vehicle to commute.
To encourage active travel we offer our team access to discounted bicycle purchase via the government's salary sacrifice scheme and also season ticket loans for public transport.
As a digital business, the majority of our supply chain is also digital, further limiting our carbon footprint. In the coming months we will embark on a systematic audit of our carbon footprint using a partner specialising in Software-as-a-Service enterprises and their supply chains.
Our environmental projects
We work with our customers on many different climate-related projects. From Active Travel schemes to zero-carbon efforts, take a look at a few of our climate Commonplaces below:
Rethink Glasgow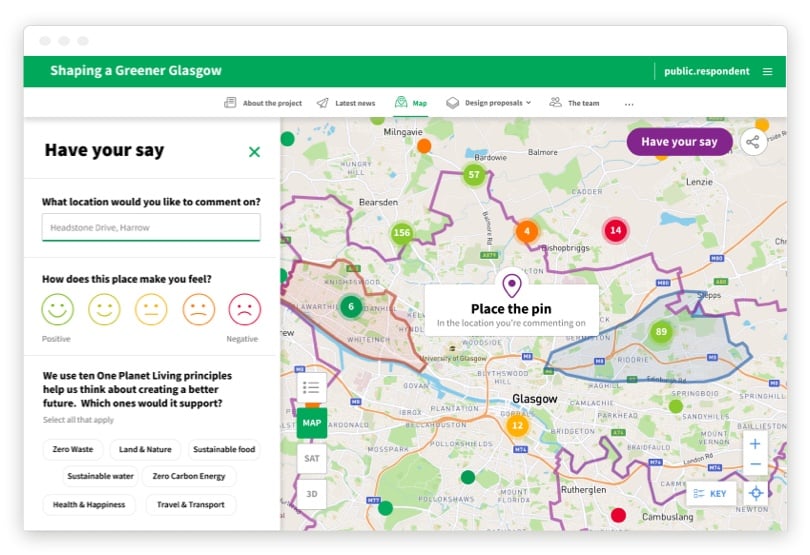 The Rethink Glasgow project is a community engagement climate action plan created in partnership with After The Pandemic (ATP) and OnePlanet. We were proud to showcase this community-led project as the main talking point of our presentation at COP26.
After the Pandemic was established following the first Covid-19 lockdown, to help the community coalesce around combating climate change in the city. The Commonplace website allows Glasgow residents to drop pins on an interactive map and make suggestions about how to make places more sustainable or flag any issues they may have noticed. Already these comments have been taken into account to create a greener and more connected Glasgow.
Crowdsourcing Greenwich's Lamppost Charging Points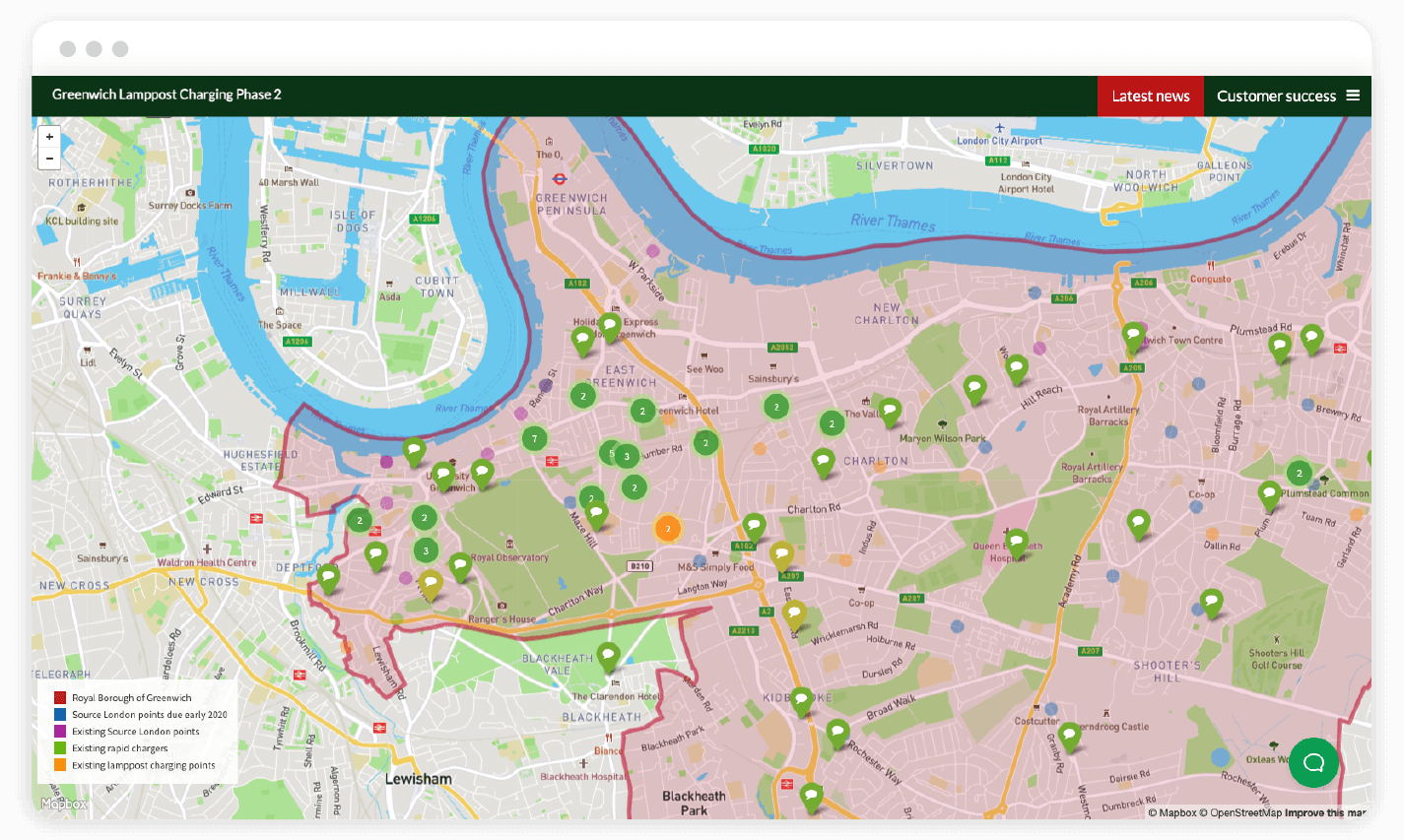 The Royal Borough of Greenwich wanted to encourage the use of low-emission plug-in vehicles by ensuring they have enough charging points. Thinking about the environmental and social sustainability of the scheme, the council set out by asking the community where they need the lamppost charging stations the most for day to day use. This was done with a climate heatmap.
To ensure the community remained up to date with what had already been installed, the council included coloured layers on their map to demonstrate where there are already chargers and where they are lacking. By educating the community on this, they were able to make informed comments about where else needed stations to ensure they had a comprehensive charging infrastructure.
Zero Carbon Manchester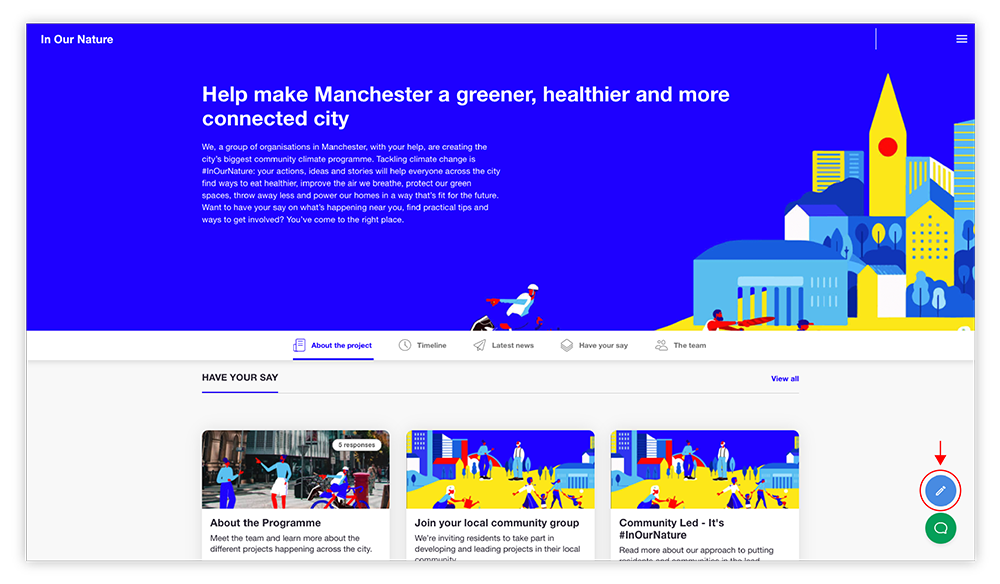 Manchester is putting their best foot forward when it comes to reducing their carbon footprint with their In Our Nature campaign. They aim to reach Net-Zero by 2038, 12 years before the national 2050 target and know that change starts right at home in the community. Launching their Commonplace in May 2021, the programme includes a city-wide communications campaign (including frequent use of the built-in Commonplace news feature) packed with practical green tips and advice on how to eat healthier, save money, travel smarter and power homes in a more sustainable way.
In Our Nature encourages ideas for community initiatives, and in true grassroots fashion, and even asked the community to choose a name for the campaign.
You can read more about climate Commonplaces here.
Commonplace at COP26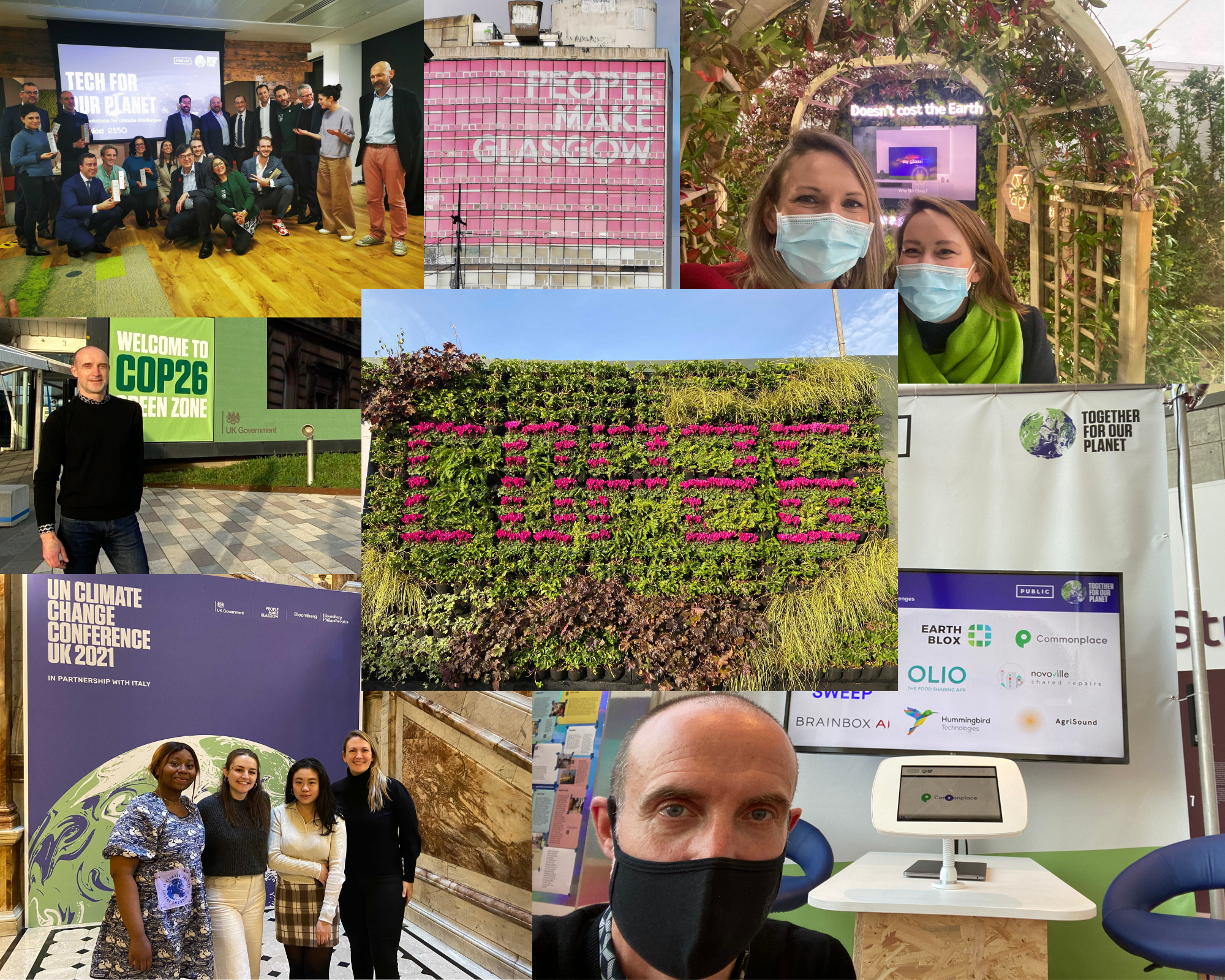 Commonplace spent an amazing week at the UN Climate Conference: COP26. Being in Glasgow for COP was one of our biggest highlights of 2021.
We were selected as one of two companies to represent 'Engaging Communities' technology at COP26's Tech For Our Planet challenge. Run in partnership between the Cabinet Office and PUBLIC, Tech For Our Planet explores how digital-led projects can improve the international climate effort in a big way.
Our CEO and Co-Founder, Mike Saunders, presented how technology like Commonplace is crucial in these discussions to an international audience while also highlighting our work with the Rethink Glasgow climate campaign.
While we were in Glasgow, we learnt so much about the global environmental effort as well as what other businesses are doing to help the fight against climate change. From UN Women's powerful talk on how climate issues and gender issues are so closely linked, to Bright Blue's talk on how 'smart energy' could be the way forward, you can find the full rundown of our amazing week right here.
Free climate heatmaps
One thing that we've seen shine through our many climate consultations, is the drive that local people have to be a part of climate solutions. With the right digital tools, people can easily share ideas on how to reduce their own carbon footprint as well as stay up to date with green initiatives put in by their local authorities and community organisations.
This is why we're offering three months' use of our climate heatmaps so authorities can drive more engagement for their green initiatives. If you'd like to find out more about this, download our free climate eBook: In it, you'll find out all about
An overview of our work with key campaign groups
Benefits of building a community-led climate strategy
Ways to encourage engagement across the community
Key barriers preventing people from engaging
Case study examples
How to use our climate heatmaps
Or step right in and request your free 3-month climate heatmap below!