Electric car chargers UK - Commonplace supports the spread
By David Janner-Klausner | Wed, Mar 30, 2022
5 min read
The government has announced it will support a tenfold expansion of the electric vehicle (EV) charging points in the next eight years.* The investment of £1.8 billion will support installing 270,000 charging points across the UK, bringing the total to 300,000 by 2030.
We've calculated that to be about 90 new chargers a day for eight years. This will include a number of electric car charger types – from ultra-high speed chargers at motorway services to slow chargers at long-stay points such as residential settings and workplaces. These could be a mix of solar electric car chargers and hive electric car chargers as well as rapid charge points.
The additional chargers will address a key limitation of EVs' use – but where should these new chargers go?
---
Easily create your own electric car charging map with Commonplace! Our team will be more than happy to show you the tools to gather community data on where these new points should go.
---
Supporting your EV funding bids and local plans
The government has set aside £500 million for charging units to be located in communities, supporting "projects such as EV hubs and innovative on-street charging, so those without driveways don't miss out on cleaner transport." Funding will be provided through a £450 million Local Electric Vehicle Infrastructure ("LEVI") fund**
Local authorities are invited to bid immediately for £10 million, which will fund three to eight local pilot projects focused on delivering charging points in communities, to support the transition to EVs.
Commonplace has been working on EV charging points for some time and can support several aspects of the charging point roll-out:
Consulting the community about where to place new electric car chargers and crowdsourcing locations.
Identifying demand for chargers and blockers to EV transition
Getting feedback on different electric car charging point options and designs, both from the wider public and from specific stakeholder groups such as drivers with disabilities.
Being a key part of local communication campaigns that bring the EV transition message to local communities, especially in areas where there is currently low take-up and relatively few electric car chargers.
While also giving the opportunity to gather community insight on where the new chargers should be located, an engagement website also opens up the opportunity to explain your plans in detail while also answering common questions surrounding electric car charging. For example, some of the most common queries are:
Are electric car chargers standardized?/ Are all electric car chargers the same?: In most cases, electric car chargers are universal as all EV cars use the same standard plug for Level 1 and Level 2 charging. These are the two most commonly found EV chargers in the UK.
How much power does an electric car charger use?: This will vary depending on the charger and the car. However, on average electric vehicles charging on a 240-volt level 2 charger will draw about 7,200 watts or less. To compare, an electric furnace uses about 10,000 watts.
How to use a public electric car charger?: There are a number of companies that make electric car charging points and each is slightly different. Most will require you to use an app, website or RFID card to access them.
Are electric car chargers free?/Are there free electric car chargers near me?: There are a number of free and paid electric car charging points across the UK, but the proportion will depend on where you are. For example, in Northern Ireland 70% of their EV chargers are free to use, while in London it is only 5%.
Giving local people clear answers to any burning questions they have will not only help clear up any confusion around electric car charging but also add a layer of trust in the scheme. This is helped by all questions and comments left being completely open to the public.
Electric car charger map - Commonplace projects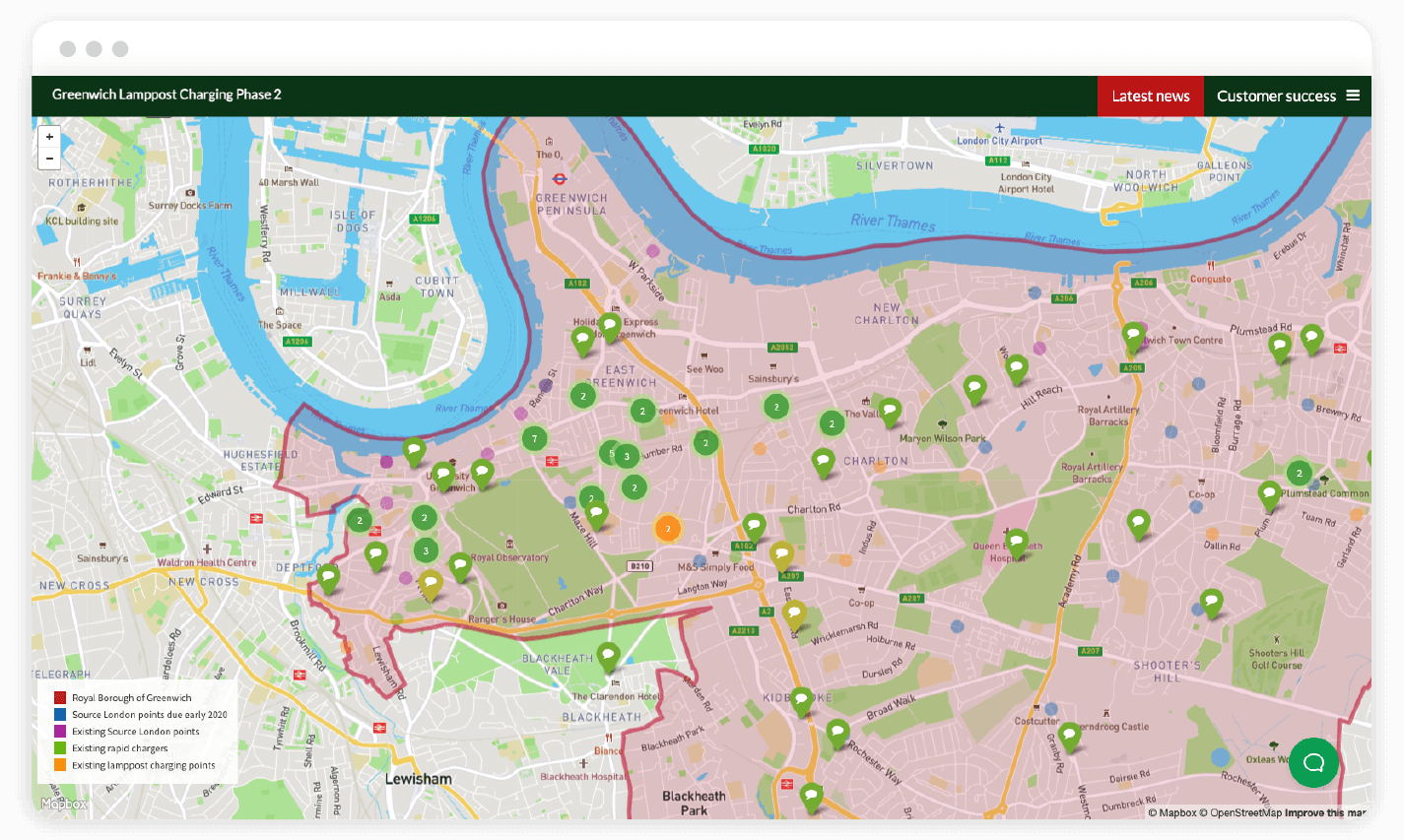 Take a look at a few of our own electric car charger map projects below.
Surrey County Council EV charging point map
With the number of electric vehicles growing in Surrey, the council are currently placing new public charging stations all over the county. If residents can't charge at home, all they have to do is leave a pin on the map – https://surreyev.commonplace.is/
Work with community - based charging innovators Char.gy
Char.gy are installing their electric lamp post car chargers all across the UK to provide EV charging for residents without a driveway or convenient off-street charging location. Anyone can leave a pin on the map where they'd like to see one built- https://chargy.commonplace.is/
Greenwich EV lamppost charging
This project boosted electric car charging in London around Greenwich. Now residents can see their closest electric car charger on this map - https://greenwichlamppostcharging.commonplace.is
Electric car chargers - disparities in the national roll-out
On a national level, there is a huge regional disparity in availability of EV chargers. In January this year the government published figures for the number of chargers per 100,000 population in different parts of the UK ***. London electric car chargers are by far the most prevalent with 102 chargers per 100,000 population – despite having one of the lowest rates of car ownership in the country. This is over twice the GB average of 43 chargers per 100,000 population. Unique factors like the Congestion Charge have underpinned London's lead and "early adopter" character. Nationally, the challenge is much bigger. Outside London, Scotland has the next highest number of chargers per 100,000 – 52. Wales has 33; the North East of England 36, and the North West of England just 24 chargers per 100,000 population. The lowest density of chargers is in Northern Ireland – 18 chargers per 100,000.
The figures demonstrate why in some parts of the country there may be a need to increase local awareness, which will improve as the infrastructure is more widespread.
More chargers can lower the entry cost to EV ownership
Having more charging points should also help with the affordability of EV's, which are still more expensive to buy than internal combustion equivalents and are less abundant in the second-hand market. Having more chargers means that drivers are more confident of finding free electric car chargers when they need it and are therefore likely to spend less time at the charger – supporting lower-cost EVs – new or second-hand - with smaller batteries. This will make the EV transition more accessible financially.
Charging at or near home is an essential part of support for EVs and currently a major barrier. If you do not have a driveway or an allocated parking space at home, the current residential charging infrastructure is challenging.
Fortunately there are a growing number of enterprises devoted to finding solutions to curbside EV charging, usually working in close partnership with local authorities. A popular quick solution is adding charging points to lampposts – a solution being rolled out by Commonplace customer Char.gy, for example. Some local authorities are starting to roll out Community Charging hubs and there is further scope for innovation as cars that are connected to charging points can potentially offer "vehicle to grid" power – using the vehicles as buffer storage that the grid can draw on for short periods to address imbalances of supply and demand.
Commonplace has considerable in-house expertise and welcomes conversations with local authorities and entrepreneurs on supporting the community understanding of EV charging; facilitating community engagement and input to local infrastructure and helping accelerate green transition and crucial improvements in local air quality.
---
If you're submitting a bid for this new EV fund or are implementing your own engagement to see where charging points would fit best in your local area, our expert team will be more than happy to show you how Commonplace can help out. Just book a free personalised consultation below!
---
(*) https://www.gov.uk/government/news/tenfold-expansion-in-chargepoints-by-2030-as-government-drives-ev-revolution
(**) https://www.gov.uk/guidance/apply-for-local-electric-vehicle-infrastructure-levi-pilot-funding
(***) https://www.gov.uk/government/statistics/electric-vehicle-charging-device-statistics-january-2022/electric-vehicle-charging-device-statistics-january-2022