Commonplace is coming to UKREIIF 2023!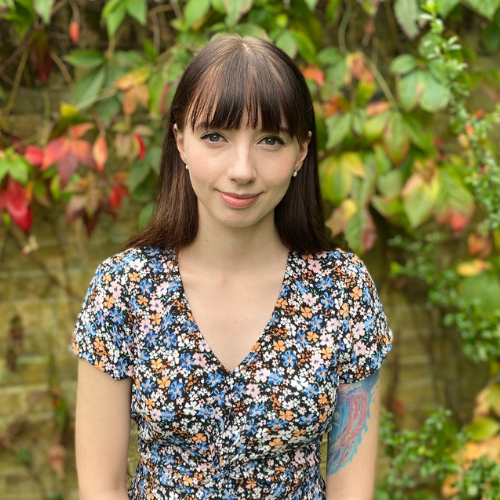 By Charlotte Cooper | 13/04/23 15:43
3 min read
UKREIIF 2023 is nearly here and Commonplace is ready to head there! With two panel events and a few surprises planned for our stand, have a read of our quick summary to find out what we'll be up to May 16th-18th!
The now annual UKREIIF event in Leeds has become a central hub for stakeholders in the UK real estate market, offering a range of investment opportunities and providing a platform for dialogue around environmental, social, and governance (ESG) issues related to real estate investment. With over 6,000 event attendees and 500 expert speakers (including us!), there's a lot packed into just three days.
What will Commonplace be up to and where can you find us? Read on to find out!
Where to find Commonplace at UKREIIF:
Our stand number is H34 in the Royal Armouries Hall. Pop along for quizzes, prizes, new demos and more…
Our Panel talks:
17th May 09:30-10:30 on the Wellington Suite Stage:

Putting the S in ESG: Building a sustainable future with your community
17th May 14:00-15:00 in the EDI Pavillion:

Creating better places together: Young Voices & Shaping Places
Panel talk 1: Putting the S in ESG: Building a sustainable future with your community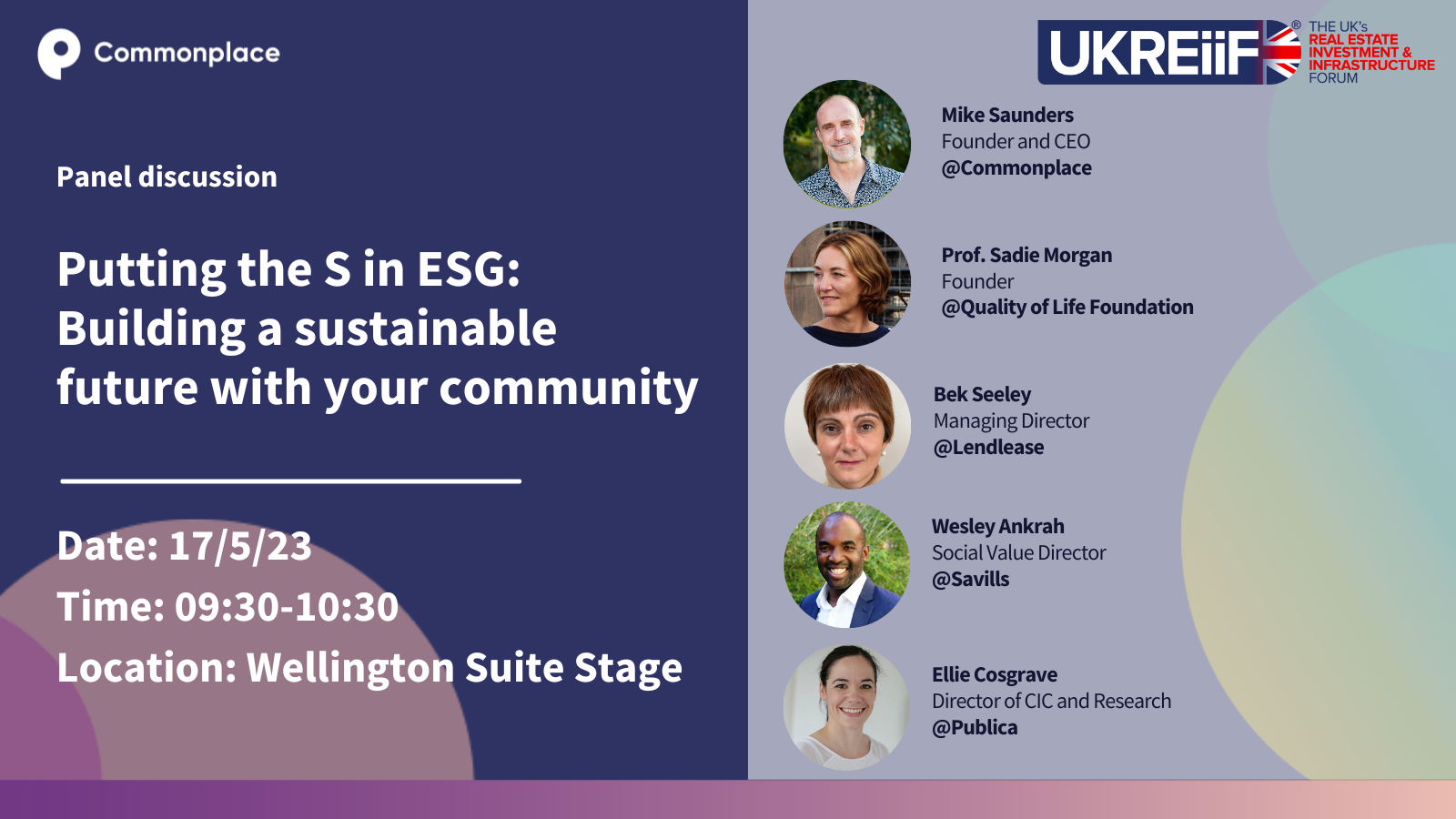 We'll be chairing our first panel talk on the Wednesday, hosting a number of experts who will be giving their thoughts on how technology and digital engagement is needed to map issues with housing, especially following such a harsh and costly winter.
Panel:
Mike Saunders, Co-Founder and CEO of Commonplace
Prof. Sadie Morgan, Founder of QOLF
Bek Seeley, Managing Director of Lendlease
Wesley Ankrah, Social Value Director for Savills
Ellie Cosgrave, director of CIC and research at Publica
The winter has been marked by a number of dramatic realisations about the current state of UK housing. The Autumn signalled the end of the Grenfell enquiry, the last months of the year saw rising costs to heat and maintain properties; as we go into Spring, what is it that we can learn from these past few months? Is there perhaps an opportunity for social landlords to step in?
Commonplace will show how we can work more effectively with our community to provide a more grassroots approach to improve energy efficiency of at least some of the housing stock, especially as a vast amount have an EPC rating of D or below. The discussion will look at macro issues as well as bottom-up initiatives to prepare in the warmer months ahead - truly putting the S in Environmental and Social Governance.
Everyone is invited to watch and participate in the Q&A that will follow! Find out more here.
Panel talk 2: Creating better places together: Young Voices + Shaping Places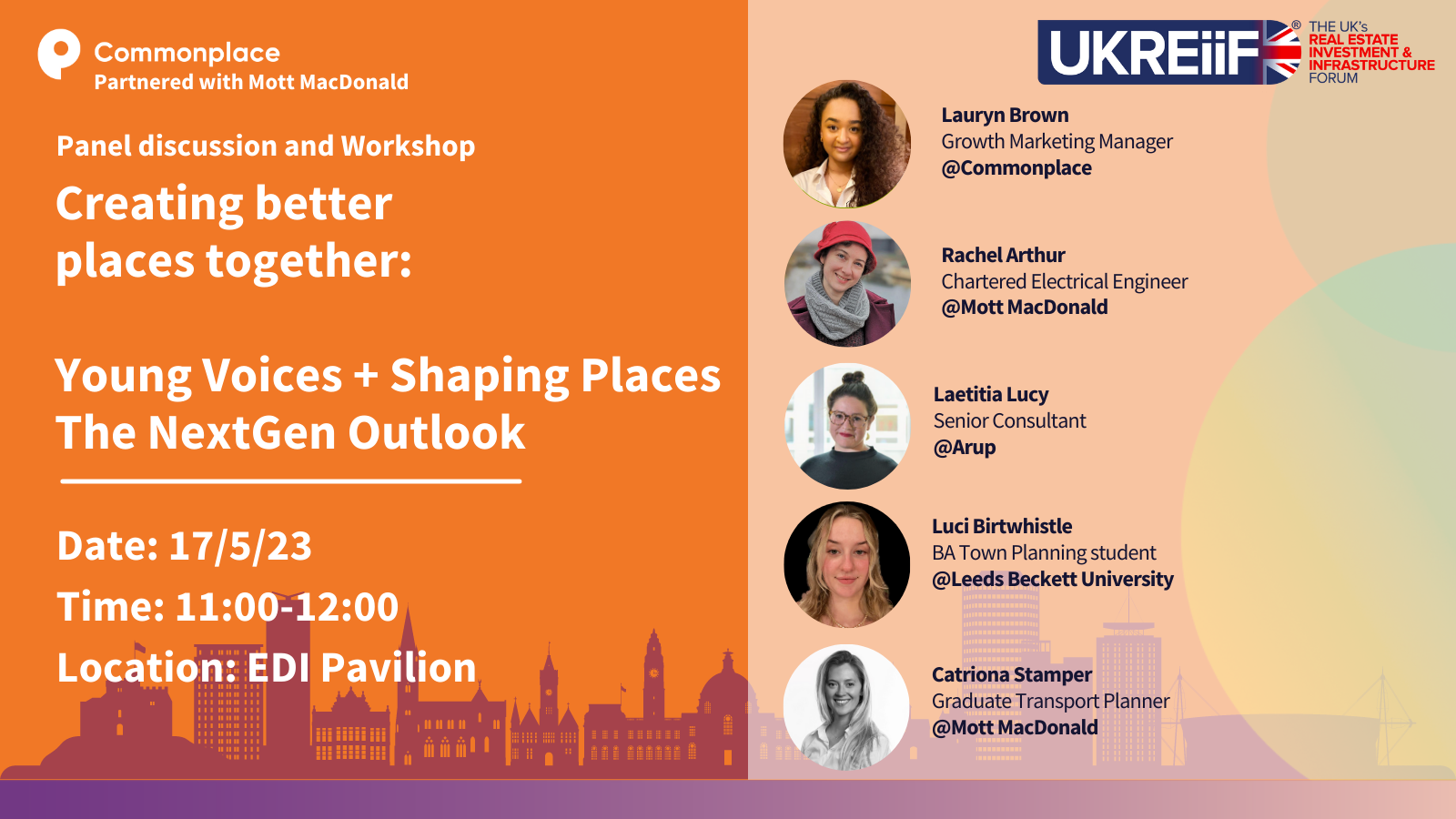 Young people want to have a voice in shaping the places around them and yet are one of the most underrepresented groups in planning- even in the areas with a higher proportion of them: universities and colleges. Why is that?
Due to the Covid-19 pandemic, the way in which people interact with the built-environment is very different- in part due to the expansion of digital tools and hybrid learning. This session aims to explore that: focussing on how digital-led plans and technology can be used to encourage wider community engagement with planning and show how their insight can affect the areas they live, work, study and play.
The expert panel will discuss their experience of using digital technology and the conversations technology has changed for young people. This session will highlight the power young professionals have in the future of place, economic funding and collaboration across the industry.
Panel:
Lauryn Brown: Growth and Marketing Manager at Commonplace
Rachel Arthur: Chartered Electrical Engineer at Mott MacDonald
Catriona Stamper: Graduate Transport Planner at Mott MacDonald
Laetitia Lucy: Senior Consultant in Arup's Integrated City Planning team
Luci Birtwhistle: Leeds Beckett University student
Want to be a part of the discussion? Leave your thoughts on our Campuses of the Future survey and your answers will be used as part of the data-driven panel discussion!
---
We couldn't be more excited about the event next month! As a platform dedicated to promoting community engagement and sustainable development, we are committed to contributing to the ongoing dialogue around ESG issues in the real estate industry. We look forward to meeting other stakeholders and learning from the diverse range of expert speakers who will be in attendance. With such a packed schedule and thousands of attendees, UKREIIF 2023 promises to be an exciting and informative event for everyone involved.
If you'd like to book a meeting with one of our attending delegates, please contact us using the form below and we'll get back to you ASAP!