Webinar: Innovation for Local Councils - The Planning App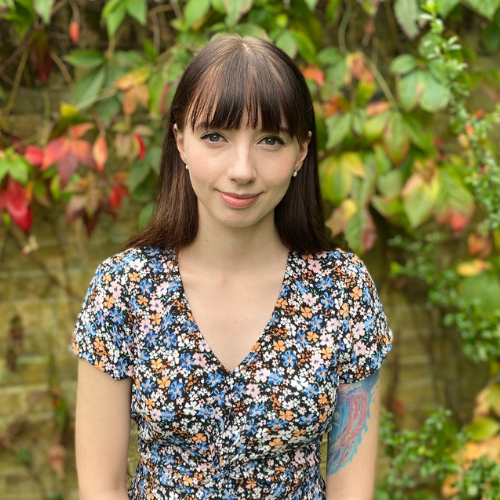 By Charlotte Cooper | Fri, Apr 8, 2022
5 min read
Missed out on our latest webinar:Innovation for Local Councils- The Planning App? Don't worry. You can find out exactly what all our expert panelists had to say about Watford's new Planning Application engagement site and how it was built in this catch up!
---
Or, if you'd like to see the whole thing yourself, just click below to access the recording.
---
Digital transformation is not a new concept, however, following the directive of the landmark Government Planning white paper, local authorities have set about moving in a digital direction.
With the second round of PropTech Engagement Funding allocated by the DLUHC (Department of Leveling Up, Housing and Communities), successful local authorities are stepping into an era of new digital possibilities, but Watford Borough Council has already set the pace, collaborating with us to bring planning notice engagement into a digital space with the Commonplace Planning App. On 24th March, we were joined by an expert panel to discuss this:
Jen Miller: How can we bring planning into the 21st century?
To give a bit of context, Commonplace powers positive participation for local councils and we do that by being a digital first platform that offers constructive community engagement solutions- whether that be survey specific or map-based for outstanding outcomes. Because two thirds of the community members that use Commonplace come through a mobile, we have platformed ourselves as a mobile-first experience to enable quick and easy feedback on the different consultations that you're running.
We have engaged over five million people on over 1600 projects with 50% of people feeling more engaged just because they used a Commonplace for the engagement run by their local authorities, housing associations or developers. We're used by over 80 local councils and that includes a mix of London boroughs and those all over the UK.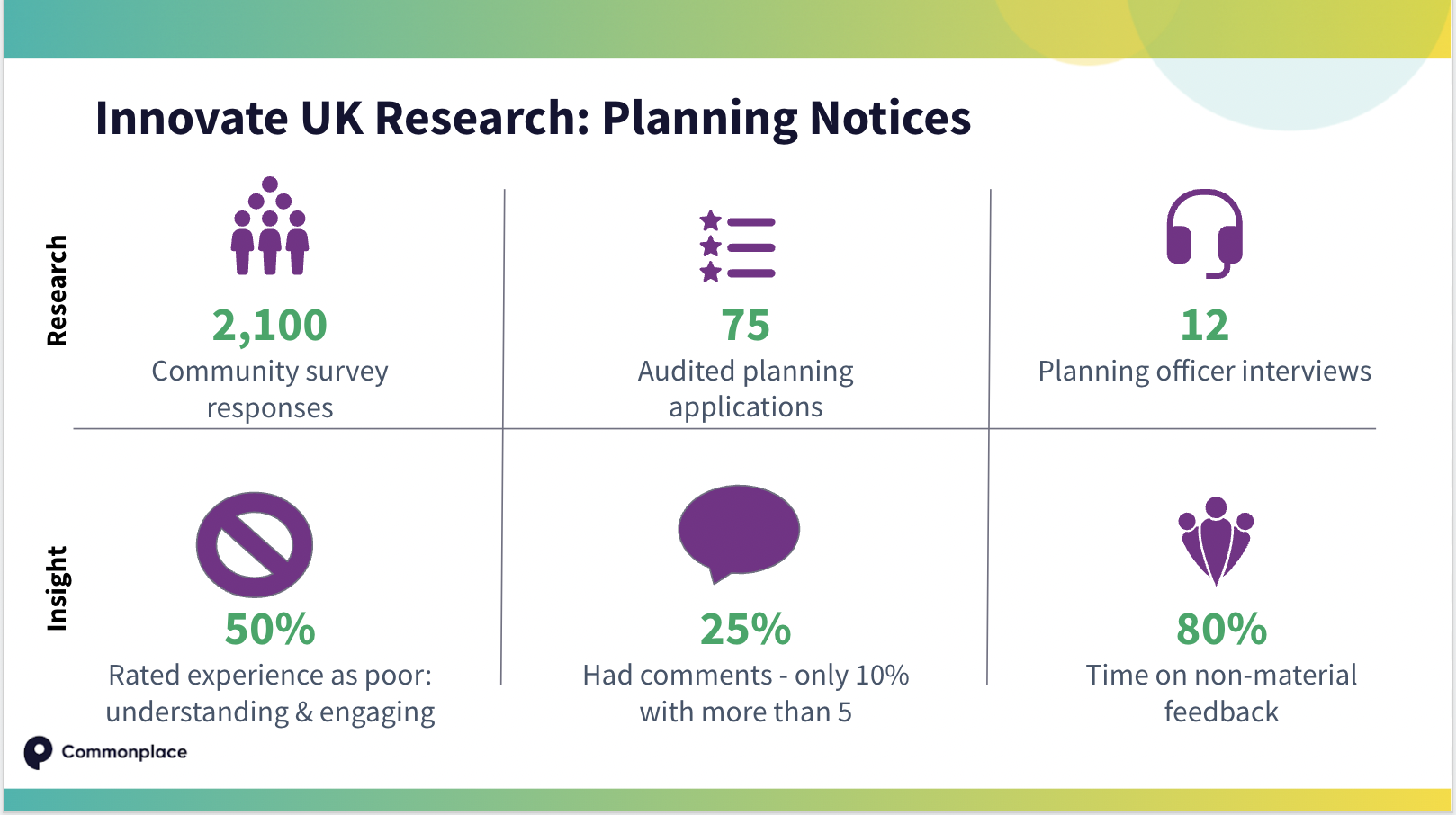 We did a bit of research last year on planning notices that was funded by Innovate UK. Our team worked in a number of different ways to engage stakeholders within the planning application process to really understand what was happening and where it was going wrong. We did over 2000 surveys across the UK and found that 50% of the people rated current engagement experiences as very poor. That includes everything from understanding exactly what the consultation means as well as being able to follow up afterwards.
Our team also audited 75 different planning applications and during that audit noticed that the experience was very much aligned to what the community was saying. That it was 'poor', 'technical' and 'hard to follow.'
This led to only 25% of those we audited having comments with only 10% of those having more than five. It shows a real lack of engagement in the planning process.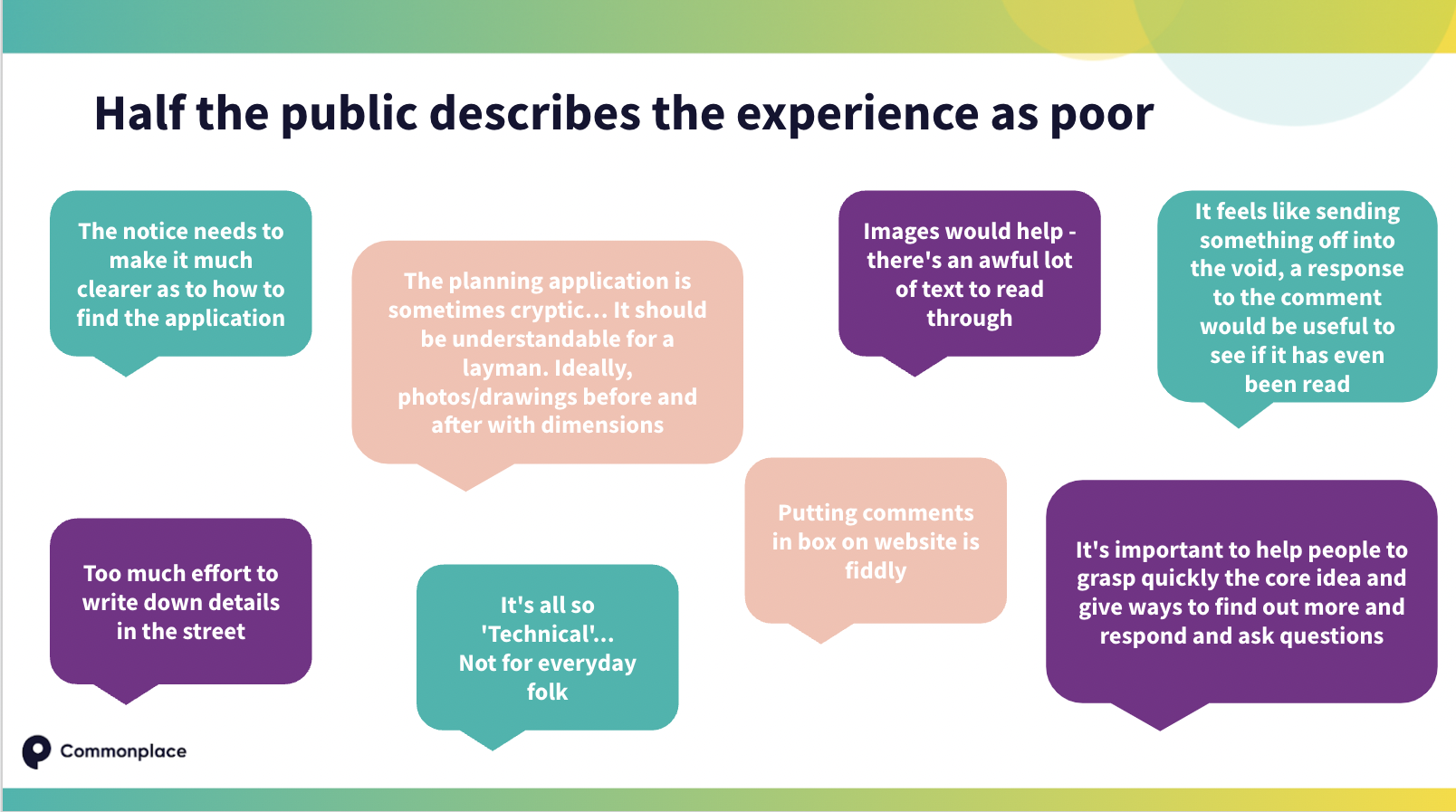 Another aspect is that the community is often seeing notices in places where it's hard to give feedback. Of our survey respondents, 87% were seeing these notices on lamp posts or property boundaries. Taking people from physical to digital environments is something that we worked with Semeta and her team on. While a lot of these physical paper notices were being seen, they weren't driving engagement or clearly marking what the next step is.
So, how do we save the lamp posts from sellotape and bad flyers to something that drives engagement in a meaningful way? It's about changing the way people engage with their communities and creating an integrated experience and that all comments made are fed directly into your solutions.
Semeta Bloomfield: PropTech Engagement funding round 1 & Watford Borough Council's planning applications
Let's start with our journey at Watford Borough Council. Even prior to the government's white paper recommendations, digital transformation within the planning department at Watford was a key priority. I think we're in the same position as many other local authorities as we had a strong desire for change but limited budget and resources to drive it forward.
In 2017 we started doing some work. We spoke to our back office provider and realised that we were really under utilising our current system. We then started a two year improvement programme to get the most of that existing system. We were able to remove a lot of our paper processes, brought our scanning in house and implemented an electronic workflow. These made a huge difference to our internal processes. We were getting new planning applications out to officers within two days rather than the ten days it could take before. However, what we weren't able to do was make that much of a difference to our residents. We tried to make information clearer on our website but it didn't seem to help with customer contact.
With all that in mind, we were very keen to submit an application for the PropTech Engagement Fund. While we'd never done anything like that before, we felt that it was an opportunity to make a difference to our residents. We had an idea of the issues that people were facing because of existing complaints: comments like "I don't understand the plan" and "I can't find that webpage." We understood that easy access would really help with that. The main thing we wanted to get across in our bid was a user friendly public interface and making it much more visual. We have many people in our borough with English as a second language and very low literacy levels so we wanted to use this pilot to break through those barriers. Thet tiles make it very easy for anyone to see what's going on at just a glance.
From a survey of our residents we've got some great feedback, "It's much easier to visualise and understand, It's much brighter and more eye-catching as well as more informative."
Take a look at the completed planning website.
Benjy Meyer: How does the Watford planning website work?
We managed to deliver this website in just five weeks. Some might call that a world record in terms of planning applications! We're also very glad to see all the very welcomed feedback from the community.
To see Benjy's live demo, view the full webinar recording.
This project is for major planning applications in Watford and there are two ways to discover them on the homepage of the website. There's the map which pinpoints where all the applications are as well as the tiles which list each application in detail. We made sure that there was an easy visual representation of what type of application they were i.e industrial, mixed use, commercial, residential etc. The reference number is also displayed so when people are inquiring, they can easily refer back to that. The status of the application is also clear so you can easily see while scrolling.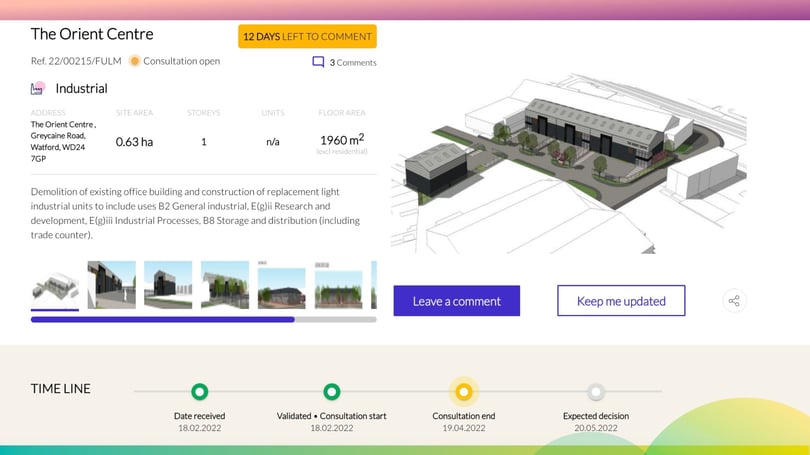 When clicking on any of the planning applications, all relevant information is presented at the top of the page i.e how much land is being used, how many stories this project will have, how much square footage is being created. There are also images of what is there now as well as what will be there so people can see what the future of their place will look like. Each project also has a timeline that's condensed into four key steps that make sense to the public.
More technical details are available further down the page like the lead planning officer and related documents for those who'd like a deeper dive into an application. This is also where 3D mockups of the application are available to see so you can visualise the impact of the projects on the surrounding view and the skyline.
There's also the ability to leave comments on any live application with the comment sentiment of each existing comment clearly marked by colour. This helps engage people in exactly how much positivity or negativity is surrounding a particular application. Comments also have an agree button attached to them where other people can upvote and say exactly why they agree with the comment that's been left, helping create a dialogue.
We've also put a lot of thought into the physical planning notices too. If you look at the ones for Watford, there's more than just a QR code. There's a deadline, a call to action and a reason to scan. We've brought the data to life and made it short, sharp, snappy and full of the information people want to read.
---
If you'd like to listen to the full webinar including the Q&A, make sure to check out the full recording below!
---