Designing Processes for Designing Places
By David Janner-Klausner | 24/03/15 14:00
3 min read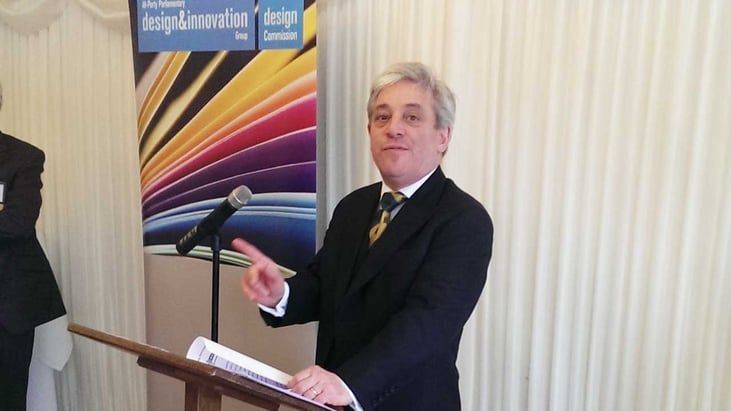 House of Commons Speaker John Bercow MP launching the "Designing Democracy" Report at the House of Commons on Monday, 23 March 2015.
---
The Report contains the following article by Commonplace's Business Development Director, David Janner-Klausner. The full Report can be downloaded here.
My domain and that of my company Commonplace, is decision-making about the built environment. I love this domain and think it is vital; the built environment is a key determinant of well-being and reflects how society addresses the diversity of its populations. Decisions in the built environment have impact for generations, making this domain a nexus of values, power and process.
There is an inexorable link between the design of the built environment and the design of the processes that determine its form. Arguably, some of London's most striking developments of the past decades resulted from the redesign of the planning system in the 1980s. Planning powers over the form of development were removed from local authorities and vested in the government-appointed London Docklands Development Corporation (LDDC), paving the way to a radical and rapid transformation of Docklands.
As the LDDC demonstrates, political and administrative processes evolve to mitigate contests over the built environment. However, the underlying principle is still that the right to develop land is nationalised and allocated according to certain criteria. The power to shape and impose criteria rests in the political hierarchy, which is implicitly trusted to balance economic freedoms and consequential short-term goals against long-term social need and shared values. A professional bureaucracy is presided over by politicians - local and national - and serves these processes of resource allocation. Collectively, this settlement is "The Planning System".
The acceptance and legitimacy of this Planning System has rested on the assumptions that a common good can be agreed upon, and that the democratic political system is a legitimate arbiter of this common good. However, these assumptions are being profoundly shaken. Fewer people engage in local politics on the one hand, and on the other hand the internet generations expect immediacy and transparency in dealing with institutions, including the planning system. The existing systems, mostly, are unable to respond to these requirements, leading to a crisis of legitimacy. The crisis of legitimacy becomes a crisis of inefficiency, with proposed changes to the built environment facing mistrust as a default reaction often amplified by social media.
Local authorities, developers and other actors in the built environment must recast their relationships with communities. We argue that new opportunities for greater transparency and real-time engagement should be embraced. They empower citizens and can make the decision-making process more efficient and more legitimate - three important gains.
That is why we designed Commonplace, a set of digital tools that aim to help re-build trust in planning processes. Commonplace's clients are actors in the built environment local authorities, developers, housing associations, community organisations and transport providers. A key principle of Commonplace is transparency - Commonplace operates openly - anyone can see all comments made in a particular Commonplace, and Commonplaces are listed on our website, commonplace.is.
A good example is the online platform we provided to the CoDesign Peckham project in south London. Commonplace was integrated into the co-design process for Peckham Rye Station, which was commissioned by Southwark Council and executed by architects Ash Sakula. The co-design exercise was itself an attempt to help reach a consensus about developing the station, after previous attempts foundered on local opposition. The co-design process used a variety of tools - Commonplace as an online platform, local meetings and "pop-up" events, as well as distributing a low-cost broadsheet locally. The broadsheet used the themes that emerged from Commonplace's on-line engagement to stimulate further debate about local priorities (for more information see CoDesign Peckham Rye case study). What distinguished the Peckham co-design exercise was the deliberate design of a process that integrates internet and physical modes of engagement.
This integration is important because it creates bridges between populations whose normative forms of social expression diverge widely. The Economist recently quoted a Resonance survey which found that 24% of Americans update social media once a day while travelling; the proportion rises to 51% among 18-34 year olds. An even higher proportion post photos. These figures demonstrate how integral the Internet is to commenting in near real-time on the world around us. We have to be able to reach out to people through their channel of choice, which Commonplace achieves by integrating with common social media networks, blogs and other websites.
Running Commonplace for another client, a Neighbourhood Planning Forum in north London, we found that the age range of Commonplace users complemented that of the many civic-minded people who attended public meetings. Younger people participated much more readily online.
Commonplace is being used by the City of Boulder, Colorado to obtain public views to underpin a new transport strategy, and by the London Borough of Waltham Forest to engage local residents and businesses in a major scheme to make town centres more cycle and pedestrian friendly. In both cases, adopting Commonplace is embracing both a tool and an attitude: the attitude that greater transparency about decisions, and an opportunity to engage, are required alongside the traditional planning system and its elected mandate.